The key differences between subsidized and unsubsidized loans have to do with who qualifies and how interest accrues.
Federal Direct Subsidized vs. Unsubsidized Loans

| | Subsidized | Unsubsidized |
| --- | --- | --- |
| Eligible Borrowers | Undergraduates only | Undergraduates & graduate students |
| Interest Payment Responsibility | Government pays interest while borrower in school, deferment, or grace period | Borrower pays interest during all periods |
| Financial Need Requirement | Financial need required | Not need-based |
| APR | 3.73% | 3.73% – 5.28% |
| Average Debt | $9,791 | $18,799 |
| Total Borrowing Limit | $23,000 | $34,500* |
*Dependent students may borrow up to $8,000 in unsubsidized loans total while pursuing their degree.
Subsidized vs. Unsubsidized Student Loans
All federal student loans are Direct Loans, which may be Subsidized or Unsubsidized. Both types of loans have fixed rates, origination fees, and special federal protections and benefits that private student loans don't include.
Direct Subsidized Loans receive a subsidy from the U.S. Department of Education (ED); this means the federal government pays for the loan's interest as long as the borrower meets certain requirements, such when you're in school at least half time, during the six-month grace period, and during future periods of deferment. Financial experts recommend prioritizing Subsidized Loans when it comes to financing your education.
Direct Unsubsidized Loans do not receive any type of subsidy, meaning the borrower is responsible for paying the loan's interest during all periods, including any deferment of payment, such as in-school deferment. Financial experts recommend prioritizing Unsubsidized Loans when it comes to repaying student loan debt while in school, during a grace period, or during other deferments.
Loan Limit Breakdown

| Student Status | Total Loan Limit | Subsidized Portion Limit |
| --- | --- | --- |
| Dependent Undergraduate | $31,000 | $23,000 |
| Independent Undergraduate* | $57,500 | $23,000 |
| Graduate & Professional | $138,500 | $65,500 |
*This includes dependent students whose parents don't qualify for parent plus loans.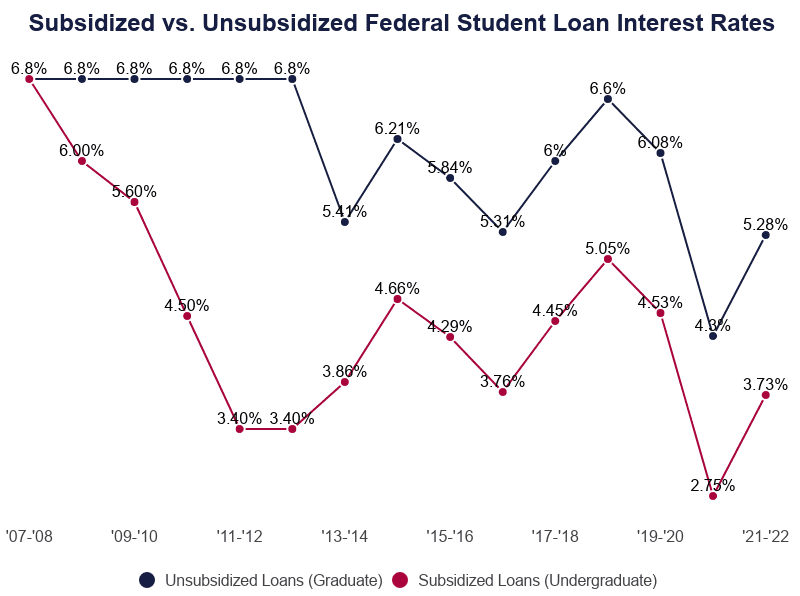 Direct Subsidized Student Loans
Direct Subsidized Loans are available to undergraduate students. The ED pays the interest on these loans on behalf of undergraduates who are in school half-time, those who graduated within the last six (6) months (a window that is typically referred to as the "grace period"), or have been approved for temporary deferment of loan payments. The current fixed APR is 3.73%, up 35.6% from the previous year.
The key benefit of a Subsidized Loan is that the amount a student borrows is the same amount they'll have outstanding once they begin repaying their loans themselves. This is not the case with any other type of loan, where deferring interest payments while in school makes the outstanding debt at graduation less predictable.
The limit of a borrower's Direct Subsidized Loan is determined by legislation as well as individual circumstances, including the cost of attendance, expected family contribution (the amount of which determines whether a student qualifies as Dependent or Independent), and other grants, scholarships, or other forms of aid.
While only undergraduates may qualify for Direct Subsidized Loans, not every undergraduate meets the requirements. Direct Subsidized Loans are available to undergraduates based on financial need as demonstrated in the borrower's Free Application for Federal Student Aid (FAFSA). Students must complete and submit the FAFSA in order to qualify for Direct Subsidized Loans.
Direct Subsidized Student Loan Annual Limits

| Undergraduate Level | Loan Limit |
| --- | --- |
| First Year | $3,500 |
| Second Year | $4,500 |
| Third-Fifth Year | $5,500 |
| Total Limit | $23,000 |
Direct Unsubsidized Student Loans
Student borrowers are responsible for paying interest on their Direct Unsubsidized Loans from the time of disbursement whether they're in school or not. Experts recommend student borrowers exhaust funds from Subsidized Loans and other forms of aid before pursuing Unsubsidized Loans.
One potential benefit of Unsubsidized Loans over Subsidized Loans is a larger borrowing limit for independent students. This higher limit is better for graduate students, who do not qualify for Subsidized Loans and who often have to pay more annually to earn a graduate degree than they did to earn their undergraduate degree. Of course, a larger borrowing limit allows students to rack up more debt, which may be why the average Unsubsidized Loan debt is 92% higher than the average Subsidized Loan debt.
Beyond federal legislative limits, each institution sets the limit of an individual borrower's Direct Unsubsidized Loan. The cost of attendance and financial aid availability determines approved loan amounts. Some professional students may qualify for increased limits.
Students may be eligible for Direct Unsubsidized Loans regardless of financial need. Undergraduates and graduate students may qualify. The current APR for undergraduate students is 3.73% while graduate students may borrow at 5.28%, up 22.8% from last year.
Sources