Report Highlights. The cost of an online bachelor's degree averages $51,091.
For in-state students, tuition averaged $38,496 for an online bachelor's degree.
For out-of-state students, tuition averaged $54,183 for an online bachelor's degree.
Tuition for online college averaged $60,593 for private colleges.
49% of students plan to continue to enroll in online classes even after their institutions return to in-person instruction.
Related reports include Average Cost of Community College | Average Cost of Private School | Average Cost of College by State | Average Cost of College & Tuition | Cost of a College Class or Credit Hour
Price of an Online Degree
Prices for tuition vary greatly by institution, degree or program, and level of academic achievement. Fee structures are also different for every college and for every program. Nearly every institution will have program-specific fees and tuition rates.
Among 170 public ranked colleges, the average cost credit hour for online college is $316 for the 2019-20 academic year.
Among 168 private ranked colleges, the average price per online credit hour is $488.
In 2020, a survey of college students indicated that 51% considered affordability as the most important factor in choosing a school for an online program.
23% of colleges charge more for a degree earned online than in-person.
Most private schools do not differentiate between in and out-of-state status for students so their in-person tuition rates will almost always be high.
The total average net cost (tuition only) for an undergraduate online college degree is $37,920 for public (in-state) and $58,560 for private institutions.
Many online degree programs do not have the same advantage that on-campus programs have as far as institutional financial aid, grants, and scholarships.
Federal financial aid generally applies the same to both online and in-person instruction.
Many online programs have specific technology requirements for students studying online, such as software, broadband internet connection, and computers fast enough for both.
Cost of an Online Bachelor's Degree by School

| School | Cost per Credit Hour |
| --- | --- |
| Valdosta State University | $182 |
| University of Central Florida | $105 |
| Clayton State University | $169 |
| Arkansas State University | $218 |
| Rochester Institute of Technology | $1,126 |
| Arizona State University | $561 – $661 |
| Grand Canyon University | $395 – $470 |
Price of an Online Graduate Degree
Compared to undergraduates, graduate students are twice as likely to pursue their degrees exclusively online. The online environment sees more part-timers, experienced professionals, and graduate students compared to in-person education. On campus graduate students are more likely to be younger people continuing their studies directly from their bachelor's degree.
68% of online students have career experience.
36% of online students are trying to switch careers.
34% are trying to advance their careers.
The average online student is 32 years old.
Cost of an Online Graduate's Degree by School

| School | Cost per Credit Hour |
| --- | --- |
| Valdosta State University | $293 |
| University of Central Florida | $288 |
| Clayton State University | $385 |
| Arkansas State University | $277 |
| Rochester Institute of Technology | $1,237 |
| Arizona State University | $543 – $1,343 |
| Grand Canyon University | $365 – $695 |
Online College vs. On-Campus
Some of the most popular colleges with online degree programs also tack on per-credit distance learning fees. Below is a comparison of the University of Colorado Denver's 2020-21 online tuition rates compared to on-campus rates for undergraduate general studies.
Online learners at UC are still required to pay the student services fee, which includes student support programs and events that are primarily on-campus or benefit students studying on campus.
WUE (Western Undergraduate Exchange) tuition rates are not available to online students at UC.
International students studying on campus at UC are also required to pay a $150 fee.
International students studying on campus at UC are also required to pay a $2,200 health insurance plan.
17% of schools waive the fees for in-person activities and on-campus services for students attending online courses.
Community colleges are the most likely to charge a high premium for online instruction, with 21% indicating this was the case for all their online programs.
When comparing online tuition to on-campus instruction, 17% of large institutions indicated they charged more for online instruction,
25% of institutions indicated tuition rates were the same as on-campus.
Case Study: University of Colorado Denver

| Resident | Non-Resident | Out-of-State, Online Only |
| --- | --- | --- |
| Tuition $330 | Tuition $1,017 | Tuition $444 |
| Per Credit Fees $20 | Per Credit Fees $20 | Per Credit Fees $14 |
| Per Semester Fees $241.31 | Per Semester Fees $241.31 | Per Semester Fees $185 |
| One-Time New Student fee $94.32 | One-Time New Student fee $94.32 | One-Time New Student fee $94.32 |
Online Learning Technology Requirements
For students learning online, most institutions will charge them a "technology" fee per credit hour or semester whether they are studying online or on campus. Some online programs, especially graduate programs, may require students to spend time on campus or travel. Prospective students should verify what those expenses might be.
Some specialized subjects require the student to have access to specific software or other resources.
Broadband internet.
A computer or tablet fast enough for online instruction is critical to a student being able to complete coursework online, participate in classes, listen to lectures and watch videos.
In 2020, 12% of students in a survey of distance learners indicated they were unable to use their cell phones or tablets to complete coursework.
During the COVID-19 lockdowns, many students who relied on public libraries and internet cafes to complete coursework were unable to do so.
Nearly 70% of students have admitted they did not purchase a textbook or course material/learning module for a class because it was too expensive.
1 in 5 students have skipped or deferred a class due to the price of the instructional materials.
60% of students wait to buy their textbooks until they have received financial aid to do so.
When Online Learning Costs More
Institutions who charged more indicated the biggest reason for charging more was higher delivery and support costs. That is because most colleges don't actually run their own online or distance learning programs and use a revenue-sharing approach by utilizing online program managers (OPMS).
OPMs are companies that offer plug-and-play courses, modules, and often sell students the accompanying course materials.
OPMs often handle other areas colleges and universities struggle with, such as marketing and "training" faculty.
61% of schools charge more for online learning because of higher maintenance costs.
60% of schools charge more online because of higher program development costs.
24-7 technical support for students taking online courses is often outsourced to OPMs- the institutions pass on these costs to the students.
39% charge more because of higher marketing costs.
30% charge more because of higher third-party costs (utilizing OPMs).
Nearly 20% of colleges say they charge more for online instruction to meet their revenue goals.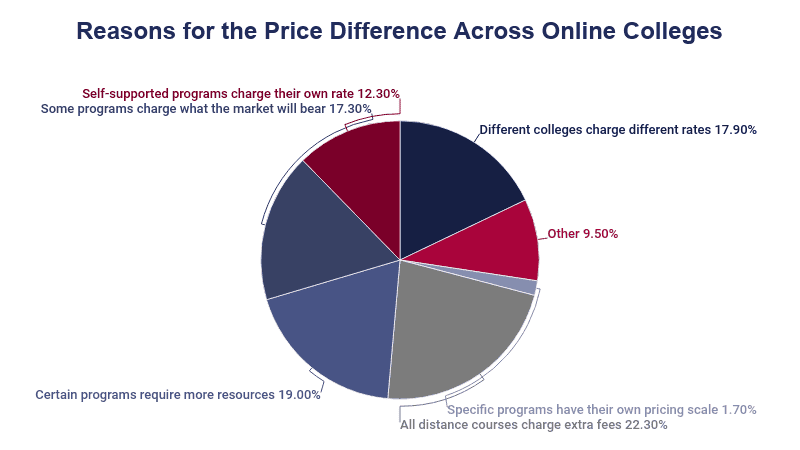 Online Program Managers (OPMS)
Institutions continue to pay their faculty significant course development stipends, even when using an OPM. This is done even though many online courses increasingly rely heavily on "plug and play" style courses that utilize pre-built modules. These pre-build modules just need to be loaded and customized for each individual faculty member.
It is estimated that online program managers locked into long-term contracts are charging colleges between 30% and 80% of revenue made from online degree programs.
43% of colleges reported paying their faculty a per-course development stipend.
The number of colleges that signed contracts with OPMs ballooned almost 130% between 2011 and 2015.
Enrollment in OPMs increased by 30% between 2011 and 2015.
In 2016, it was estimated that almost 80% of colleges offering online programs utilized OPMs to outsource the management of their online programs.
Staff Confidence in OPMS
21% of chief online officers/administrators surveyed at major colleges indicated they had less confidence in their understanding of the cost of their institution's online programs compared to the in-person programs. Unfortunately, many institutions leave it to the faculty or specific departments to develop and market their institution's online programs.
Not even a third indicated they were completely confident in their understanding of the expense (development, delivery and maintenance) of their institutions' online programs.
17% indicated they were only somewhat confident in their understanding.
Community colleges are the most likely to have their faculty work independently on online course development (17%).
Community colleges were 50% likely to work with an OPM or other course developer.
OPM Case Study: 2U
In the first quarter (Q1) of 2021, 2U, one of the biggest OPMs in the nation, reported a revenue increase of 32% ($232.5 million), compared to Q1 2020. 2U offers short courses, boot camps, professional certificates, and undergraduate and graduate degrees.
In Q1 2021, degree program revenue increased 23%,.
In Q1 2021, alternative credential revenue increased 52%.
In 2021, 2U represented 80 universities with over 540 course offerings.
As of Spring 2021, 325,000 students were enrolled in 2U programs.
In Q1 2020, 60,875 students enrolled in full course equivalent programs.
81,085 students are enrolled in full course equivalent (FCE) programs in Q1 2021.
Of these students, 60,007 were in a degree program.
The other 21,078 students were enrolled in an alternative credential program.
In Q1 2020, each FCE enrollment represented $2,744 in revenue.
By Q1 2021, that number increased to $2,867.
Online Tuition On The Rise
Tuition everywhere is going up, and 35% of schools indicated they were increasing their budget planning for online program development in 2021. The University of Oregon for example, has consistently raised tuition rates for online instruction for the past five years.
Public two-year (In-District) $12,850, a 17.5% increase from $10,781 in 2014.
Public four-year (In-State) $22,180, an 18.7% increase from $18,383 in 2014.
Public four-year (Out-of-State) $38,640, a 19.6% increase from $31,721 in 2014.
Private nonprofit four-year $50,770, a 21.4% increase from $40,955 in 2014.
The University of Oregon's online College of Business tuition has risen approximately 18% since 2016.
The MBA program at the University of Oregon has increased by nearly 13%.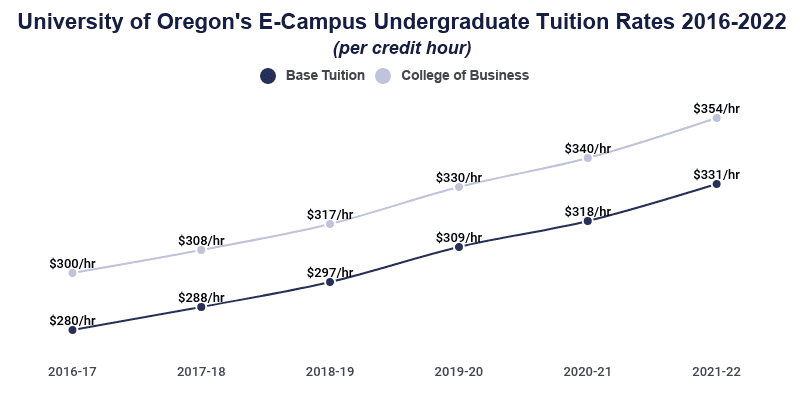 Difficulties Paying for Online Tuition
In 2020, paying for online college was a difficult part of enrolling for online college. The table below is a list of the most expensive out-of-state online undergraduate degrees in 2018.
18% of students in 2020 indicated completing financial aid forms was the hardest part of the enrollment process.
18% also indicated determining how to pay for school was the biggest challenge.
26% indicated they would be more attracted to a school offering scholarships.
Of that population, 29% indicated the annual scholarship would need to be over $2,500 to choose one school over another.
40% of students did not use or have access to employer tuition reimbursement.
48% indicated their school did not offer tuition discounts for employees at their company.
30% of students indicated they had incurred debt between $5,000 and $15,000 earning their online degree or certificate.
In 1970, tuition for the University of North Carolina's MBA program was $87.50 per credit hour (approximately $600 in 2021 dollars).
In 2021, the program costs $237.5% more: $2,025 per credit hour.
The total sticker price for the program in 2021 is $125,589.
Most Expensive Online Out-of-State Colleges

| State | School Name | Cost per Credit Hour |
| --- | --- | --- |
| South Carolina | Coastal Carolina University | $1,070 |
| West Virginia | West Virginia University | $1,019 |
| Michigan | University of Michigan—Flint | $858 |
| South Carolina | University of South Carolina—Aiken | $849 |
| Ohio | Wright State University | $803 |
Reducing Costs Of Online Study
With affordability being the reason most students enroll in online college courses, students may look for more ways to shave even more off the cost of attendance. Some institutions offer online courses that utilize Open Educational Resources (OERs) which are free course materials available to students and the public. MOOCs on the other hand are massive open online courses, which are usually free for auditing purposes and steeply discounted for students who utilize them for college credit.
MOOCs used platforms such as coursera, edX, FutureLearn, and classcentral.
Not all MOOCs meet standards for course credits.
Students enrolling in un-credited courses may not earn a degree, but can earn certificates for courses, projects, and specializations.
In 2020, MOOC enrollment surged, with over 180 million students online taking classes from 950 universities.
Coursera saw its numbers surge to 31 million in 2020 from 8 million in 2019.
Over 180 million learners have enrolled in MOOC classes since 2002.
Many community colleges offer robust online programs for students seeking to complete general education credits at a lower cost than at a 4-year institution.
Common transfer and articulation agreements with community colleges include 2+2 programs (2 years at a community college, 2 years at a 4-year institution).
Attending Local or Regional Online College
Tuition at public colleges is typically discounted significantly for in-state students. There are many interstate programs as well, such as the Western Undergraduate Exchange (WUE) that allow eligible students to save on college tuition. The table below uses a Florida resident as an example.
Annually, WUE students save an average of $9,610 on non-resident tuition rates.
There are nearly 160 colleges that participate in WUE.
The cost for out-of-state tuition can be as much as three times what in-state tuition rates are.
Public colleges charge less for in-state residents on the idea that the residents state tax dollars have helped fund the school.
Most Affordable in-state Online Colleges
| School | Cost per Credit Hour | Total in-state cost |
| --- | --- | --- |
| Daytona State College | $92 | $11,040 |
| University of Central Florida | $105 | $12,600 |
| University of Florida | $129 | $15,480 |
| Pensacola State College | $121 | $14,520 |
| St. Petersburg College | $123 | $14,760 |
Employer Assistance
Many employers offer tuition discounts, reimbursements, or scholarships for their employees and sometimes even for children of employees. A 529 account is a savings plan that can be used for post-secondary education costs, including student loan debt. Some employers will even pay most or all of the tuition if the student is pursuing a degree in a high-demand field.
56% of employers offered tuition assistance to undergraduate or graduate students.
11% offered 529 plan payroll deduction.
11% offered scholarships for family members.
8% offered student loan repayment assistance.
2% offered employer match contribution or match for 529 plan.
Sources