Every year it seems that college costs have hit an all-time high and that they couldn't get any more expensive. And then you get the bill for next semester's tuition.
But are college costs really at an all-time high? And how much do grants, loans, or scholarships really help? Are certain majors more expensive to pursue than others?
Note: The main focus of this article is on undergraduate degrees and institutions, not grad schools or grad school programs.
Top Stats
For the 2018-2019 academic year, public college tuition cost an average of $10,230 annually.
During that same time period, private college tuition cost an average of $35,830 per year.
There was an estimated $1.5 trillion in student debt in 2019.
In the fall 2016 semester, more than one-third of enrolled college students had a direct federal loan.
During the 2015-2016 academic year, out-of-state students spent an average of $14,483 more each year (includes tuition, room, and board) than in-state students.
Attending college is a huge decision. One of the biggest factors in selecting a college nowadays is cost—can you afford it? What kind of aid is available to help you, and what about getting a loan? There are a lot of questions to consider on your quest for a higher education. In this article, we tackle the expense of attending college and a few ways to reduce those costs.
It's best to start at the beginning, by defining a word everyone thinks they know the definition of, and the one that seems to drive college costs.
Tuition
We've all heard the word, but what exactly does college tuition cover? What are you paying for, really?
"Tuition" according to vocabulary.com is simply a fee paid for instruction. For the older crowd, you may remember the term "matriculation fee." These two terms are interchangeable, but "tuition" is a much easier way of saying it.
It can cover professor and teaching staff salaries, but there's a lot more to it than that, as shown in the graphic below.
As shown above, teacher/staff salaries and benefits are only about 27 percent of tuition fees. The next largest chunk is taken by research activities undertaken by the college or university, and then health services provided to students and staff on campus, coming in at a little over 10 percent for each.
It may feel like tuition is riding a never-ending escalator, increasing year after year after year at exponential rates, but when college costs are adjusted for inflation, that isn't quite the case. Yes, college costs have risen—but not by as much as you might think in the past 30 years.
The chart below shows costs adjusted for inflation from the 1988-1989 academic year to the 2018-2019 academic year, a 30-year period. All amounts in the table are in 2018 dollars.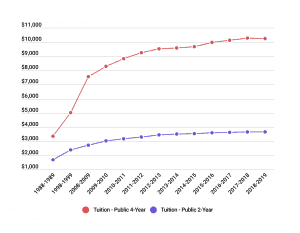 During the 1988-1989 academic year, tuition was an average of $3,360 for public four-year colleges. For the 2018-2019 academic year, tuition was $10,230 on average for public four-year colleges. So, yes, average tuition costs for four-year public colleges have increased, but only by $6,870 in the past 30 years—that's an average of $229 per year.
Public two-year colleges are typically less expensive to attend than four-year colleges, and in the chart above, the average difference between the two is quite significant. It may be worth examining whether you could take necessary prerequisites or introductory courses at a two-year institution and then transfer to a four-year institution to finish up a degree.
Before planning on that course of action, however, make sure that the school you want to obtain your degree from accepts coursework from a two-year institution and if all credits transfer, or if only certain credits transfer.
If you are only interested in obtaining an associate's degree, then a two-year college may be your best (and least expensive!) option.
Even the costs of attending a private school haven't risen that much in the past 30 years, comparatively. Again, all amounts in the chart below have been adjusted for inflation and are in 2018 dollars.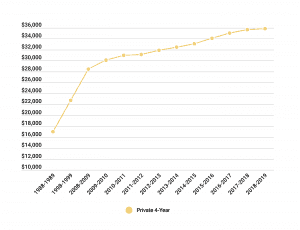 For the 1988-1989 academic year, the average annual tuition for private colleges was $17,010; for the 2018-2019 school year, it was $35,830. This is an increase of $18,820 over 30 years, for an average of $627.33 per year.
The average rate is compiled from the high, low, and mid-range tuition costs from colleges around the country, so there could be many colleges (both public and private) that deviate from the average show in the graphs above.
To illustrate this, we randomly selected several public universities for the chart below to compare in-state tuition rates for the 2015-2016 academic year to show the type of variation that exists among schools. We also added up the annual tuition rate to arrive at the four-year cost—assuming a degree was awarded after four years.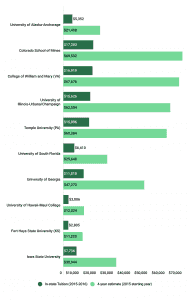 The least expensive school in our chart, for in-state tuition, was Fort Hays State University in Fort Hays, Kansas. Kansas is a state that participates in a student exchange, which we explain later in this article.
Having the least expensive annual tuition rate means that you would also have the least expensive four-year cost (in our chart, anyway) at only $11,220 at Fort Hays State.
The most expensive school in our chart for four years of attendance is Colorado School of Mines in Golden, Colorado at $69,532.
As you can see, while annual tuition rates might not seem that bad, they can really add up after four years. Or more, depending on how long it takes to graduate with your chosen major!
And remember, those figures don't include books or material fees, room and board if you live on campus, or any other additional fees your school may charge.
We know it costs a lot to go to college, but why?
What's Driving the (Gradual) Rise in College Prices?
According to the Department of Education's Summary Guide to College Costs for the 2017 Collection Year, public colleges noted the following as their top reasons for increasing tuition for the 2017 academic year:
Additional staff
Increased student enrollment
Increased salaries/wages for staff
Benefits for staff/employees
Additional supplies/equipment
New programs
The increase in enrollment was cited as one of the main reasons for adding new staff, along with needing additional staff to comply with federal programs or requirements. And of course, more staff means more funds expended for staff salaries, wages, and benefits.
Others noted that adding the new programs and course offerings was necessary to attract new students and stay competitive with other institutions. And when new programs or courses are added to the schedule, that typically means additional staff needs to be hired to teach in those areas.
Private College Tuition vs Public College Tuition
What if you choose to go to a private college? What's the difference between a private college and a public one, anyway? Simply put, private schools don't receive government funding, and public schools do, whether it's from the state or federal government, or both. (This includes tax dollars.)
Private schools get all of their funds from private donors, endowments, and fundraising campaigns, meaning their budgets rely on the generosity of others to cover all of their expenses.
You'd probably guess that private colleges and universities would be generally more expensive than public institutions. Most of the time, that's true, though of course, there are some public institutions that cost more than some private colleges.
For example, for the 2018-2019 academic year, the University of Pittsburgh (Pennsylvania) charged $13,900 in tuition and fees for in-state students and $25,144 in tuition and fees for out of state students. On the other hand, Stillman College, a private college in Alabama, only charged $11,992 in tuition and fees for the 2018-2019 academic year.
Generally, though, private colleges tend to cost more to attend than public colleges. In fact, for the 2018-2019 academic year, students paid an average of $35,830 in private school tuition versus an average of $10,230 for students attending public colleges.
Private school students, on average, paid over three times more for tuition than their public college counterparts. That gap used to be even higher, but has narrowed over time, as displayed in the chart below.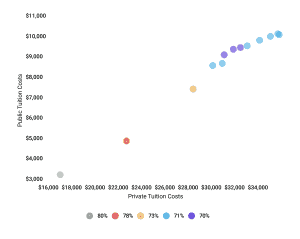 The chart above shows the difference between how much students paid for tuition on average at four-year public and private institutions over the same 30-year time frame as the other charts.
During the 1988-1989 academic year, private students paid an average of $17,010 in tuition costs compared to $3,360 paid, on average, by public students. That difference is $13,160 or 80 percent—meaning private college students paid 80 percent more to attend a private school than their peers who attended public colleges.
This gap has decreased over time, but still hovered around 71 percent for the 2018-2019 academic year—meaning that private school students still tend to pay around 71 percent more on average than their public school counterparts.
The chart above only covers the cost of tuition and does not include room and board in the calculations.
However, tuition rates can vary widely among private schools, depending on size, location, subjects covered, and type of institution. A few schools are included in the private college tuition comparison below to give you an idea of the variances that exist among private schools.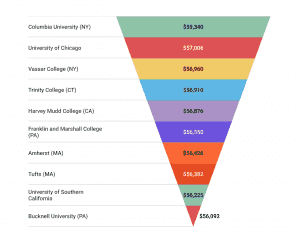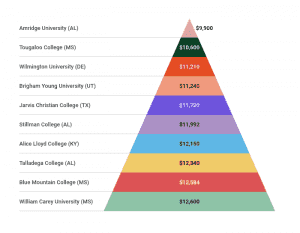 As you can see from the charts above, private school tuition varied by about $50,000 between the least and most expensive schools in our charts.
There are also a few (very few) private schools that do not charge tuition, although they do charge other fees, such as room and board. Berea College in Kentucky, for instance, waives tuition but does charge other fees totaling around $590 per year.
Counting the Costs
A 2013 survey indicated that the biggest reason students chose not to go to their first choice school was that they couldn't afford it, not because they didn't get accepted.
So what are some ways to lower the costs of college these days? Most of them are tried and true methods, but they might not all work for you. Some options here include staying in-state versus going out of state, looking into states which have reciprocity or exchange programs, possibly living off campus, applying for every type of financial aid for which you qualify, and choosing a major carefully.
In-State versus Out of State Tuition
Is there really much of a difference between in-state tuition and out-of-state tuition at a public college or university? That all depends on where you live, and where you choose to go to school.
During the 2015-2016 school year, in-state tuition (including room and board) averaged around $19,548 per year. Out-of-state tuition averaged around $34,031 per year.
If you're lucky enough to live in a state that has a reciprocity policy with bordering states, you can get in-state tuition at any public college in the bordering state. For example, Wisconsin and Minnesota have such an agreement, as do Colorado and New Mexico.
You may even live in an in-state "region", where several states have agreed together that a student from any of the "region" states can attend a public college at the in-state rates.
The Southern Regional Education Board has an "Academic Common Market," where residents of 15 member states can get in-state tuition at any of the participating colleges in any of the other member states—as long as the out-of-state school offers a degree program the student could not get in their home state.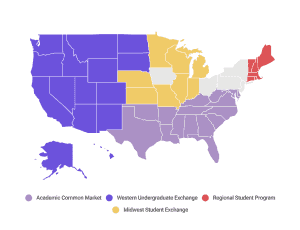 Another "region" offering students in-state tuition at any member state's public college is the six-state "Regional Student Program" in New England. Vermont, Connecticut, Maine, Rhode Island, Massachusetts, and New Hampshire participate in this program, and, like the Academic Common Market, the school must offer a degree program not available in the student's home state.
Still, other states offer a reduction of the out-of-state tuition for bordering or regional states, although students are still paying a higher rate than in-state tuition. Those include the Midwest Student Exchange Program and the Western Undergraduate Exchange Program. Unlike the "regions" noted above, these programs don't require students to pursue a degree that's not offered in their home state.
Note: North Dakota participates in both the Midwest Student Exchange AND the Western Undergraduate Exchange.
There are other ways to get in-state (or close to in-state) tuition rates. For example, eighteen states offer in-state tuition for undocumented students, along with other scholarships and financial aid options. California is one of these states.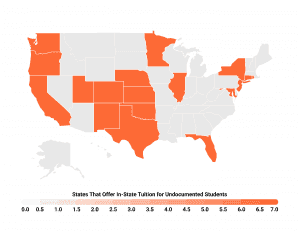 Other states are considering whether to open this option up for undocumented students. However, three states (Arizona, Georgia, and Indiana) have laws that prohibit colleges in their state from offering in-state tuition to undocumented students.
Two states don't allow undocumented students to enroll in college at all—Alabama and South Carolina—so be aware of those distinctions when applying for colleges.
Another way you or a family member may qualify to receive in-state tuition is if they are active-duty members of the military, regardless of whether they are permanent residents of the state they are currently stationed in.
Out of state tuition, just like in-state tuition, can vary greatly from school to school. The chart below includes a few schools on each extreme to show the variation that exists.
Do your homework if you plan to attend an out of state school—especially if there is no reciprocity or exchange agreement in place between your home state and the state the college is in.
The chart below looks at differences in out of state tuition costs for a few randomly selected public colleges to show the variances that exist between schools.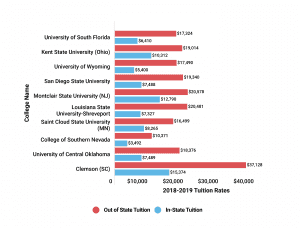 As you can see from the chart, public colleges can differ widely on how much they charge for out of state tuition, with Clemson—the highest in our chart — being more than double the amount charged for out of state students at Saint Cloud State.
Just for fun, we included each college's corresponding in-state tuition rates to see how much more out of state students were being charged at each school compared to their in-state counterparts. Again, there were large differences among schools when it came to the discrepancy between in-state and out of state students.
Not only does Clemson have the distinction of charging out of state students the most tuition on our list, and charging in-state students the most tuition, it also has the widest gap between what in-state and out of state students paid in tuition for one year, with in-state students paying $21,754 less, on average, than out of state students.
The College of Southern Nevada had the smallest gap in our chart between what in-state and out of state students were charged for tuition for one year, with a $6,879 difference between the two amounts.
So, where you go impacts not only your choice of major, social life, and living arrangements, it also affects your wallet!
On Campus or Off Campus?
Another way to cut down on college costs may be to live off-campus. The average annual room and board cost for the 2018-2019 academic year were $11,140. That may be a bargain if you or a family member is attending college in a state with rents that average around $900-$1,000 per month or more.
However, there were 12 states whose 2018 rents averaged below $700/month, for an annual rent cost of $8,400. Factoring in the USDA's calculations of food costs for one person per month for 2018, that would be between $10,425.60 and $10,376.40 per year.
And even for states with higher rental rates, costs can be cut by 50 percent or more if the college student has one or more roommates to split rent with, while room and board is a flat rate regardless of how many roommates share a dorm room.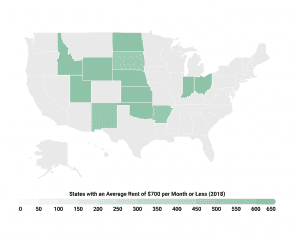 We took the colleges sampled for our in-state and out of state tuition comparison and looked at their average annual room and board costs for the 2018-2019 academic year.
Remember, if you choose (or are required) to live on campus, you need to add this amount to the annual tuition for your yearly cost, plus costs for books and any materials/supply fees specific to certain classes or majors.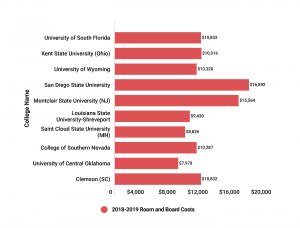 Notably, Clemson is not the most expensive in our list when it comes to room and board. That honor goes to San Diego State, whose average annual room and board costs for the 2018-2019 academic year were more than double those of the University of Central Oklahoma.
Of course, your meal plan also affects how much you'll pay in room and board—the more meals included in the plan, the more expensive it will be. One more thing to keep in mind as the college costs add up.
There are schools that charge much higher rates than those in our chart, and schools that charge lower rates for room and board than those in our chart, so be sure to look carefully at all potential expenses for the schools you're interested in before selecting a college.
Another factor to consider in the battle to keep costs down is your major. Yes, that's right—your major!
Will Your Major Cost you More?
If you choose a career path that requires postgraduate school, then your total education costs will absolutely be higher than your peers. Pre-law and pre-med are two examples of this. After completing your undergraduate degree, you will be required to go to medical school or law school for your graduate degree.
If your chosen career path doesn't really hire people who only have a bachelor's degree, and you need a master's to even be considered for an entry-level position in your field, then yes, your major will also cost you more since you'll have to pursue additional schooling.
However, there are some bachelor's programs that will cost you more, as well. For instance, art majors have additional material fees for nearly every class to cover the costs of physical materials like clay, paint, canvasses, colored pencils, etc., that get used up each semester. Or, depending on your school, you could end up paying for those costs out of pocket.
Other high-cost majors might not be so obvious. Take architecture, for example. Depending on your school's policies, you may find yourself paying out-of-pocket for necessary materials to build class projects, such as 3-D models of buildings, or you could end up paying a set materials fee for certain classes to cover the costs of those materials.
Other majors that might cost more include those in the sciences—you could run into additional expenses to use science labs and special equipment for research. Health studies may also have additional expenses for lab work and hands-on materials.
Regardless of the major's extra expenses, they'll likely be assessed in one (or more) of the following ways, depending on your college: a flat fee per class, a higher cost per credit-hour, an add-on fee per credit hour, or a fee charged once per semester/quarter.
Keep these additional costs in mind when deciding on a major, and don't be afraid to ask questions of potential schools about a major's "hidden" costs.
If you head off to school undecided on your major, you're not alone. According to studies, between 20 and 50 percent of incoming freshmen don't know what they want to major in. And for those that do, roughly 75 percent will change their major at some point during their college career.
But that can come with costs, too—if you pick a major too late, you may have to attend school longer to accommodate the additional classes needed for your major. If you start down one path, then change your mind part way through, that could also require taking more classes than originally planned, or attending school longer to get in all the classes needed for your new major.
There are financial aid options that do last beyond the traditional four years, however. But before we look at financial aid options, we need to look at one of the companies that can help you get it—through your SAT scores.
The College Board
When we refer to "The College Board," we aren't talking about the board at your local college. Rather, The College Board is a non-profit organization that has been around since 1900. It was originally founded to improve access to a college education.
Now its focus has expanded to include research, advocacy, and college readiness programs. The College Board creates and scores the SAT test—one of two tests whose scores colleges rely heavily on to determine which students make the cut and which don't. (The ACT test is created and scored by a different company.)
It also serves as a resource for Advanced Placement (AP) high school students and their teachers.
Another product provided by The College Board, in addition to SAT tests, is a program called Accuplacer, that can help colleges and students determine which courses they should be placed in, whether that's an introductory or advanced course.
They also provide CLEP tests (the College Level Examination Program), which may allow you to skip some lower-level college courses if you score high enough on the exam. While not accepted at all schools, these tests are accepted at around 3,000 colleges nationwide, so it might be worth looking into.
Not only could earning credit through passing the exam save you time, it could also save you hundreds of dollars in tuition costs for any classes you were able to replace through testing.
Finally, The College Board's website has a search feature that allows you to enter data to filter among more than 2,000 scholarships to find those that might be right for you and your circumstances.
Speaking of financial aid, what's out there and how can it help you?
Loans, Grants, and Scholarships
There is often confusion between loans, grants, and scholarships, with some students learning the difference the hard way when they suddenly discover funds for school have to be repaid after all. Don't let that happen to you or your family!
We describe each type of financial aid below and highlight a few of the available options within each category.
Loans
Loans are funds that must be paid back after a certain time period. Just like a credit card, funds are advanced for education costs but must be repaid according to the terms of the loan. There are nearly as many types of college loans as there are colleges, so the terms can differ greatly from loan to loan.
According to U.S. News and World Report, student loan debt was at nearly $1.5 trillion in 2019. That's up from $1.08 trillion in 2013.
Before taking out a loan for college expenses, be sure you understand the terms of the loan, including when you must begin making repayments, whether or not the interest rate will remain constant over the life of the loan, and what happens if you make a late payment.
It's also important to understand how a college loan could impact your credit for future purchases, such as a car or home.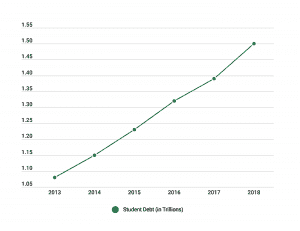 Believe it or not, twenty-somethings and thirty-somethings are not the only ones struggling with student debt. Many people in their 60s are still paying their own or their family members' college loans. This is expanded upon in the chart below.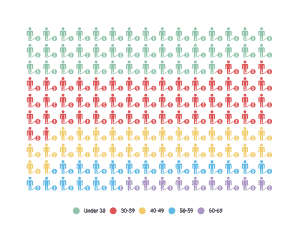 While those under 30 do carry quite a bit of debt, the 30-39-year-olds had the most college debt in 2017, with $461 billion. Those in the 40-49 age group weren't that far behind their twenty-something peers when it came to the amount of debt owed—nearly $279 billion compared to the younger group's $383 billion.
We take a look at a few of the more common college loans available below. Keep in mind that even lending agencies recommend that you exhaust all other sources of financial aid before turning to loans to pay for college expenses.
Federal Loans
Federal loans are available to all qualifying students. In order to qualify, college students must complete the FAFSA, or the Federal Application for Student Aid to determine eligibility.
Some federal loans, like the now-defunct Perkins Loan, are based on financial need. For financial-need based loans, or "direct subsidized" loans, the borrower is not required to make any payments until after graduation. Stafford loans (now renamed to direct subsidized loans) fall under this category. The interest rate is fixed and does not change throughout the period of the loan.
In addition, the federal government pays all interest during the time period you are still in school—meaning interest doesn't begin to accumulate on your loan until after graduation.
Non-need based federal loans, or unsubsidized loans, do not pay interest on your behalf. Many of these also allow deferred payments, meaning you would not begin payment on the loan until after graduation.
For both types of loans, students would need to attend college half-time or more.
There are two other types of federal loans: federal PLUS loans (for parents to take out on behalf of their student or for graduate students) and direct consolidation loans, which allow you to consolidate other student loans into one. (Private student loans are not eligible for consolidation under this program.)
Private Loans
Private loans are a last resort after every other option has been exhausted. Just ask the private lender—they will usually ask if you have looked into other options prior to taking out a private loan.
The reason is simple: private loans tend to have higher interest rates, don't offer loan forgiveness options, and don't usually defer payments as federal loans do. In addition, credit score matters for these loans—and if you have no (or poor) credit history, you may be required to have a cosigner on the loan. (Meaning they will be on the hook to pay off the loan if you couldn't pay it back for some reason.)
The chart below shows the variations in college loan interest rates from a small sampling of private lenders in 2019. As you can see, the rates are all over the map and are dependent on credit and payment history.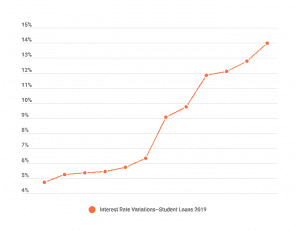 The lowest offered interest rate was just below 5 percent, while the highest rate was nearly 14 percent. Keep in mind, some of these variations are dependent on how good your credit score is, what kind of credit history you've built up, and, if you need a cosigner to qualify for the loan, the cosigner's credit history.
Also, before taking out any loans, see if your chosen college has a tuition payment plan, allowing you to make monthly payments versus paying it all in one lump sum. It may make school costs easier to pay if, instead of paying $8,000 for the year upfront, you are able to pay $667 per month.
Loan Forgiveness Programs
If you feel you have no other choice but to take out loans for college, you should know that there are loan forgiveness programs out there for federal loans, but they have very specific qualification criteria.
Even programs for one major or career field can have several different types of forgiveness programs with several different sets of criteria.
Educators, for example, have several options to choose from when it comes to student loan forgiveness programs, depending on which category they fit into.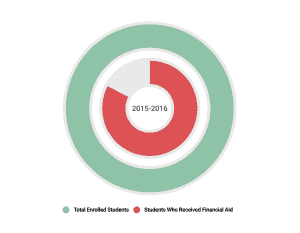 During the 2015-2016 academic year, nearly 83 percent of first-time students who were enrolled full time received some type of financial aid, whether loans, grants, or scholarships, or some combination of the three. The data did not differentiate between grants and scholarships.
The total awarded averaged to about $7,300 per student. But, only about 61% of graduating high school students completed the FAFSA in 2017, meaning they missed out on applying for many grants and scholarships that require it.
Grants
Grants are funds that do not need to be repaid and are typically awarded based on financial need. There are federal grants, state grants, private grants, and some colleges even provide grants to their students.
Most grants will also require a completed FAFSA.
Governmental grants include the Pell Grant, the Teacher Education Assistance for College and Higher Education (TEACH) Grant, the Federal Supplemental Educational Opportunity Grant (FSEOG), and the Iraq and Afghanistan Service grants.
The truth is, there are grants available for every population and every student—do your research and see what's available to you!
What are you talented at? What do you love? What civic organizations are you a part of? What communities do you belong to? Look to those groups and special interest areas for grants or scholarships, too—you never know what might be available.
Scholarships
Scholarships are available from multiple sources and awarded based on academic merit, athletic merit, or other criteria specified by the awarding agency. There is often a written portion of the scholarship application asking you to explain why you should be chosen to receive the award.
In summary, no matter your family background, ethnicity, gender, interests, talents, academic skills, economic level—there is financial aid out there for you. You may just have to be willing to put in a little legwork to find everything available to you—but if it saves you a few thousand dollars a year, it's worth it!
Work-Study Programs
Another type of available federal aid is the work-study program. This needs-based program allows a student to work part-time on or off campus (for a government agency or non-profit organization) and earn money for school.
Not all colleges participate in the federal work-study program, so if this is something you're interested in, be sure to find out if your chosen school is a participant.
You'll still need to complete the FAFSA to qualify for work-study programs, and the amount of the award depends on financial need and type of work being done.
Where Can I Learn More?
You can always look at the federal guidelines for financial aid, your preferred school's specific costs and financial aid offerings, and the College Board website under trends for the most up-to-date summary of tuition information broken down by state to get started.
The federal government's College Navigator site lists tuition and room and board by college—so if you have a few schools in mind and want to compare the most current numbers, that's a great place to start.
And always, check out the websites of the schools you are interested in—they should have a breakdown on their sites for tuition, fees, and other costs to be aware of, plus any financial aid information you need to get started along the way.
Finally, talk to the appropriate staff at your high school or local career center. They might have some great local options on colleges or tips on available local scholarships and grants that might not show up on a big, nationwide database.
In Summary…
Don't get caught off guard by the costs of a college education. Do your homework before you or your student get your hearts set on a particular school to be sure you understand all the expenses associated with that school.
Keep your eyes open for reciprocity and exchange programs for out of state schools, and learn what financial aid you or your student may qualify for to reduce your costs even further.
If you or your student decide to take out a loan or two to cover college expenses, be sure you understand all the fine print, including when the loan has to be repaid, how much of the loan has to be repaid, and what the late payment policy is for that loan.
Consider the cost of your major before making any final decisions, and look at college websites for a line-by-line explanation of all costs and tuition fees for potential majors.
Finally, take a look at whether living on campus or off campus is more cost effective, and find roommates if possible, for off-campus living to further decrease expenses.
There's a lot of information to sort through, but with planning, patience, and plenty of research, you can find the right school for you or your student without unpleasant financial surprises along the way.
Sources