Report Highlights. Full or partial student loan debt forgiveness is possible under certain circumstances, but most people who are eligible don't know they qualify. Further, the rate of application rejections rises each year, and up to 43% of applications have yet to be processed.
0.3% of student loan debt is eventually forgiven.
0.7% of eligible borrowers will eventually benefit from student loan forgiveness.
6.7% of eligible student borrowers apply for loan forgiveness.
$95.45 per indebted student borrower is the rate at which the federal government forgives student loans.
Related reports include Student Loan Debt Statistics | College Enrollment Statistics | How Do People Pay for College? | Average Time to Repay Student Loans | Average Cost of College | Student Loan Refinancing
Federal Student Loan Forgiveness Statistics
Federal loan forgiveness, cancellation, or discharge may apply to PLUS loans, direct loans, stafford loans, consolidation loans, and Federal Family Education Loans (FFEL).
4.1% of applicants receive a partial discharge of the remainder of their student loans, usually following several years of required payments.
6.8% of applicants for federal student loan forgiveness have had the remainder of their student loan payments discharged.
463,444 students have had their loans forgiven, either in part or in full, through federal forgiveness programs.
As many as 43% of applications have yet to be processed.
In two years, the number of denied claims has more than quadrupled.
During that same period, the rate of approvals has remained comparatively stagnate.
The Higher Education Act, which expanded loan forgiveness in 2008, has never been funded by Congress.
While a student loan debt is subject to evaluation, it may be placed in forbearance or have collections halted.
If the application is rejected, all halted collections and forbearance are retroactively canceled.
Among people who apply for loan forgiveness, most applications go to the Public Service Loan Forgiveness Program and the Borrower Defense to Repayment Discharge Program.
These programs have a combined average of 88,334 applications pending at any given time.
3 million+ student loan borrowers are either eligible or approaching eligibility for student loan forgiveness.
17% of new graduates with law school debt say they chose a job that was likely to qualify them for loan forgiveness over a job they actually wanted.
24% of Americans believe all existing student loans should be forgiven by the U.S. government, regardless of circumstances.
The greater their income, the less likely someone is to support student loan debt forgiveness.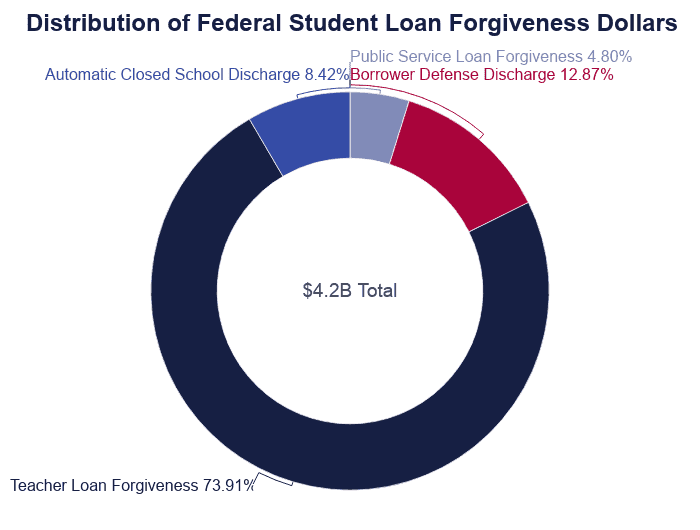 Public Service Loan Forgiveness (PSLF)
Employment with a government entity or non-profit organization may make you eligible for student loan forgiveness. Government employees are more likely to be approved than other non-profit employees. Denied applicants may still be eligible for Temporary Expanded Public Service Loan Forgiveness (TEPSLF).
2.1% of processed applications for PSLF have been approved since the program's inception.
In the program's first year, 0.032% of applications were approved.
2.99 million student loan borrowers are eligible to apply for PSLF.
227,382 have applied since March 2019.
From March to November 2020, the rate of claim approvals increased 32.4%.
From March 2019 to March 2020, total claim denials increased 128%.
During that same time, total approvals rose 267%.
38% of eligible applicants work for non-profit organizations.
27% of approved PSLF applications are for non-profit workers.
62% of applicants work for the U.S. government.
73% of approved PSLF applications are for U.S. government workers.
An average of 14,749 PSLF applications are pending at any given time.
59% of denied applications are rejected due to too few qualifying payments.
26% of denied applications are due to missing information.
$115.9 billion is the total outstanding balance of borrowers eligible for PSLF.
$290.4 million has been forgiven through PSLF.
That's $1,004.50 per applicant.
$87,514 is the average balance owed among those eligible for PSLF.
$76,906 is the average discharge amount for an approved PSLF applicant.
$17,274 is the average individual outstanding remainder.
96% of loans forgiven are on income-driven-repayment (IDR) plans.
The remaining 4% use fixed repayment plans.
Public Service & PSLF
PSLF is one of the most well-known and most utilized student loan forgiveness programs.
Over 25% of the labor force in the US is somehow employed in public service.
That's 41.2 million public service workers.
10 years is the minimum amount of time after graduation before you are eligible for PSL forgiveness.
Among the top 10 complaints about student loans, PSLF is the fourth-most griped about.
One-third of Americans support PSLF.
Black or African Americans are more likely to support PSLF than any other race.
White or Caucasian Americans report the least support for PSLF.
People with income exceeding $100,000 are less likely than those with lower incomes to support PSLF.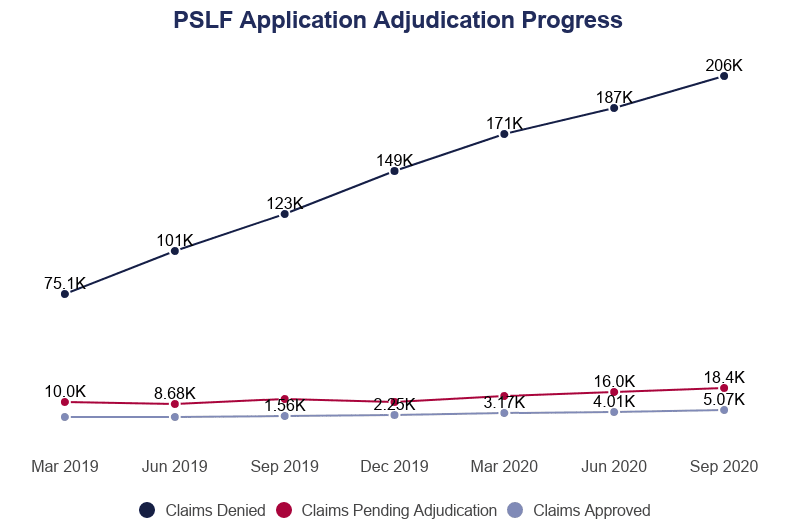 PSLF Requirements and Eligibility
The PSLF Program is so competitive, and there are few exceptions to the rules. PSLF seekers should submit a PSLF Employment Certification Form (ECF) annually and when changing employers.
1. Employment by a United States governing organization
Your job title is not relevant to qualify for PSLF, but your employer is. If you are employed by a government organization at any level (U.S. federal, state, local, or tribal
or a not-for-profit organization that is tax-exempt under Section 501(c)3 of the Internal Revenue Code.
or AmeriCorps or Peace Corps as a volunteer, you may qualify for PSLF.
2. Full-time employment with the qualifying agency
In this case, the meaning of "full-time" is defined by your employer at a minimum of 30 hours per week.
Employment in multiple qualifying part-time jobs will make you eligible for full-time employment status provided you average a combined total of 30 hours per week.
3. Have direct loans or consolidate other federal student loans into a direct loan
Direct loans, such as those received under the William D. Ford Federal Direct Loan Program, qualify for PSLF.
Loans from other federal programs, such as the Federal Family Education Loan (FFEL) or Federal Perkins Loan Program, are not eligible unless they have been combined into a Direct Consolidation Loan.
4. Make 120 qualifying payments under a qualifying payment plan
Repay your loans under an IDR plan.
IDRs offered through the ED are all qualifying payment plans, including Pay As You Earn (PAYE) and Income-Contingent Repayment (ICR) Plans.
Qualifying payments include those made after October 1, 2007, made for the full amount due and no later than 15 days after the due date.
Only required payments made during qualifying employment may be credited toward a PSLF; any additional payments, such as those made during a deferment or forbearance.
"Lump-sum" payments may count for up to 12 qualifying monthly payments.
Submission of the ECF updates the number of qualifying payments made toward a PSLF.
Just under half of submitted ECFs are ineligible.
ED's PSLF Discharge Application Adjudication Progress

| | Claims Approved | Claims Denied | Claims Pending |
| --- | --- | --- | --- |
| Nov 2020 | 6,493 | 263,118 | 26,729 |
| Oct 2020 | 5,830 | 213,535 | 20,025 |
| Sep 2020 | 5,069 | 205,744 | 18,402 |
| Aug 2020 | 4,444 | 198,662 | 16,954 |
| Jul 2020 | 4,263 | 192,323 | 15,252 |
| Jun 2020 | 4,012 | 187,142 | 15,983 |
| May 2020 | 3,697 | 187,053 | 15,041 |
| Apr 2020 | 3,376 | 177,422 | 15,248 |
| March 2020 | 3,174 | 171,321 | 13,901 |
| Feb 2020 | 2,828 | 163,476 | 12,338 |
| Jan 2020 | 2,544 | 155,719 | 10,931 |
| Dec 2019 | 2,246 | 149,091 | 9,991 |
| Sep 2019 | 1,561 | 123,146 | 11,766 |
| Jun 2019 | 1,216 | 100,835 | 8,677 |
| Mar 2019 | 864 | 75,138 | 10,004 |
Temporary Expanded Public Service Loan Forgiveness (TEPSLF)
When a PSLF application is denied because some or all payments were not made on a qualifying repayment plan, loan forgiveness might still be available temporarily. To qualify for TEPSLF, you must have already submitted a PSLF application that has been denied.
5.9% of the 39,318 processed applications for TEPSLF have been approved.
30% of the 36,988 total rejected applications were from borrowers with fewer than 10 years of repayment.
19% were due to the borrower's failure to meet payment requirements during the previous 12 months.
$95.3 million has been discharged to borrowers through TEPSLF.
$43,638 is the average individual discharge amount.
65% of loans forgiven were on IDR plans.
16% were using graduated repayment plans, 13% on fixed repayment plans; 6% of loans were under standard repayment plans.
ED's TEPSLF Discharge Application Adjudication Progress

| | Total Claims Approved | Total Claims Denied |
| --- | --- | --- |
| Nov 2020 | 2,330 | 36,988 |
| Oct 2020 | 2,293 | 36,307 |
| Sep 2020 | 2,180 | 35,062 |
| Aug 2020 | 2,136 | 34,117 |
| Jul 2020 | 2,049 | 33,262 |
| Jun 2020 | 2,013 | 32,599 |
| May 2020 | 1,931 | 31,225 |
| April 2020 | 1,826 | 28,888 |
---
Borrower Defense to Repayment Discharge (BDPD)
If a school engages in misconduct in a way that directly relates to a loan or the educational services the loan paid for, students or alumni may be eligible for a Borrower Defense to Repayment Discharge.
Out of 338,062 applications for BDPD, 61,511 have been accepted.
Zero applications were approved between June 2018 and June 2019.
Zero applications were accepted after August 2020.
With a 30.9% acceptance rate, this is the program most likely to result in loan forgiveness.
7.2% of applicants receive a partial discharge.
The number of borrowers seeking BDPD doubled from December 2018 to May 2020.
$10,459 is the median outstanding debt among applicants.
$9,580 is the average individual discharge for applicants.
$7,703 is the median remaining debt for borrowers receiving a partial discharge.
$178.1 million is the cumulative remainder for borrowers with a partial discharge.
A total of $538.7 million has been discharged since the program's inception.
If that discharge was distributed in equal amounts, each applicant would receive $1,683.52.
34% of accepted applicants are from the state of California.
20% of applications come from residents of California.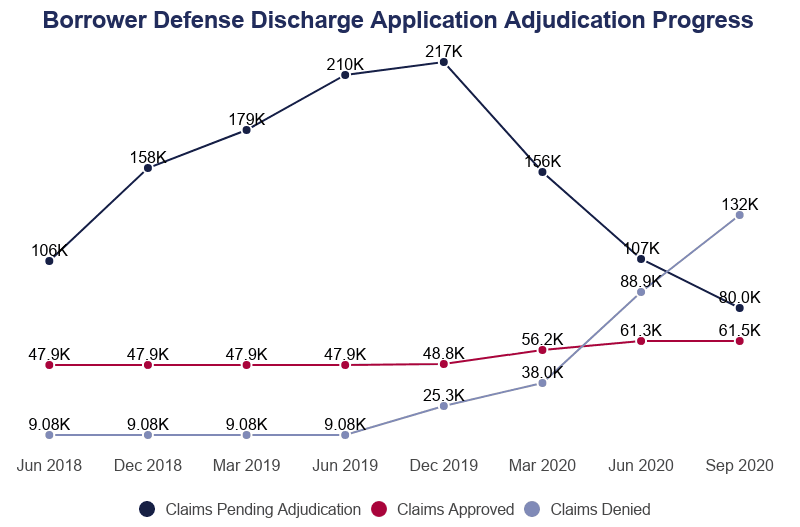 BDPD Requirements and Eligibility
Despite a relatively high application acceptance rate, the BDPD program is still competitive. With an increase in the number of applicants and in the rate of rejected claims, understanding eligibility and requirements is essential. Note:
In some cases, those eligible for a BDPD may also be entitled to reimbursement for any loan payments made.
Borrowers seeking loan forgiveness should use the borrower defense application* provided by the ED (available on their official web site).
The ED recommends submitting supplemental material with applications to speed up verification processes.

Transcripts, enrollment agreements, or registration documents include crucial details of your attendance at the institution in question.
Emails with school officials may provide critical proof of the administration's knowledge of or involvement in questionable practices.
Promotional materials from the school provide evidence of their recruitment policies and practices.
The school's manual or course catalog detail the school's offerings as they may relate to the educational programming provided.
In the event of electronic submission, these materials may be scanned and provided to the ED in portable document format (PDF).
*Students who began attending Corinthian Colleges between July 1, 2010 and September 30, 2014 must use a Corinthian-specific application to request forgiveness of their student loans. The Corinthian Colleges system includes Everest, Heald, and WyoTech.
ED's Borrower Defense Discharge Application Adjudication Progress

| | Claims Approved | Claims Denied | Claims Pending |
| --- | --- | --- | --- |
| Nov 2020 | 61,511 | 137,391 | 75,367 |
| Oct 2020 | 61,511 | 137,391 | 77,802 |
| Sep 2020 | 61,511 | 131,539 | 79,956 |
| Aug 2020 | 61,511 | 129,155 | 84,722 |
| Jul 2020 | 61,466 | 113,322 | 97,156 |
| Jun 2020 | 61,312 | 88,852 | 107,112 |
| May 2020 | 58,075 | 54,305 | 127,727 |
| Apr 2020 | 57,675 | 46,525 | 140,783 |
| Mar 2020 | 56,241 | 37,974 | 155,795 |
| Feb 2020 | 55,830 | 30,074 | 161,186 |
| Jan 2020 | 51,567 | 27,988 | 169,722 |
| Dec 2019 | 48,785 | 25,282 | 217,452 |
| Jun 2019 | 47,942 | 9,077 | 210,168 |
| Mar 2019 | 47,942 | 9,077 | 179,377 |
| Dec 2018 | 47,942 | 9,077 | 158,110 |
| Jun 2018 | 47,942 | 9,077 | 105,998 |
Teacher Loan Forgiveness
One of the oldest active student loan forgiveness programs, only educators who work in low-income† schools or educational entities may qualify.
371,000 teachers have successfully had their loans forgiven.
52% had their FFEL loans forgiven.
48% had direct loans forgiven.
There are over 3.6 million full-time teachers working in the U.S.
1.8 million have taught for 10 years or longer.
1.8 million work in schools where more than 50% of students qualify for free or reduced lunch.
The Teacher Loan Forgiveness Program has discharged over $3 billion in student loans.
$281 million is the average annual total discharge.
$8,300 is the average individual discharge.
†To qualify as a low-income school, at least 40% of students must be eligible for Title I aid.
Teacher Loan Forgiveness Requirements and Eligibility
Eligibility requires full-time employment at a low-income elementary school, secondary school, or educational service agency. Special education teachers may also be eligible. Additional rules‡ apply, with few exceptions.
5 years is the minimum amount of time you can be employed as a teacher before you qualify for teacher loan forgiveness.
Full-time employment for 5 consecutive academic years is a prerequisite of teacher loan forgiveness.
Exceptions may apply if your 5-year period was interrupted by active duty in the U.S. armed forces (reserves included).
Exceptions also apply under the Family and Medical Leave Act of 1993.
In order to apply for any exception, your employer must submit that you fulfilled your contract requirements for the academic years in question.
In most cases, you have to have been employed full-time for at least half of the relevant academic year.
At least one of these 5 consecutive years must be after the 1997-1998 school year.
Loans can be forgiven only if they were initiated before the end of your 5 consecutive qualifying academic years.
Up to $17,500 in student loans may apply for teacher loan forgiveness.
This includes direct subsidized and unsubsidized loans and Federal Stafford loans.
Defaulted loans are not eligible.
To qualify as a teacher, you must fulfill several requirements.

Qualified teachers have a Bachelor's degree or higher.
Teachers must have full certification for the state in which they are employed.
Certification or license requirements must not have been waived for any reason.
Teachers must either teach in a classroom or use classroom teaching methods in a non-classroom setting.
‡"You must not have had an outstanding balance on Direct Loans or Federal Family Education Loan (FFEL) Program loans as of Oct. 1, 1998, or on the date that you obtained a Direct Loan or FFEL Program loan after Oct. 1, 1998." – ED Office of Federal Student Aid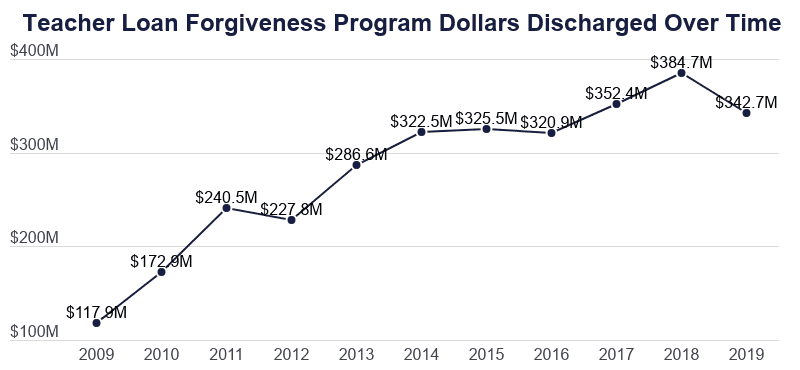 Closed School Discharge CSD
The closure of the institution to which you originally submitted your student loans may qualify you for a Closed School Discharge. You receive an automatic CSD if your school closed on or after November 1, 2013 and you did not enroll in another school that participates in the federal student aid program within three years of your school's closure.
Up to 100% of a loan balance may be subject to CSD.
31,500 borrowers have been approved for automatic CSD.
$353.6 million in automatic CSDs has been dispersed.
$11,225 is the average approved individual discharge amount.
If you qualify for a CSD, you may be reimbursed for any payments of the loan balance made voluntarily or through forced collection.
All records of the loan, including repayment history and adverse history associated with the loan, may be expunged from your credit record.
A rigid set of circumstances qualify you for any CSD.

You must have been enrolled in your school at the time of its closure.
You may have been on an approved leave of absence at the time of closure.
If you withdrew from the school within 120 days of its closure, you may still be eligible.
You may not have completed all of your coursework, regardless of degree status.
If you have already transferred your academic credits to another school, your loans may still qualify for a CSD.
Note: If you attended a school that is now closed, you may still be able to gain access to a copy of your academic records or transcript; contact the ED's state licensing agency in the state where the closed school was located.
Total and Permanent Disability Discharge
A permanent disability that inhibits your employment may qualify you for a student loan discharge. Applications should be made to Nelnet, the servicer that processes such documents for the ED.
To be considered, candidates must submit documentation from an acceptable official source, such as the U.S. Department of Veterans Affairs (VA), the Social Security Administration (SSA), or a licensed physician.
The VA provides disability determination to veterans regardless of whether the disability is service-related.
The SSA provides documentation to anyone eligible for Social Security Disability Insurance or Supplemental Security Income.
A doctor of medicine (M.D.) or a doctor of osteopathic medicine (D.O.) physician's certification must specify an inability to seek gainful employment due to any impairment that

has lasted for a continuous period of at least 60 months, or
is expected to last for a continuous period of at least 60 months, or
is expected to be a fatal condition.
Discharge Due to Death
Death of the borrower (or in the case of a PLUS loan, the death of the borrower or of the undergraduate student) may result in a cancelation of federal loans. This is not an automatic discharge; even after the borrower's death, their loans will continue to accrue interest with collections processed naming the borrower's estate as the payee.
73% of student loan borrowers don't know what will happen to their loan debt in the event of their death.
16% of borrowers have life insurance averaging more than $330,000 to cover debts such as unpaid loans.
A family member or representative of the deceased may provide their loan officer with documentation of the death.
Acceptable documentation of the death includes an original death certificate or an official copy.
Other Loan Cancelation Programs
Your employment or volunteer service may make you eligible for a discharge(s). Other extenuating circumstances may also warrant a full or partial cancelation of your student loan debt. In the event that you are not eligible for loan cancelation, you may still be able to arrange some other means of debt relief using these programs and their requirements as a guide.
Perkins Loans are need-based direct loans that may be canceled depending on your employment history or volunteer service.
Although bankruptcy usually does not cancel student loans, there are certain circumstances under which one can apply for a federal loan Discharge in Bankruptcy.
False Certification Discharges are applicable when a student is certified for student loans incorrectly and through no fault of their own.
Disqualifying Status Discharge, False Certification of Ability to Benefit, and Unauthorized Signature Discharge are types of loan forgiveness that may apply in the event of falsified certification.
Unpaid Refund Discharge refers to cancelation of student loans in the amount of an owed refund.
---
Private Student Loan Forgiveness Facts and Statistics
Forgiveness of private loans is rare. There is no current legislation regulating any kind of debt cancelation or forgiveness among private companies. Under certain circumstances, however, private loans may be forgiven on a case-by-case basis. There is no available data regarding how many loans or how much debt has been forgiven by private lenders over the years, and no entity collects such data.
7.7% of outstanding student loan debt comes from private loans.
In the wake of COVID-19, some legislators promote private student loan forgiveness as a method of debt relief.
In July of 2020, the U.S. House of Representatives passed a bill to cancel up to $10,000 in private loans for each borrower.
The Coronavirus Aid, Relief, and Economic Security (CARES) Act, while providing some relief in the form of deferred payments and collections, does not specify cancelation of any loans.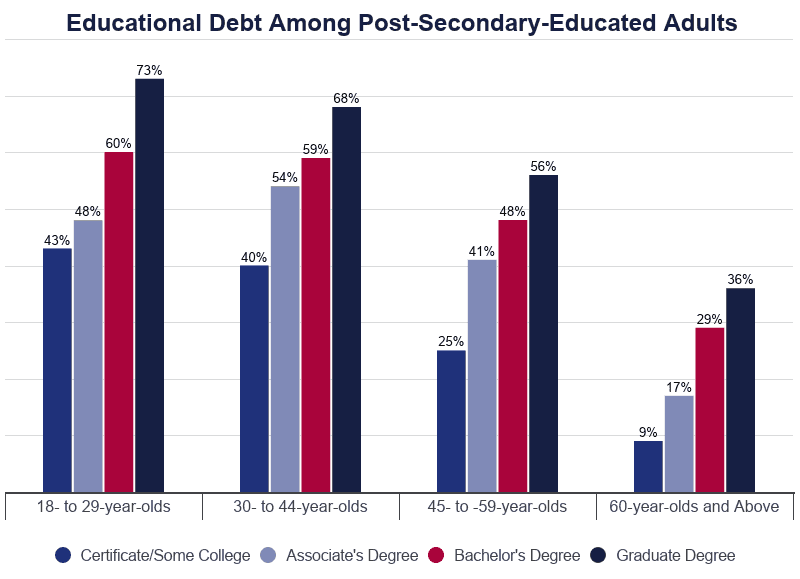 ---
Student Loan Debt Statistics
Student loans function under some unique rules. Debts vary across demographics, socioeconomic groups, and age groups, the last of which are heavily influenced both by rising educational costs and the time one group has had over another to repay debts. Trends in education costs, student loan debt, and debt repayments vs. defaults all contribute to the policies and processes of student loan forgiveness programs. It's important to understand how student loans work when seeking out debt relief and/or student loan forgiveness.
$1.56 trillion is the collective debt of 44.7 million American student loan borrowers.
30% of all adults incur some type of educational debt.
93% of those with outstanding debt have student loan debt.
$32,731 is the average individual student loan debt.
The average loan payment is $393.
$85 billion of collective student loan debt is overdue.
20% of people who owe student loan debt are behind on payments.
10.8% of student loans are in delinquency or default (90+ days overdue).
Nationally, outstanding debt averages $22,500 per person.
30% of people with outstanding student loan debt had deferred loans prior to the onset of the COVID-19 pandemic.
23% of adults who receive outside financial assistance use it to make payments on student loans.
$404 is the average monthly amount householders under 40 spend on student loan repayments; this is more than the average family spends on groceries in a month.
96% of student loan borrowers report putting off at least one major life/financial milestone due to their student debt; such milestones include home-buying, starting a family, and long-term savings.
68% of borrowers say their student loan debts are the cause of their financial struggle.
30% of all adults have incurred some type of educational debt.
54% of young adults who go to college graduate in some type of debt, usually student loan debt.
College-educated adults under 30 owe more student loan debt than any other age group.
College-educated adults over 60 owe the least amount of student loan debt.
73% of graduate degree holders under the age of 30 have outstanding educational debt.
68% of graduate degree holders aged 30 to 44 have outstanding educational debt compared to 48% of those aged 45-59.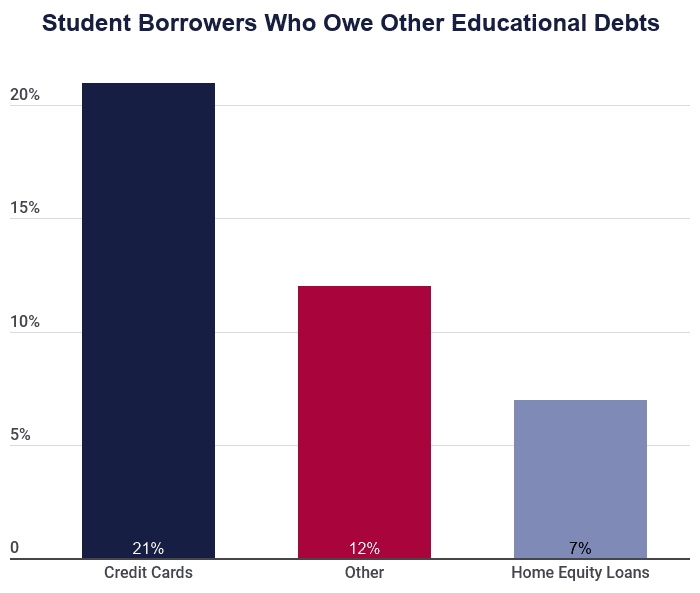 ---
Sources