General Statistics
In the United States, the overall dropout rate for undergraduate college students is 40%, with approximately 30% of college freshman dropping out before their sophomore year
The United States ranks 19th in graduation rates among 28 countries in OECD studies
In 2018, school graduates between 16-24 years old were enrolled in colleges or universities:

66.9% of all male students were enrolled
71.3% of all female students were enrolled

Of the 20-29-year-olds who graduated with a bachelor's degree in 2018, 72.3% were employed
The unemployment rate for recent high school dropouts was 13.7% in 2018 and 18.6% for recent high school graduates who dropped out of college.
More than 30% of undergraduates are first-generation college students
40% of college dropouts have parents who didn't finish college.
34 million Americans over 25 years of age have some college credit
In 2019, fewer than half of Americans between the age of 25 and 35 obtained any credentials beyond a high school diploma
Students with the highest student loans are less likely to drop out than those without loans or with smaller loans.
Students aged 19 or under are the age group least likely to drop out of college.
The national high school graduation rate is 84%
The cost of college tuition has continuously increased, by 1375% since 1978
The cost of dropping out of college measured by lost earnings is $3.8 billion in a single year

Compared to the national high school graduation rate of 84%, the college dropout rate is sobering. Yet there has been improvement. The odds of a student completing college in 2015 were around the same as a student completing high school in the 1940s.
College Dropout Rate: Institutional Demographics
Two-year colleges have the lowest completion rates of any category of educational institution. While a fair number of students enrolling in these schools go on to transfer to another college for graduation, the dropout rates are still sobering. The demographic for most community colleges includes first-generation college students, low-income students, and students who may not have been able to meet admission standards for 4-year schools.
Four Year Private Colleges
20% of student enrollments
Completion time for 4 year degree at public college is 4.2 years
Four-Year Public Colleges
44% of student enrollments
15 million students were enrolled in public colleges in 2019.
Completion time for 4-year degree at public college is 4.6 years
57.4% of freshman attending public 4-year colleges travel less
than 50 miles from home to college
Two-Year Public Colleges
29% of student enrollments
Only 5% of students in 2-year colleges graduate on time with a 2-year degree
15.9% of students pursuing a certificate program graduate on time
Less than 25% of high school graduates who enroll in 2-year colleges complete a degree in three years
37.5% of recent high school graduates who enroll in a 2-year college complete a degree within six years, and only 14.7% complete a BA degree in the same time frame
---
College Dropout Rate: Population Demographics
Students under the age of 19 are the least likely to drop out of college, followed by those 30 or older. Students between the age of 20 and 29 are the most likely to drop out at either a 4 or 2-year institution.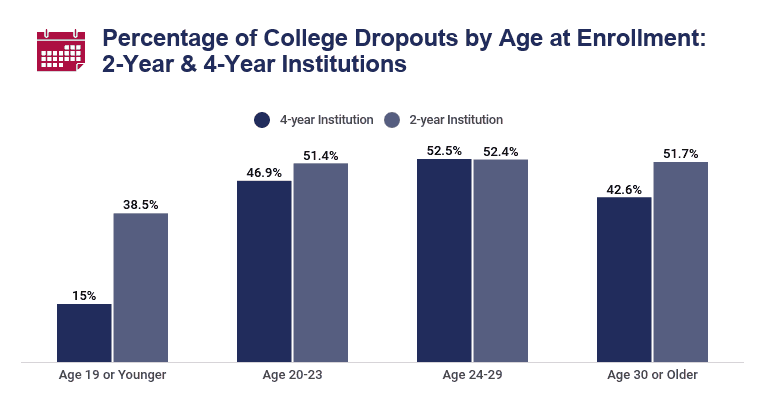 Asian students were the least likely group to drop out at either two- or four-year colleges.
10% dropped out at four-year institutions
35% dropped out at two-year colleges
36% of American Indians/Alaska natives were more likely to drop out after two years at four-year colleges.
23% of first-time full-time Native American students graduated within 4 years
Between 2000 and 2017 the number of Native Americans who had attained at least a 2 or 4-year degree had declined from 30% to 27%
45.9% of black students complete their degree at four-year public colleges within 6 years
Nearly 66% of black undergrad students are women and 33% are men
Black male students pursuing a 4-year degree were the most likely to drop out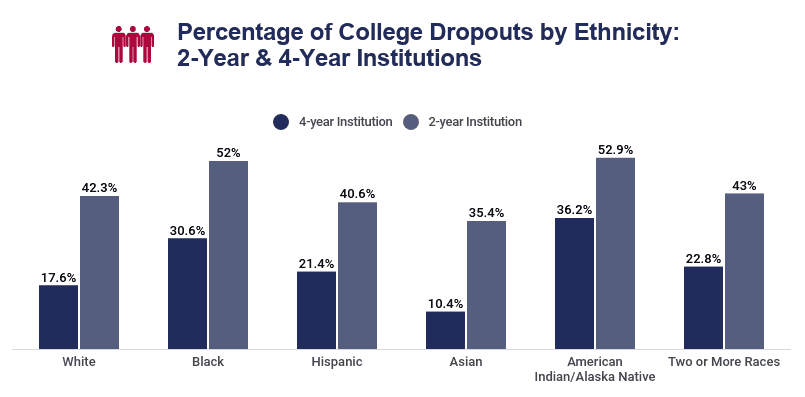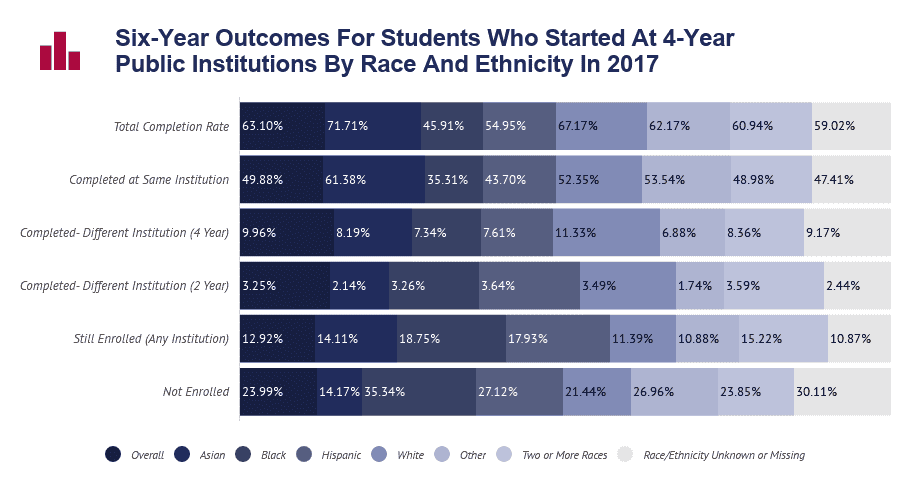 ---
Dropping Out of College: Employment & Career Prospects:
Most Non-Vocational Jobs Require Educational Credentials
Students without an education may find it extremely difficult to make a living, support their families, and remain above the poverty level without a college education in the United States. Stories about college dropouts such as Bill Gates or Steve Jobs are inspiring, but the reality is that for most students, dropping out of college can mean signing up for $25,000 less per year in income than those who graduate. It can mean a higher chance of becoming unemployed and fewer opportunities for jobs. Most students enroll in college because they want to increase their earning potential. Dropping out can not only decrease that potential but leave some students in an even worse position than before they enrolled.
Wages rarely keep pace with the cost of living increases. The fastest-growing industries still pay the most for credentials. Every competitive edge in the labor market matters.
Due to these expectations, college completion in the United States matters for most students. For students not interested in vocational or trade-based careers, a degree makes the most difference in future earning potential.
The labor force participation rate for college graduates possessing an associate's degree is:
69.6% vs. 57.7% for high school graduates in 2017
73.3% labor force participation rate for college graduates with a 4-year degree
Employers in the United States typically have an expectation of a college degree for higher-paying jobs and advancement in careers.
Adults who attended some college, but didn't graduate, earn about $1 less per hour, on average, than those who earned an 2-year degree, and about $5 less per hour, on average, than those earning a 4-year degree
College dropouts earn, on average, about $4 per hour less than high school graduates with a professional certificate or vocational training
College dropouts earn, on average, $21,000 less per year than their college graduate counterparts
A significant amount job growth in the United States before the Great Recession occurred around occupations requiring post-secondary education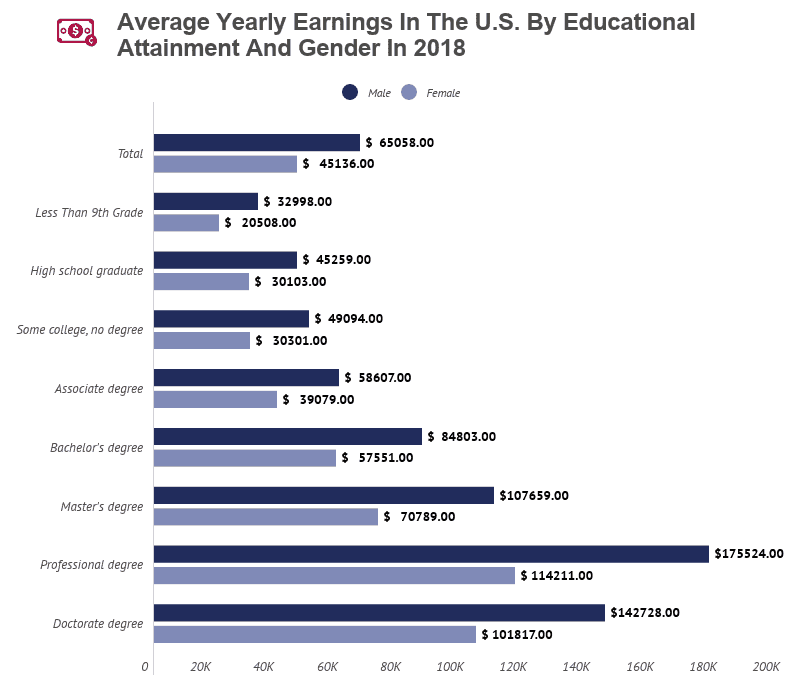 Vocational and Trades Jobs Often Overlooked
Few students initially enter vocational schools and the trades right out of high school. In many other developed countries, vocational training for students in high school and afterward is offered for students who decide not to enroll in college. Unfortunately, in U.S. high schools, the push is mainly for standardized testing and college preparation only, and outside of vocational trades, most employers in the U.S. still expect a degree.
After a cost-benefit analysis, some students determine it just isn't worth it. Some jobs will pay well enough to offset the amount of debt needed to earn the degree required, and others, not so much. While most jobs require a college degree, others may not, particularly in vocational and trade. A short time in vocational school, apprenticeship, or even on-the-job training can sometimes mean making more money right away than those students who graduate and have to climb the career ladder while paying off their student loans.
Nearly 40% of college graduates end up working jobs that don't require degrees, and even more are working in fields that are not what they went to school for.
Analysis: Why Are Students Leaving College?
The reasons for dropping out of college vary widely. It's true that many former students find other economic opportunities, but for many, the consequences for dropping out can be detrimental and far-reaching.
Some of the reasons students may feel it's not worth it to complete college:
Unprepared for the level of rigor of college studies (academic or structure)
The only enrolled in college to meet the expectations of others (family, spouse, teachers, etc.)
Level of debt required for completion vs. job prospects upon graduation
Parents or spouses become unemployed
Illness
Financial aid status or eligibility changes
Family needs (caring for family members, pregnancy, or illness)
Lack of meaningful connections with other students on campus
Falling behind academically and no support to catch up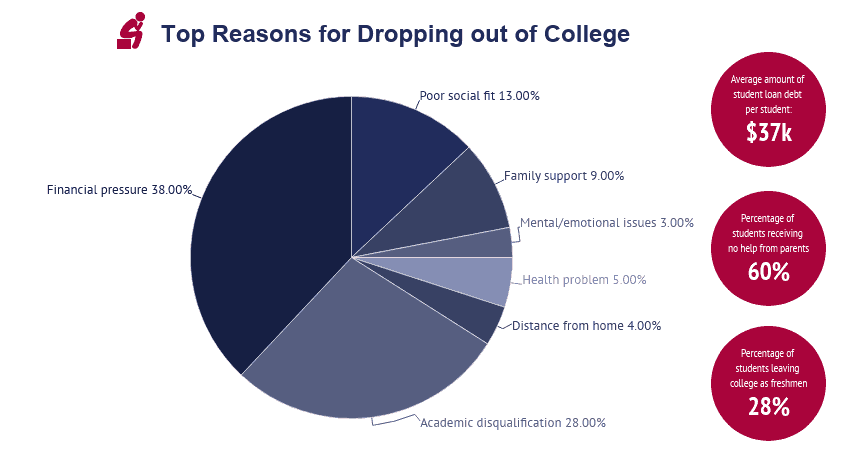 Financial Concerns & Runaway Tuition Increases
Among the most prominent issues that could cause a student to drop out of college are financial conflicts or money. Both high tuition costs and the difficulties of paying bills while studying are critical factors. Concerns about affordability for higher education keeps many potential high school graduates from even applying.
While most schools prefer to focus on the outcomes directly related to a student's ability to work, earn high marks, and graduate on time, skyrocketing tuition is a huge problem. When high tuition and living costs are combined with substandard advising, the situation for a student can become dire.
The cost of college tuition has continuously increased, skyrocketing by 1375% since 1978
Tuition rates are climbing far faster than the cost of living
For most students, even part-time college is out of reach without financial aid

The cost of college tuition has continuously increased, skyrocketing by 1375% since 1978.
Most high school students are not taught basic money management skills or how to obtain and keep their financial aid once they reach college. Predatory lending by financial institutions to students has been somewhat regulated, and there are more protections in place for students than in the past. Yet many students still don't fully understand the student loan process and the considerable expense involved. Taking on student loans represents a significant foray into more debt than buying a car, and for some, more than a small house. While most students accept debt as just another part of the American lifestyle, a college loan could forever change a student, especially if they drop out.
Balancing Life & College
Working while attending school can be a challenging balance to maintain for many students. Tuition rates and cost of living in the areas where most major colleges are high. Many students have to work to meet basic needs while attending college. It can be a challenge to schedule classes around jobs. Not all entry-level employers who typically hire college students are flexible with scheduling. Nearly 54% of students who dropped out of college indicated they were unable to balance work and school.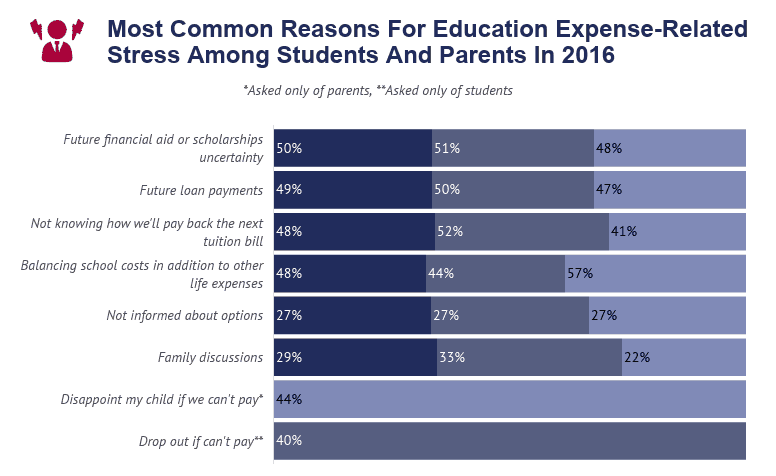 Insufficient or Deceptive Advising Practices
The push for students to enter college right out of high school is almost unanimous. Acceptance to a prestigious college can bring accolades and praise from high school counselors and parents and is undoubtedly an admirable achievement. But high school guidance counselors don't always advise students to evaluate the return of investment for colleges. Slick marketing with beautiful websites and glossy viewbooks don't tell the whole story about how dedicated an institution is to the long-term success of its students.
Poor advising practices by academic institutions also tend to affect student money problems and dropout rates. Many institutions that allow students to sign up for courses without declaring a major and follow a specific course progression can set students up for failure. This is particularly problematic when the conditions of a student's financial aid require specific academic progress. If these students take too many courses not relevant to their progress in their major or chosen course of study or take too long to graduate, they can be placed on financial aid probation. Their eligibility for future aid can be placed in jeopardy. And then some students abuse financial aid, sending the costs for everybody up.
Poor Academic Achievement & Remedial Coursework
Other factors can contribute to students dropping out of college. When students graduate from a high school with weak or inconsistent achievement standards, they may find themselves overwhelmed when faced with the structure and higher expectations of college. Declining academic achievement in high schools in the United States leaves students ill-prepared for the real world. For example, instructors and professors often find themselves overwhelmed with students who have a high school diploma but read and write on much lower levels. They are then forced to balance the rigor of their instruction with completion/graduation quotas set by the universities.
As many as 25% of students who take standardized tests for college readiness end up being directed to remedial college courses. Remedial courses are designed to get students up to speed in subjects such as math and English. While well-intentioned and in most cases, helpful, remedial college courses can become a bottleneck for students. They do not count for credits, delay graduation, increase tuition costs, and become discouraging for students who were already struggling. Fewer than 25% of college students taking remedial coursework go on to declare a major and graduate.
As many as 25% of students who take standardized tests for college readiness end up being directed to remedial college courses.Remedial education spending by community colleges tops $2.5 billion/year.
Dropping Out of College: Economic Impact
Dropping out not only affects students, it affects college reputations and their finances.
Average yearly lost tuition revenue from students that drop out: $16.5 Billion.
40% of college drop-outs have a 3.0 GPA or higher.
39% of college drop-outs said they weren't getting their money's worth at college.
Nearly 54% of students who dropped out of college indicated they were unable to balance work and school.
Two-fifths of all college dropouts have a B average or higher—and nearly the same number of students shared the frustration that their classes weren't worth what they'd had to pay for them.
Education & Socioeconomic Status
College graduation also affects unemployment rates.
In 2017, graduates possessing a bachelor's degree had unemployment rates around 2.5%
Graduates with a two-year or associate's degree had a 3.2% unemployment rate
During the Great Recession in 2009, graduates with a bachelor's degree saw an unemployment rate of 5.3% compared with high school graduates, who saw a 9.2% unemployment rate
The socioeconomic consequences for those who drop out of college are significant. Education has a direct effect on equity. College dropouts or those with no education tend to stay in low-income brackets, place more of a demand on government and social services, and struggle in the labor market to advance.
12.7% of students with only a high school diploma are more likely to be in poverty
Graduates possessing a bachelor's degree or higher typically see poverty rates close to 4.8 %
Students from low-income families often struggle to reach the point of enrolling and being accepted into college. When they struggle in college, even if they were successful in high school, they are more likely to drop out. Students who are "first generation" students and the first in their families to go to college fare poorly as well. As many as 89% of these students do not receive a degree or credential.
The likelihood of a student re-enrolling in college after they have dropped out is low, with only 30% returning to finish a degree.
---
When College Completion May Not Matter
When weighing out the staggering cost of a degree and the financial burden of graduating with debt, it makes more sense for some students to pursue other avenues.
In 2010, the dollar amount of student loan debts surged past consumer credit card debts in the United States
In 2019, student loan debt now tops $1.5 trillion, with over 2 million borrowers defaulting on their loans in the last six years
Students who drop out are 4 times more likely to default on their student loans
$120 billion in grants and loans spent per year on students
Taxpayers will absorb $31 billion in losses in the next 10 years due to students defaulting on loans
Dropouts frequently find themselves owing more money than anticipated to an institution, particularly those who were recipients of grants or scholarships
Most student loans cannot be discharged through bankruptcy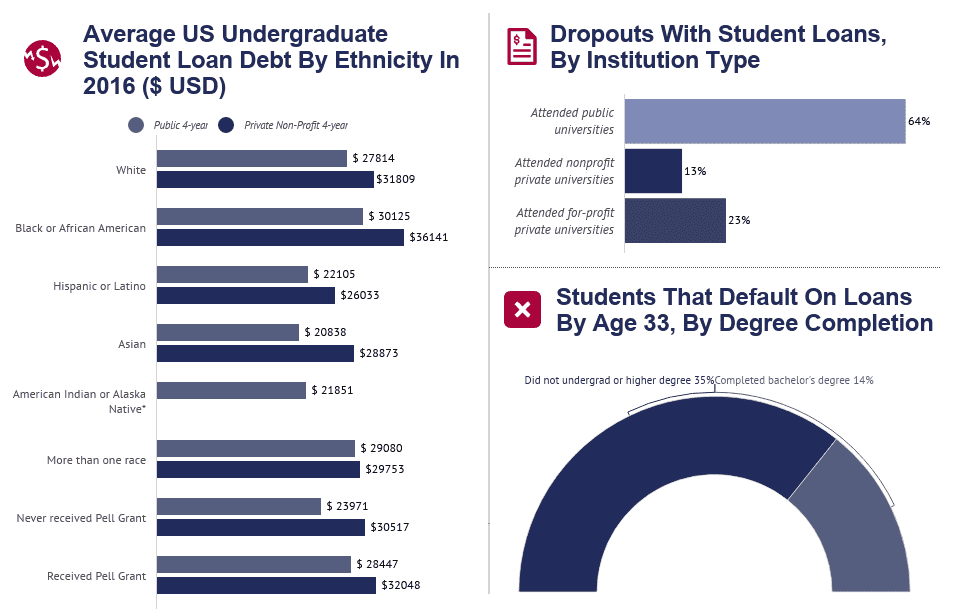 In Summary:
More students tend to drop out of two-year institutions than four-year colleges, no matter what their age, gender, or ethnicity is. And, though probably not news to anyone, those in the highest income brackets have the lowest dropout rates.
College dropouts still have good job opportunities, and they can also have enjoyable careers. However, it helps if they've had some prior vocational training and/or obtain a professional certificate or license; otherwise, they tend to have higher unemployment rates than their more educated peers.
Sources