Report Highlights. In the United States, the overall dropout rate for undergraduate college students is 40%.
30% of the dropout rate comes from college freshman dropping out before their sophomore year.
In 4-year colleges, 56% of students drop out within 6 years.
Black students had the highest college dropout rate at 54%.
38% of college dropouts – the largest majority – said they left due to financial pressure.


Related reports include College Graduation Statistics | College Enrollment Statistics | Financial Aid Statistics
General Statistics
More students tend to drop out of two-year institutions than four-year colleges, no matter what their age, gender, or ethnicity is. Those in the highest income brackets have the lowest dropout rates. For college dropouts, it helps if they've had some prior vocational training and/or obtain a professional certificate or license; otherwise, they tend to have higher unemployment rates than their more educated peers.
In the United States, the overall dropout rate for undergraduate college students is 40%.
30% of the dropout rate comes from college freshman dropping out before their sophomore year.
The United States ranks 19th in graduation rates among 28 countries in OECD studies.
In 2018, 66.9% of all male high school graduates between 16-24 years old were enrolled in colleges or universities.
In 2018, 71.3% of all female high school graduates between 16-24 years old were enrolled in colleges or universities.
40% of college dropouts have parents who didn't finish college.
34 million Americans over 25 years of age have some college credit.
In 2019, fewer than half of Americans between the age of 25 and 35 obtained any credentials beyond a high school diploma.
Students with the highest student loans are less likely to drop out than those without loans or with smaller loans.
Students aged 19 or under are the age group least likely to drop out of college.
The cost of dropping out of college measured by lost earnings is $3.8 billion in a single year.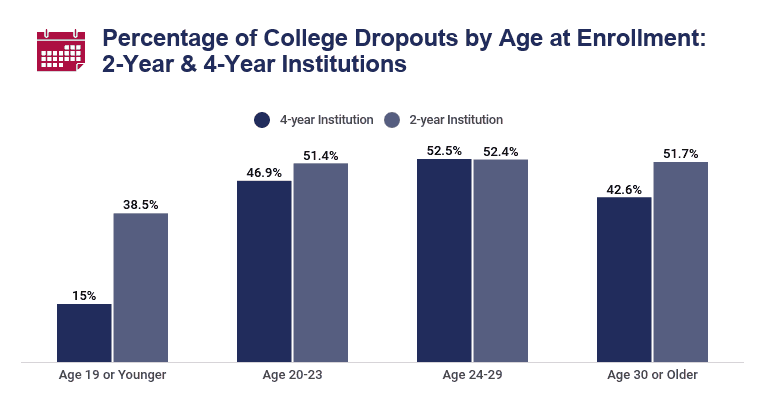 College Dropout Rate: Institutional Demographics
Two-year colleges have the lowest completion rates of any category of educational institution. While a fair number of students enrolling in these schools go on to transfer to another college for graduation, the dropout rates are still sobering. The demographic for most community colleges includes first-generation college students, low-income students, and students who may not have been able to meet admission standards for 4-year schools.
Only 5% of students in 2-year colleges graduate on time with a 2-year degree.
15.9% of students pursuing a certificate program graduate on time.
Less than 25% of high school graduates who enroll in 2-year colleges complete a degree in three years.
37.5% of recent high school graduates who enroll in a 2-year college complete a degree within six years.
Only 14.7% of recent high school graduates complete a BA degree within six years.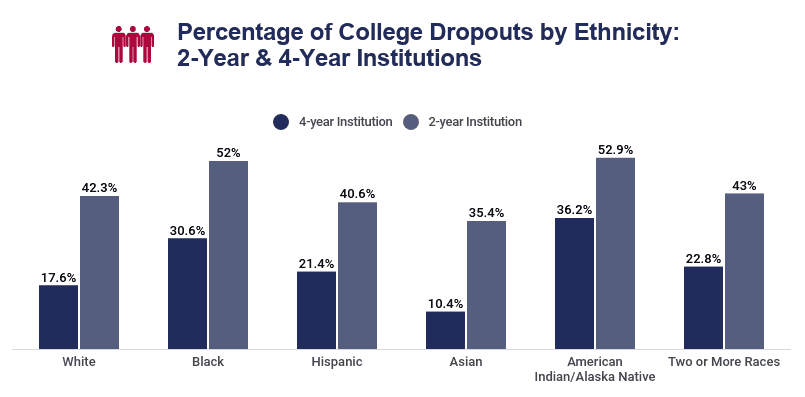 College Dropout Rate: Population Demographics
Students under the age of 19 are the least likely to drop out of college, followed by those 30 or older. Students between the age of 20 and 29 are the most likely to drop out at either a 4 or 2-year institution.
Asian students were the least likely group to drop out at either two- or four-year colleges.
10% of Asian students dropped out at four-year institutions.
35% of Asian students dropped out at two-year colleges.
36% of American Indians/Alaska natives were more likely to drop out after two years at four-year colleges.
23% of first-time full-time Native American students graduated within 4 years.
Between 2000 and 2017 the number of Native Americans who had attained at least a 2 or 4-year degree had declined from 30% to 27%.
45.91% of black students complete their degree at four-year public colleges within 6 years.
Nearly 66% of black undergrad students are women and 33% are men.
Black male students pursuing a 4-year degree were the most likely to drop out.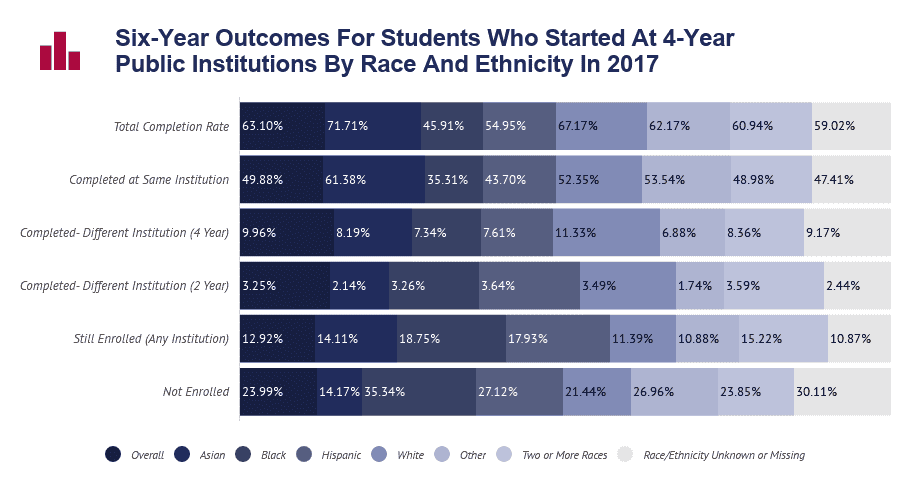 Dropping Out of College: Employment & Career Prospects
Dropping out of college can mean signing up for $25,000 less per year in income than those who graduate. It can mean a higher chance of becoming unemployed and fewer opportunities for jobs. Dropping out can not only decrease that potential but leave some students in an even worse position than before they enrolled.
The labor force participation rate for college graduates possessing an associate's degree is: 69.6% vs. 57.7% for high school graduates in 2017.
73.3% labor force participation rate for college graduates with a 4-year degree.
Adults who attended some college, but didn't graduate, earn about $1 less per hour, on average, than those who earned an 2-year degree, and about $5 less per hour, on average, than those earning a 4-year degree.
College dropouts earn, on average, $21,000 less per year than their college graduate counterparts.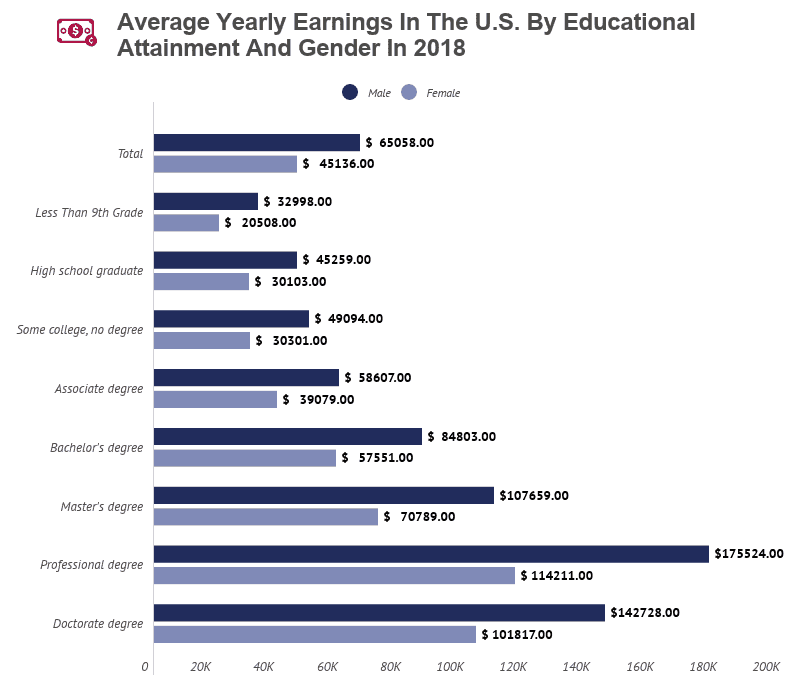 Vocational and Trades Jobs Often Overlooked
Few students initially enter vocational schools and the trades right out of high school. In many other developed countries, vocational training for students in high school and afterward is offered for students who decide not to enroll in college. In U.S. high schools, the push is mainly for standardized testing and college preparation only, and outside of vocational trades, most employers in the U.S. still expect a degree. After a cost-benefit analysis, some students may determine a college degree just isn't worth it.
Most non-vocational jobs require educational credentials.
Nearly 40% of college graduates end up working jobs that don't require degrees, and even more are working in fields that are not what they went to school for.
College dropouts earn, on average, about $4 per hour less than high school graduates with a professional certificate or vocational training.
Analysis: Why Students Are Leaving College
The reasons for dropping out of college vary widely. It's true that many former students find other economic opportunities. Some students may feel it's not worth it to complete college. For others, it may be due to failing physical or mental health.
Some students may be unprepared for the challenges of college studies (academic or structure).
Another group may have enrolled in college only to meet the expectations of others (family, spouse, teachers, etc.).
Some students leave after doing a cost-benefit analysis of the level of debt required for completion vs. job prospects upon graduation.
The student's parents or spouses became unemployed.
The student became too ill.
Their financial aid status or eligibility changed.
There were family needs (caring for family members, pregnancy, or illness).
There was a lack of meaningful connections with other students on campus.
The student fell behind academically and had no support to catch up.
As many as 25% of students who take standardized tests for college readiness end up being directed to remedial college courses.
Remedial college courses can become a bottleneck for students as they do not count for credits, delay graduation, and increase tuition costs – fewer than 25% of college students taking remedial coursework go on to declare a major and graduate.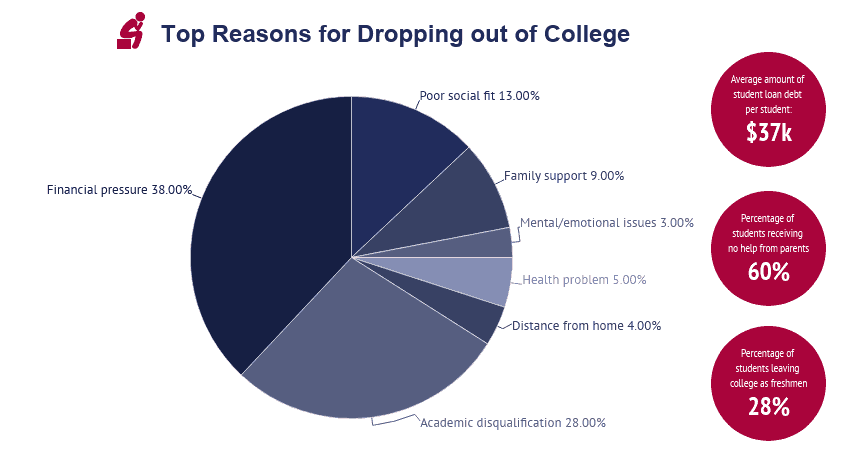 Financial Concerns & Tuition Increases
Among the most prominent issues that could cause a student to drop out of college are financial conflicts or money. Both high tuition costs and the difficulties of paying bills while studying are critical factors. Concerns about affordability for higher education keeps many potential high school graduates from even applying.
The cost of college tuition has continuously increased, skyrocketing by 1375% since 1978.
Tuition rates are climbing far faster than the cost of living.
For most students, even part-time college is out of reach without financial aid.


Balancing Life & College
Working while attending school can be a challenging balance to maintain for many students. Tuition rates and cost of living in the areas where most major colleges are high. Many students have to work to meet basic needs while attending college. It can be a challenge to schedule classes around jobs.
Entry-level employers may have trouble hiring college students who need flexible scheduling.
Nearly 54% of students who dropped out of college indicated they were unable to balance work and school.
Earning over $7,000 may cause a college to reassess their financial aid to a student.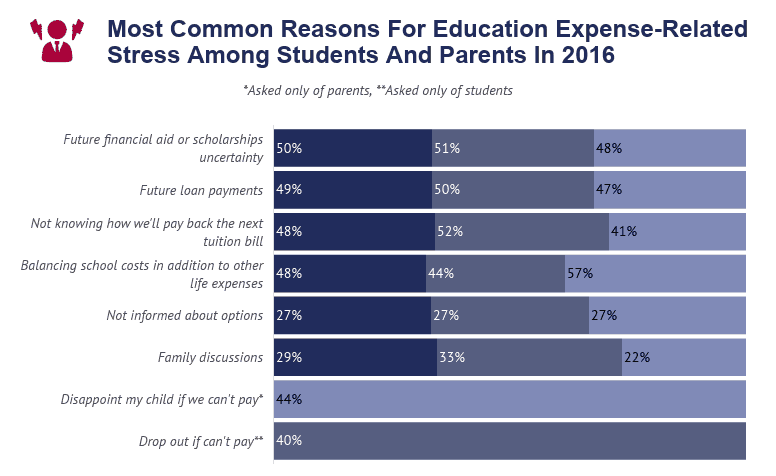 Dropping Out of College: Economic Impact
Dropping out not only affects students, it affects college reputations and their finances. 2/5ths of all college dropouts have a B average or higher—and nearly the same number of students shared the frustration that their classes weren't worth what they'd had to pay for them.
Average yearly lost tuition revenue from students that drop out: $16.5 Billion.
40% of college drop-outs have a 3.0 GPA or higher.
39% of college drop-outs said they weren't getting their money's worth at college.
Students who drop out are 4 times more likely to default on their student loans.
Taxpayers will absorb $31 billion in losses in the next 10 years due to students defaulting on loans.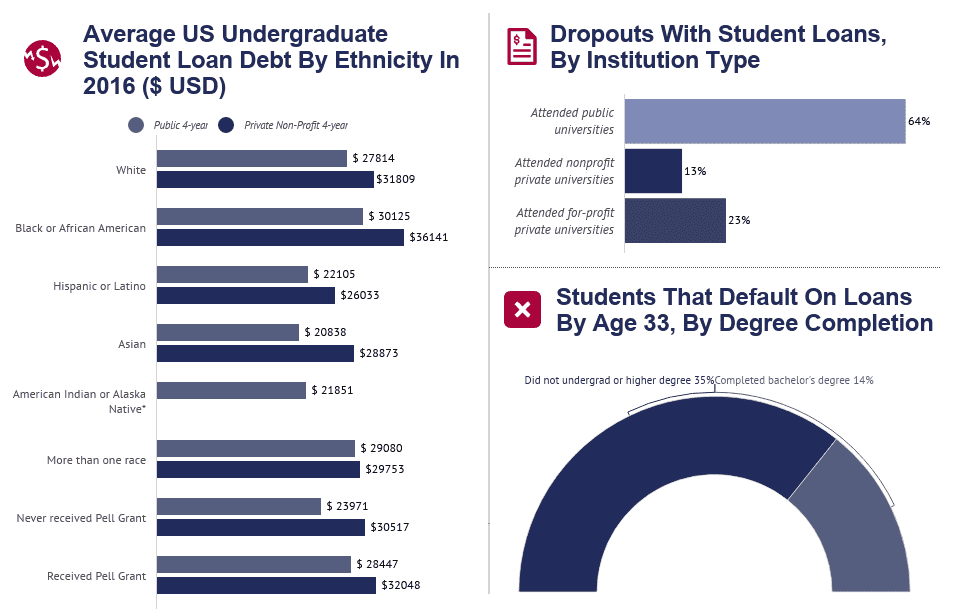 Education & Socioeconomic Status
College graduation also affects unemployment rates. The socioeconomic consequences for those who drop out of college are significant. Education has a direct effect on equity. College dropouts or those with no education tend to stay in low-income brackets, place more of a demand on government and social services, and struggle in the labor market to advance.
In 2017, graduates possessing a bachelor's degree had unemployment rates around 2.5%.
Graduates with a two-year or associate's degree had a 3.2% unemployment rate.
12.7% of students with only a high school diploma are more likely to be in poverty.
Graduates possessing a bachelor's degree or higher typically see poverty rates close to 4.8 %
Students who are "first generation" students and the first in their families to go to college fare poorly as well.
As many as 89% of these students do not receive a degree or credential.
The likelihood of a student re-enrolling in college after they have dropped out is low, with only 30% returning to finish a degree.


Sources