General Statistics:
Average Cost: Yearly & Total
During 2019-2020 academic year the average yearly price of tuition, fees, room, and board was $30,500 but can vary widely:
$12,720 for public 2-year institution (in-state rate)

$3,730 tuition & fees
$8,990 room and board

$21,950 for public 4-year institution (in-state rate)

$10,440 tuition and fees
$11,510 room and board

$38,330 for public 4-year institution (out of state)

$26,820 tuition and fees
$11,510 room and board

$49,879 for private nonprofit 4-year institution

$36,880 tuition and fees
$12,990 room and board
The average total price for a 4-year degree is approximately $122,000.
$50,880 for a public 2-year institution (in-state rate)
$87,800 for a public 4-year institution (in-state rate)
$153,320 for a public 4-year institution (out of state)
$199,500 for a private nonprofit 4-year institution
However, these averages assume the student finishes within 4 years. Only 39% of students actually do so. In fact, nearly 60% of undergraduate students take 6 years to complete a 4-year degree.
Additionally, most students receive financial aid of some sort that offsets the total"sticker" price of tuition.
Average Cost: General Statistics
Note: The main focus of this article is on undergraduate degrees and institutions, not grad schools or programs.
Most colleges and universities use a dollar amount referred to as the Cost of Attendance or COA. This typically includes:

tuition and fees
room and board
books and supplies

Net price is what a student pays after financial aid, scholarships and any other assistance are applied to the account
Approximately $30,000 is spent per student per year in college (including contributions of both governments and individuals)
In 2019, the state with the highest average cost for tuition and fees was Vermont, and the lowest was North Dakota
Student loans are not dischargeable in bankruptcies
In the fall 2016 semester, more than one-third of enrolled college students had a direct federal loan.
During the 2015-2016 academic year, out-of-state students spent an average of $14,483 more each year (includes tuition, room, and board) than in-state students
Average Cost of College by Over Time
Every year, college tuition and fees continue to increase. To illustrate, here are some statistics on tuition increases between 2010 and 2020:
The average increase at 2-year colleges was nearly $700.00
For 4-year institutions, the average increase was $2,000 at public 4-year institutions and $6,200 at private 4-year institutions
When looking at the increases over a longer period of time, from 1989 to 2016, the cost to attend college has increased almost 8 times faster than wages have.
In 1989, the cost of a 4-year degree (adjusted for inflation) averaged $52,892
In 2016, the cost of the same degree was nearly $104,480 (adjusted for inflation)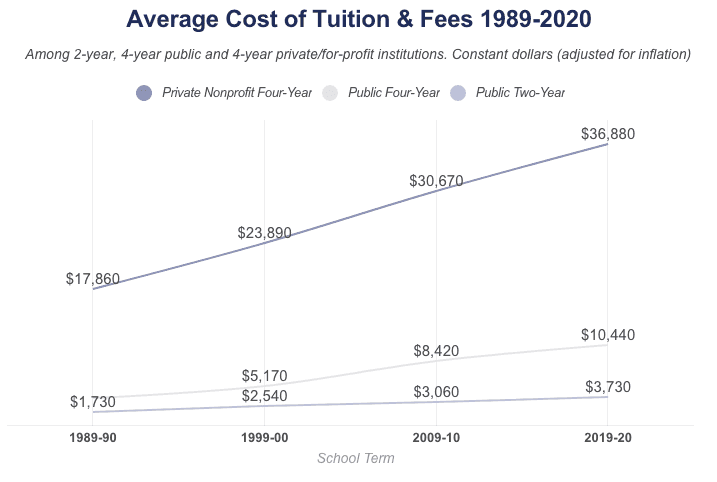 Average Cost of College: 2-Year Institutions
Most 2-year or community colleges are less expensive than 4-year institutions. For students looking for 2-year degrees, certificates, or vocational training, a 2-year institution may meet their needs. They are also an excellent option for students who choose to take their general education coursework and transfer to a 4-year institution. Many 4-year institutions participate in a 2+2 program with 2-year institutions to make transferring a seamless process.
In 2020, the average tuition rate at 2-year institutions was $3,660

Between 2009 and 2019, the average cost of tuition and fees at 2-year institutions had increased by nearly 34% (adjusted for inflation)
Average combined financial aid and tax benefits increased by nearly 50% between 2009 and 2019

Full-time students enrolled at 2-year institutions may not pay room and board at the college but must still pay for their rent and other living expenses, with an average cost of $12,320 per year
In 2019, approximately 8.7 million students in the US enrolled at 2-year institutions

As many as 50% of students at 2-year institutions received enough financial aid and grant money to cover tuition and fees
Full-time students enrolled at 2-year institutions receive an average of $4,050 in financial aid and grant money
The average rate of community college tuition is lower than the rate for public and private 4-year institutions in every state
Some states now offer tuition-free "College Promise" programs at 2-year institutions that will cover tuition costs after federal grants and financial aid have been applied.
Students must meet eligibility requirements, which may include a minimum GPA, demonstrated financial need, or have established/maintain residency
As of 2018, 24 states have a Promise program for study at 2-year institutions
Average Cost of College: 4-Year Institutions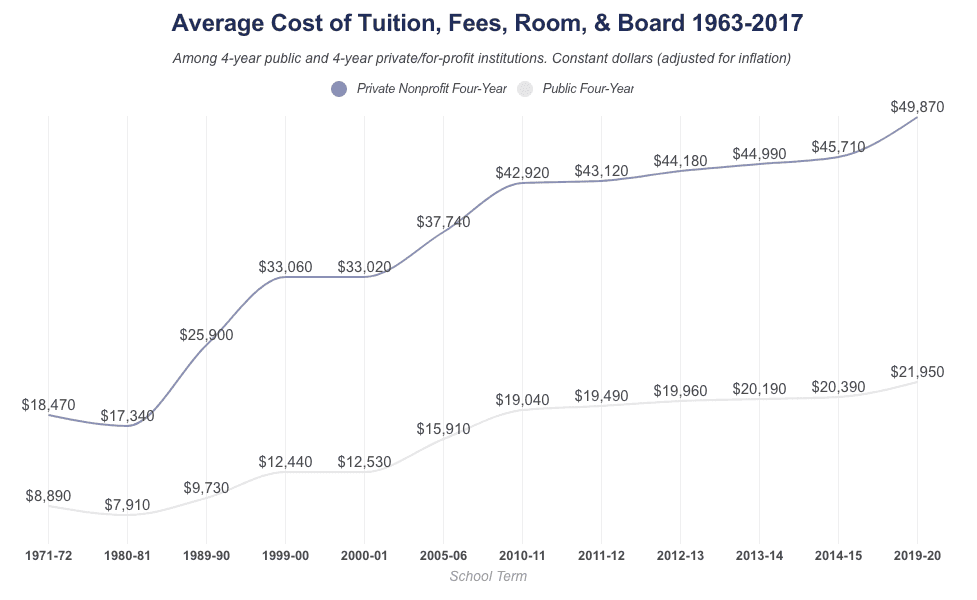 When calculating the COA (Cost of Attendance), an institution's financial aid office calculates how much it will cost for a student to attend. The cost for room and board generally does not vary as much as actual tuition cost from school to school. However, some schools are much more expensive, such as New York School of Interior Design, which charges upwards of $21,00 for room and board.
Private College Tuition vs Public College Tuition
Private schools don't receive as much government funding as public schools do, whether it's from the state or federal government, or both, including tax dollars. For the most part, private colleges and universities are more expensive than public institutions.
For the 2018-2019 academic year, students paid an average of $35,830 in private school tuition versus an average of $10,230 for students attending public colleges
Private school students, on average, paid over three times more for tuition than their public college counterparts
During the 1988-1989 academic year, private students paid an average of $17,010 in tuition costs compared to $3,360 paid, on average, by public students

Private college students paid 80 percent or nearly $17,000 more to attend a private school than their peers who attended public colleges
The gap remains at 71 percent for the 2018-2019 academic year—meaning that private school students still tend to pay around 71 percent more on average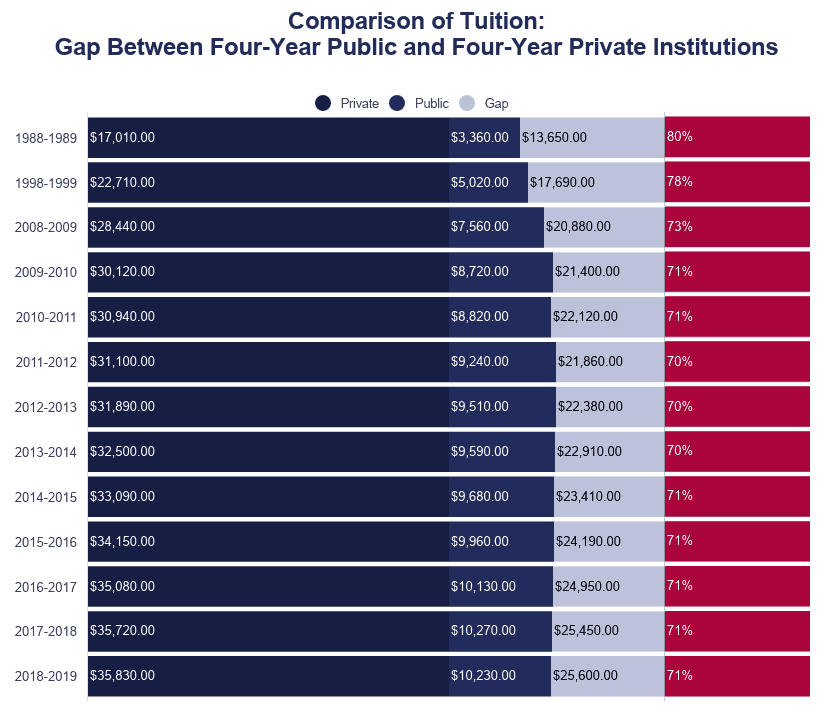 Tuition rates can vary widely among private schools, depending on size, location, subjects covered, and type of institution. To illustrate, a few schools are included in the private college tuition comparison below to illustrate the variation in tuition charged at private schools.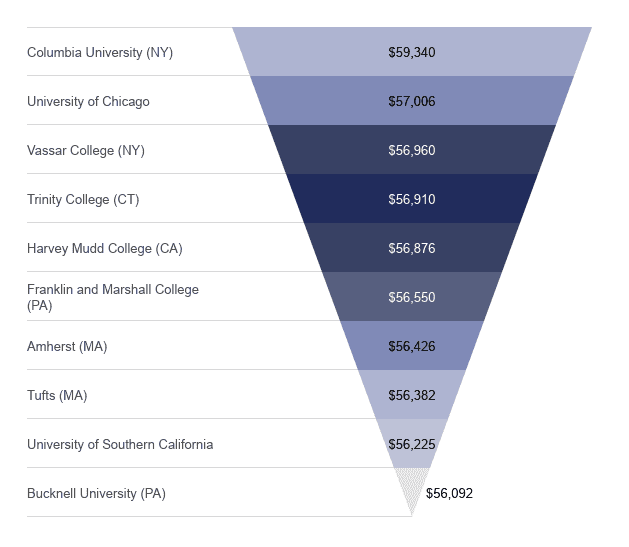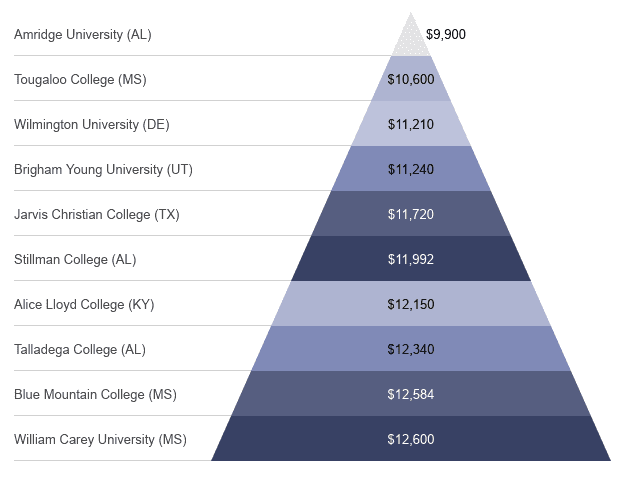 In-State versus Out of State Tuition
There is a significant difference between in-state tuition and out-of-state tuition at a public college or university. For students who are not residents of the state where they are attending school, the tuition and fees are frequently much higher.
During the 2015-2016 school year, in-state tuition (including room and board) averaged around $19,548 per year vs out-of-state tuition averaging around $34,031 per year.
Within the US, there are regional and state reciprocity agreements with various requirements and stipulations for discounted or in-state tuition rates within the regions. Below are some examples:
The Southern Regional Education Board's Academic Common Market allows residents of 15 member states in-state tuition at any of the participating colleges in any of the other member states—provided the out-of-state school offers a degree program the student could not get in their home state.
In New England, the Regional Student Program includes Vermont, Connecticut, Maine, Rhode Island, Massachusetts, and New Hampshire. Like the Academic Common Market, the school must offer a degree program not available in the student's home state.
Other states offer a reduction of the out-of-state tuition for bordering or regional states, although students are still paying a higher rate than in-state tuition. Those include the Midwest Student Exchange Program and the Western Undergraduate Exchange Program. These programs don't typically require students to pursue a degree that's not offered in their home state.
Note: North Dakota participates in both the Midwest Student Exchange AND the Western Undergraduate Exchange.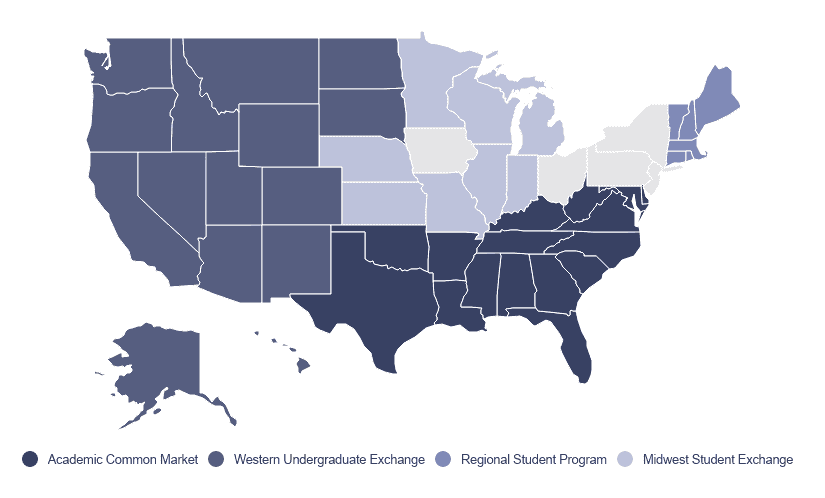 Other Qualifications for In-State Tuition:
There are other qualifications for in-state tuition:
Active-duty servicemembers and members of their family may qualify to receive in-state tuition, regardless of whether they are permanent residents of the state they are currently stationed in
Eighteen states offer in-state tuition for undocumented students, along with other scholarships and financial aid options, however:

Three states (Arizona, Georgia, and Indiana) have laws that prohibit colleges in their state from offering in-state tuition to undocumented students
Two states don't allow undocumented students to enroll in college at all—Alabama and South Carolina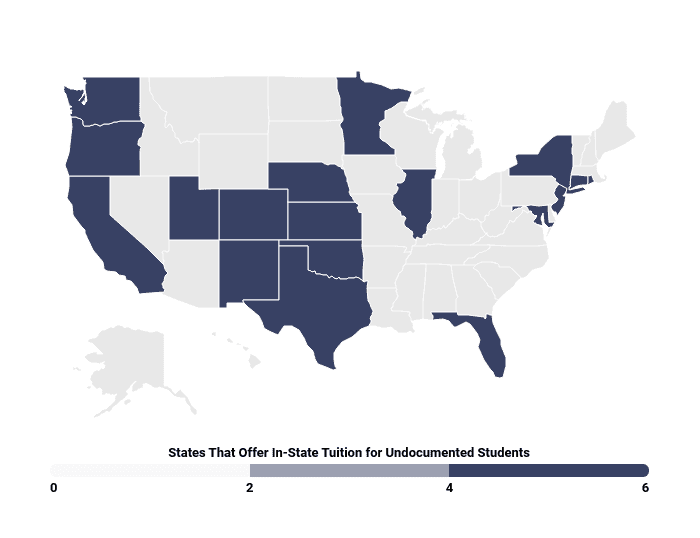 Room and Board: On-Campus vs. Off-Campus
In areas where rents are sky-high and housing is scarce, living on-campus represents a much more affordable option. To illustrate:
A Stanford University student would pay over $16,500 for a shared apartment to live off-campus compared to $8,301 living on-campus
For Columbia University students a shared apartment off-campus could cost $17,000 for 9 months compared to $9,400 to live on-campus
Nearly 60% of colleges do not accurately represent off-campus living costs. Accordingly, students should research local rental markets.
As an example, the University of California-Berkeley estimated a student would pay $7,184 to live off-campus. In fact, it would cost a student $12,375 with a roommate in a two-bedroom apartment.
87% of students live off-campus
Room and board charges have doubled at four-year colleges even after adjusting for inflation
In 1980, the average cost for room and board was $4,800 compared to $9,798 in 2014 (adjusted for inflation)
Between 2003 and 2014, increases for room charges at 4-year colleges outpaced the growth of rent prices

In 2003 the average college room charge was 29% under median rent
In 2014, the average college room charge was only 7% under median rent
The Advantages of Renting Off-Campus
It may be cheaper in some regions to live off-campus. However, this only applies to areas where rent is affordable for students. The average annual room and board costs for the 2018-2019 academic year were $11,140. For students attending college in areas where average rent exceeds $1,000 a month that could represent significant savings. Additionally, costs can be cut by 50 percent or more if a student has one or more roommates to split rent with, while room and board on campus is a flat rate regardless of how many roommates share a dorm room.
In 2018, there were 12 states whose 2018 rents averaged below $700/month, for an annual rent cost of $8,400.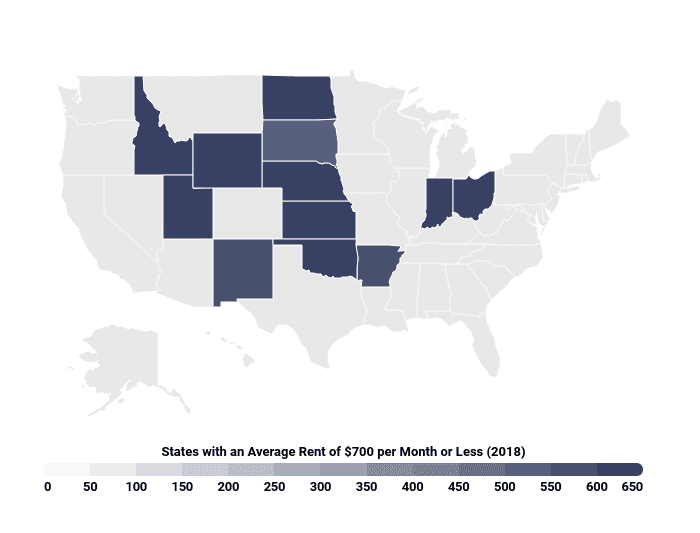 Beyond Sticker Price:
Living expenses such as housing costs, transportation and food occur for both students and non-students. Additional expenses may include dorm room or apartment furnishings or amenities, clothing, registration fees for certain exams/certifications, and of course- books.
However, one of the largest expenses for students enrolled in college is the time they are not spending working. It is increasingly difficult for many students to balance the cost of living with soaring tuition and fees.
Nearly 25% of high school students considered middle class indicated they were not planning to attend college because of the expense
In 2018, an average of 45% of students experienced frequent food insecurity
In 2018 56% of students experienced housing insecurity and 17% were homeless in the previous year
Over 50% of students from 2-year institutions and 44% of 4-year students worried about running out of food
Nearly 50% of students could not afford balanced meals
Military veteran students were 61% more likely to experience housing insecurity and 23% more likely to experience homelessness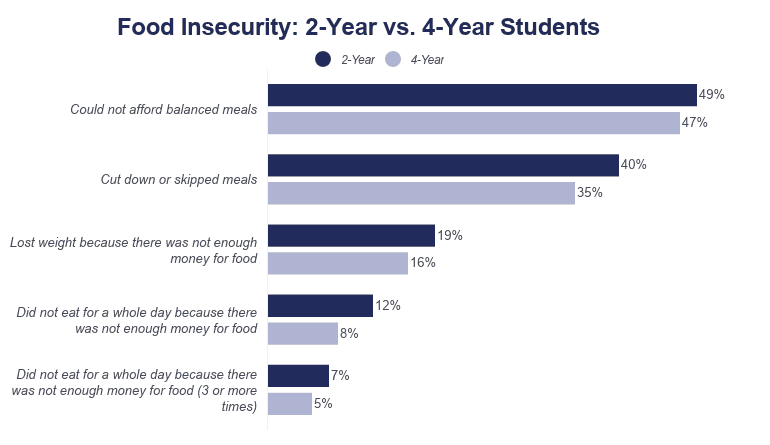 Why is College So Expensive?
Some of the biggest contributors to increasing costs of attending college include:
Increased demand: in 2017, there were 5.1 million more students attending college than in 2000
Increased availability of financial aid for students represents increased funding from federal sources for institutions

For-profit schools charge 75% more in tuition where students are eligible for federal loans

Students increasingly attend college away from home
Even with financial aid, 70% of universities are unaffordable for most working-class and middle-class students.
Operating a college includes administrative, instructional, supplies, maintenance, construction, and other types of expenditures. Increasingly, colleges are spending more on administrative fees.
"Ancillary services" such as amenities to attract higher-paying students can account for as much as $3,000 per student per year
Marketing and fundraising
Competitive salaries for top coaches and leadership
Teaching/instructional costs are frequentlydisproportionate with administrative costs.
Between 1975 and 2005, the number of administrators had increased by 85% and administrative staffers by over 240%
Between 1993 and 2007, instructional spending per student increased by 39% compared to 61% increase in administrative spending per student
Colleges are increasingly hiring adjunct professors (non-tenure track and paid less than full-time professors) to save money

Between 2003 and 2013, non-tenure track faculty (adjuncts) had increased from 45% to 62% in 4-year schools
In 2018, 73% of all faculty positions were non-tenure track (adjuncts or yearly contracted)
In 2016, higher-ed institutions hired 21,511 full-time tenure-track faculty compared to 30,865 non-tenure track faculty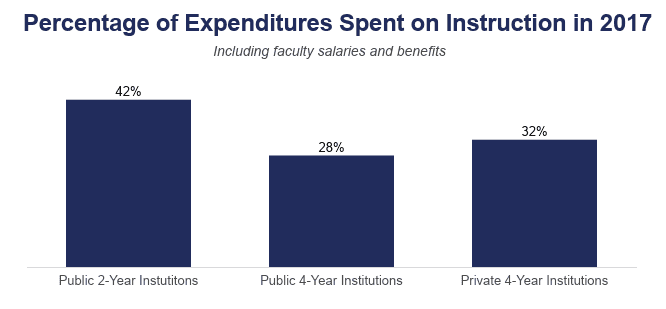 The Expense to Taxpayers
Most public institutions receive funding from state and local governments.
98% of state funding for higher education funding and 78% of federal higher education funding went to public institutions
In 2017, local and state governments spent approximately 10% or $297 billion on higher education compared to 1977, when these expenditures were closer to $105 billion (adjusted for inflation)

For most states, this was the third-largest expenditure, behind elementary/secondary education and public welfare
88% of this spending went towards operational costs and 12% went towards capital outlays (construction and maintenance)

In 2017, 85% of higher education spending occurred at the state level (federal funding is typically provided by financial aid to students)
Most public institutions receive federal funding through financial aid to students.
The number of FTE (full-time equivalent) students increased by 45% from 2000 to 2012:

Revenue per FTE student from federal sources increased by 32% compared to a decline in state revenue of 37%
Total federal revenue increased from $43 billion to $83 billion (adjusted for inflation)

Federal loans increased by 375% between 1990 and 2013 compared to 60% enrollment growth
In Summary…
College can be expensive. However, there are a lot of ways to make it more affordable. There are financial aid options including grants, scholarships, and loans available to help offset the expense or pay for it altogether. For example, college tuition at 2-year institutions can be free for students who meet the criteria.
The decision to live off or on campus should be based on the actual cost of living and rents in the area. In areas where rents are high and housing scarce, it may make sense for full-time undergraduate students to live on campus at least for their first year or two. Colleges are not always correct in their estimates for the total cost a student must pay to attend.
Sources