Highlights:
In 2021, the average cost for full-time, undergraduate students at a four-year university for books and supplies per year was approximately $1240.00, with students spending the most (average of $1420) at public two-year colleges compared to $1220 per year at private four-year colleges (average of $450-$625 per semester).
When possible, nearly 66% of students will avoid buying course materials due to the steep prices
In 2020, 25% of students indicated they worked extra hours to pay for their books and materials and 11% skipped meals in order to afford books and course materials
In 2020, 19% of students indicated the cost of materials and books directly influenced their decision on what classes to take.
Related reports include: Average Cost of College & Tuition | Cost of a College Class or Credit Hour | How Do People Pay for College? | Average Student Loan Debt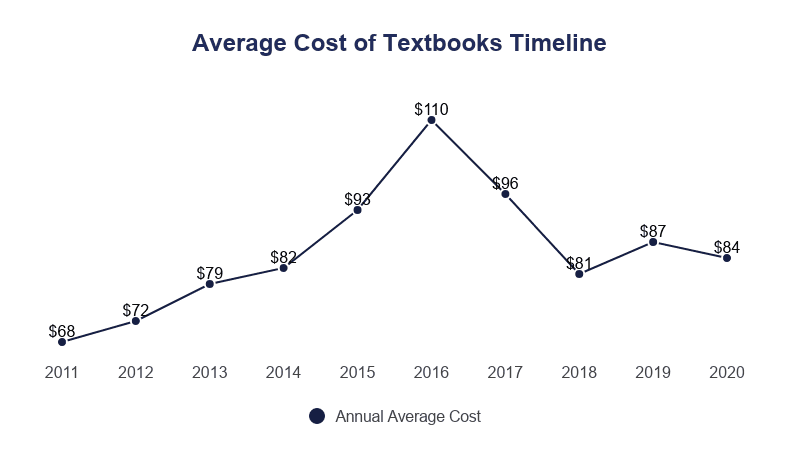 One of the biggest expenses students face next to tuition and room & board is textbooks and course materials. As more materials are available digitally and online, students are buying fewer hard copy books. But is the cost going down? In 2020, the pivot to online learning led to courses increasingly adopting e-books for sale, subscriptions, and rent:
In 2019, the average cost per student on new hard copy books was $87, and $84 in 2020.
In 2020, the average cost per student on e-books went from $31 in 2019 to $38 in 2020.
While students spent less overall in Fall 2020 than the prior semester, they were paying an average of 23% more for e-books.
There are many options for students to purchase or utilize course materials, including new hardcopy books, used hard copy books, renting hard copy books, and utilizing limited or unlimited e-books.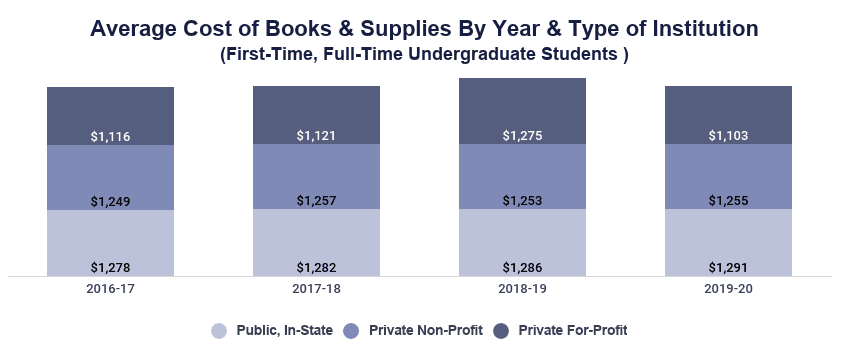 Publishers vs. Students: A Captive Market
Nearly the entire college textbook market is dominated by five publishers who have seen huge profits from a population that was required to buy their products at any cost, even when it meant going into debt or skipping meals. These publishers control over 80% of the college course material in the U.S. market, and the biggest are McGraw-Hill, Pearson, Cengage.
Between 1977 and 2015, the cost of textbooks increased by over 1000%.
Hardcopy books can cost as much as $400.00, with the average price between $80 and $150.
The price of textbooks increases by an average of 12% with each new edition.
New editions that come out every 3-4 years can cost 50% more than used copies.
Thankfully, the hard copy market appears to have finally run out of steam as publishers effectively out-priced themselves. However, publishers turning to the booming digital and online learning market are finding new ways every semester to wring as much profit out of students as they did selling hard copy books.
Pre-COVID-19, the publishing industry has seen a gradual decline in the higher education sector, to $3.23 billion in 2019 compared to $4.5 billion in 2015.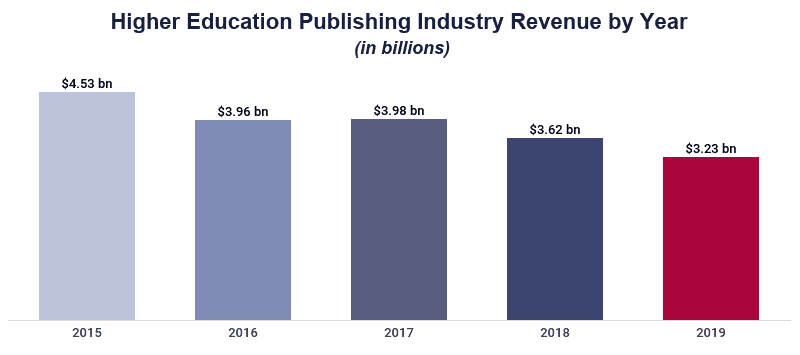 The initial impact of COVID-19 on the higher education divisions of these publishers has been significant but they are easily bouncing back with their digital learning products:
Pearson saw a 32% growth in Q3 of 2020
Cengage saw a 40% year-over-year growth in online skills revenue, and its digital sales have now offset the setbacks from declining hard copy book sales.
Why Are College Textbooks So Expensive?
Full Price or Fail
While digital or e-books offer convenience, they ensure that every student will pay full price, every time. Students can no longer save money by sharing, buying used hard copies or renting their textbooks. Today, with the pivot to online learning, students almost always have to buy access codes for temporary access to LMS-integrated course materials, assignments, and other critical resources needed to complete an online class. Schools with "inclusive access" have made it mandatory. And while publishers selling e-books and online course materials to students do not have to pay the costs of printing, binding, and shipping textbooks, the prices continue to stay the same or increase.
Compulsory Purchasing
The "inclusive access" textbook fee model is a tactic used by publishers and schools colleges building the cost of online course materials into tuition fees. Because the publisher knows they will have a guaranteed number of textbooks purchased through this scheme, they offer a quantity discount. Students enrolling in these classes have no way to opt out of paying for the textbook this way and cannot recoup a percentage of the cost of the book by being able to resell it after the class.
Faculty Indifference
In 2020, 41% of faculty indicated that they feel their students learn better from print materials than digital.
In 2020, 82% of faculty made the choice of textbook themselves, compared to 8% of textbook adoptions being decided by committee, 4% recommended by others, and 2% required by others.
Only 18% of institutions took steps to provide information on (Open Educational Resources) OERs to faculty, and 11% signed up for inclusive access agreements.

22% of institutions serving minority populations took steps to provide information on OERs compared to 16% of other institutions
13% of institutions serving minority populations signed up for inclusive access agreements, compared to 10% of other institutions

42% of faculty indicated in 2020 that they were "generally unaware" of OER, compared to 17% who were "very aware" of these resources and how they can be utilized to help lower textbook costs for students.

The highest number (23%)of faculty aware of OERs was at minority-serving institutions.
25% of faculty teaching large-enrollment introductory courses require some form of OER in at least one course, with 28% of these faculty using it as supplemental course material.

In a 2006 survey, 71% of faculty indicated that the justification for new editions was rare.
77% of faculty indicated that in meetings with publisher sales representatives, price of books was rarely or not volunteered, and only 38% reported they received a direct answer about price information when they asked for it. Only 63% knew the price of the books they chose to adopt for classes.
Publishers market "bundles" of books and course materials that cannot be bought separately, yet only 50% of instructors indicated they utilized the extra materials.
34% of faculty could not adopt the textbook of their choice without the bundled material or were unaware if it was an option.
Vanity Publishing
In 2006, publishers sold $420 million worth of "custom" textbooks to colleges emblazoned with logos and slightly amended layouts, offering a nominal kickback or "royalty" to the school for adopting these versions. By doing so, publishers effectively ensured the books would likely not be resold to any students not enrolled at the school whose logo is on the cover.
---
Students Under Surveillance: Publishers & Data
Beyond the bloated costs publishers are charging students is another cost that is difficult to quantify: the collection of student data collected by education technology companies. In order to buy a access code, the e-book, or other material, the student must agree to fine print in the form of a TOU (terms of use) or EULA (end-user license agreement) few understand or take the time to read.
Most EULAs represent a legal contract between the student and publisher allowing the publisher permission to sell or utilize student data. When a student creates an account, takes notes, contributes to discussions or class activities, or participates with the platform in any other way, their information is collected.
The information these companies request is required for the student to actually use the product. There is no opt-out. Publisher EULAs are not readily accessible unless you are actively in the process of signing up for the product. Publishers claim to "de-identify" data but with present-day technology it isn't a stretch that this data can easily be matched with other databases.
---
Ways to Save on Textbooks
Apply for book scholarships. Scholarships cover just about everything else, and there are many out there specifically for course materials.
Look for discounts or access programs. You may find discounted rates for books and subscriptions your school may have negotiated with the publisher. Inclusive access programs are growing in popularity.
Buy prior editions. Many publishers still release new editions of textbooks year after year that change very little from one edition to the next. Your instructor can probably tell you if there are any significant changes to the book from the prior edition.
Look for global or international editions. These editions are almost always the same as the U.S. release sold 60% cheaper.
Buy used books, rent books, or look locally. See if the book is available at a library. Also be sure to check out local booksellers and book buyers. Sites we like:
Share books with roommates or classmates who are taking the same classes. See if other students who took the class the prior semester are selling the book you need and cut out the middleman entirely.
See if your required texts are free online. Some great resources are:
Check for Open Educational Resources, also known as OERs, OEMs, or OSMs. These are open-source course materials developed specifically to be shared for free. A growing number of universities are allowing their faculty to adopt these course materials to help reduce costs for students.
Ask ahead or wait to buy. If possible, read reviews by other students of classes ahead of time to see how much the textbook is actually used. Some instructors are required by their institution to "adopt" textbooks but rarely use them and will let students know that book adoption is a formality.
---
Sources