Report Highlights. Cancelling student loan debt may add $109 billion on average to the annual GDP for the next 6 years.
Cancelling student loan debt may add up to 1.5 million new jobs.
Student loan debt cancellation may lift up to 5.2 million American households out of poverty.
Debt cancellation could potentially increase consumer spending by as much as 3.3%.
Current debt cancellation plans would reduce the debt burden for 35 million Americans with federally-held student loan balances.
Related reports include Student Loan Forgiveness Statistics | Student Loan Debt Statistics | Average Cost of College | Average Student Loan Debt | Student Loan Refinancing | Economic Effects of Student Loan Debt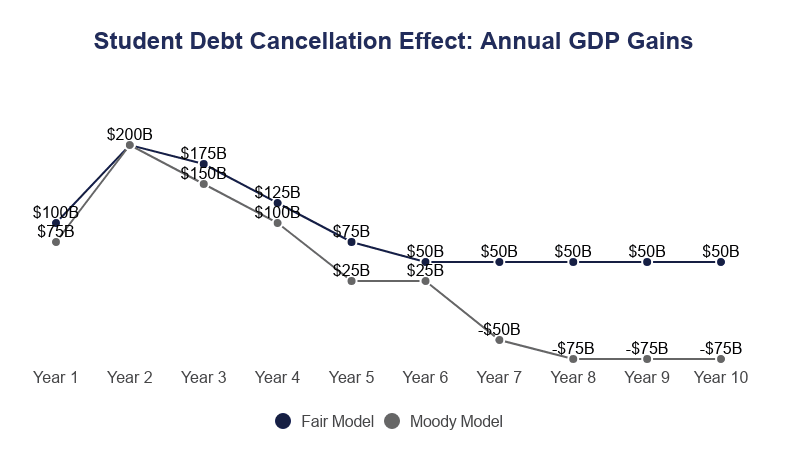 What May Happen if Student Loan Debt is Canceled
Income-to-debt ratio is the metric by which most legislators propose to measure the breadth of student debt relief. These legislators aim for lower-income borrowers to benefit the most from cancelled debt. Political proponents favor cancelling between $10,000 to $50,000 in student debt per borrower.
Cancelling student loan debt may add up to 1.5 million new jobs.
Each time a consumer's student debt-to-income ratio increases 1%, their consumption declines by as much as 3.7%.
Debt forgiveness could potentially increase consumer spending by as much as 3.3%.
The economy may benefit from increased consumer spending if student loan debt is canceled – it may encourage former borrowers to start families, buy new homes, create or invest in small businesses, or obtain an advanced degree.
Students with outstanding loan payments are 36% less likely to purchase a house.
Would-be entrepreneurs are 11% less likely to start a new business if they owe more than $30,000 in student loan debt.
When student debt grows by 3.3% the number of new start up businesses in the country shrinks by 14.4%.
Cancellation of up to $10,000 for every borrower – including commercially-held Perkins and FFEL loans – may eliminate up to $377.3 billion or 24.1% of the total federal student loan debt.
Canceling up to $10,000 per borrower would eliminate up to 22.1% of all student loan debt including privately-held debt.
34.1 million or 79.5% of borrowers owe $40,000 or less – eliminating all their debt would erase $480.7 billion in student loan debt.
4.6 million borrowers owe $80,000 or more; often, these are graduate and professional degree holders, most of whom are high-income earners and would not benefit from measures to cancel debt.
Households without the burden of student debt will have reduced vulnerability to economic shocks.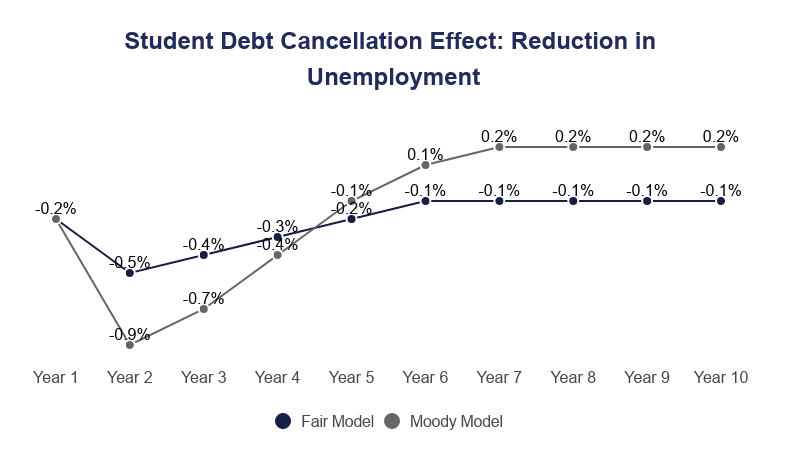 Beneficiaries of Student Loan Debt Cancellation
Research and statistics indicate there may be social benefits to canceling student loan debt, especially as it relates to economic disparity and the debt burden among minority groups. Though both White and Black borrowers both benefit from student loan debt cancellation, any amount considered would financially benefit White borrowers more than Black borrowers. Other groups that would benefit from student debt cancellation include women, the Hispanic community, and the LGBTQ community.
Black and African American college graduates owe an average of $25,000 more in student loan debt than White college graduates.
58% of student loan debt belongs to women.
Women of color who borrow money to pay for college are 12% more likely to have student loan debt than White women.
Student borrowers who identify as LGBTQ have an average of $16,000 more in student loan debt than those who are not LGBTQ.
The unemployment rate among Hispanic people hit 18.9% in April 2020.
That same month, Hispanic unemployment was 33.1% higher than White unemployment (14.2%).
22.6 million or 52.8% of borrowers are under the age of 35 – their debt totals $616 billion or 39.3% of all student loan debt.
8.5 million or 19.8% of borrowers are 50 and older – their debt totals $349 billion or 22.3% of all student loan debt.
In the figure below, the Moody economic model was unavailable.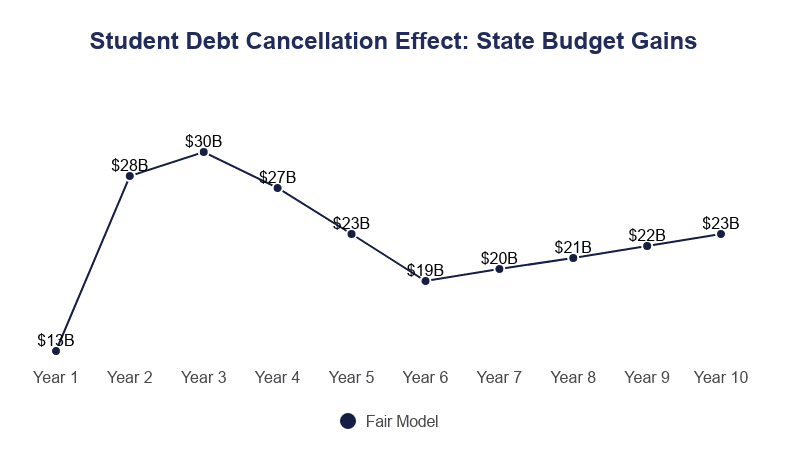 Possible Negative Consequences of Canceled Student Debt
Economic consequences of total student loan debt cancellation may be far reaching. Detractors call student loan debt cancellation "poor economic stimulus".
One model estimates an economic multiplier of 0.08 to 0.23, suggesting federal costs may ultimately outweigh economic benefits.
Education costs skyrocketed in the years following the launch of the federal student loan program; economists posit that widespread loan forgiveness will cause another surge in costs for the next generation of students.
Full student loan cancellation may disproportionately aid advanced degree holders rather than intended disadvantaged groups.
Advanced degree holders are also more likely to save their money than spend it and stimulate desired economic growth.
Cancelling student loan debt may result in higher inflation rates.
Cancelling student loan debt may also result in higher interest rates.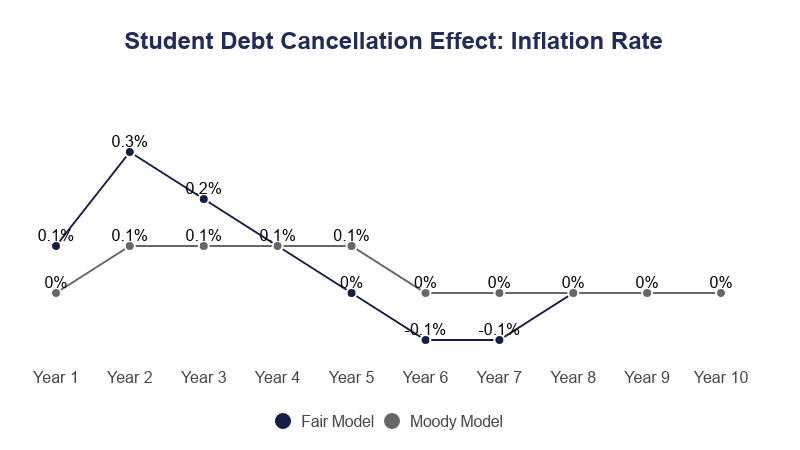 Likelihood of Student Loan Debt Cancellation
Proponents of widespread debt cancellation argue for cancellation anywhere between $10,000 and up to $50,000 for each individual borrower. However, the final decision on student debt cancellation is still being debated within the Biden administration and Congress.
The Biden administration is currently seek to restart federal student loan payments that have been frozen for nearly 2 years since the pandemic started.
At the same time, the administration is seeking to clear away the defaults of student loan borrowers who were struggling with payments before the pandemic.
The American Rescue Plan passed in March 2021 includes a provision that student loan forgiveness issued between December 30, 2020 and January 1, 2026 will not be taxable to the recipient.
The U.S. Department of Administration has eased restrictions on applications for student loan borrowers who apply for debt forgiveness via the Total and Permanent Disability Discharge program.
The Senate Committee on Health, Education, Labor, and Pensions recently passed the resolution requesting the President "take executive action to broadly cancel federal student loan debt."
A coalition of 23 state Attorney Generals urges "reforms to ease the student loans repayment process and protect student loan borrowers from paying back debt to for-profit and defunct colleges."
Advocacy groups have called for student loan debt to be canceled on a broad scale since 2016.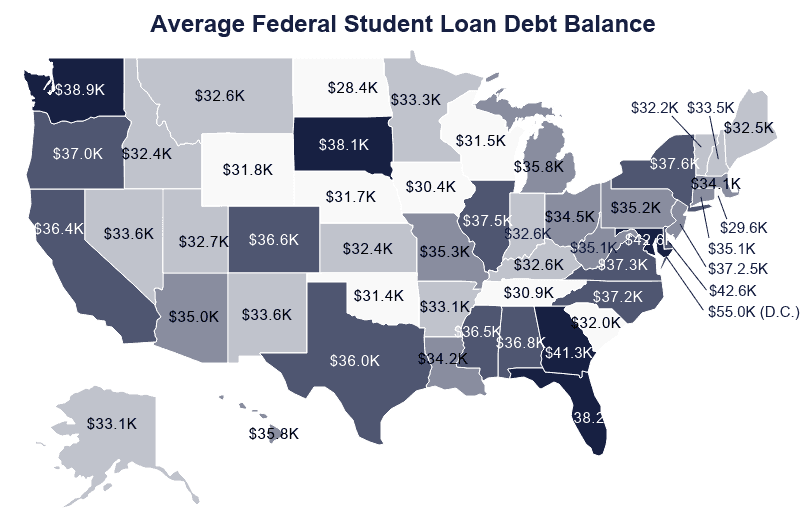 Sources