Report Highlights. Canceling up to $10,000 in federally-held student loan debt may eliminate up to $231.3 billion or 14.8% of all federal student loan debt.
Current plans do not allow for cancellation of commercially-held Federal Family Education Loans (FFEL) or Perkins Loans, affecting 7.9 million borrowers with a collective $146 billion in debt.
15.3 million or 33.6% of all federal student loans carry a balance of $10,000 or less.
Student loan debt cancellation may lift up to 5.2 million American households out of poverty.
$25,641 is the average outstanding balance per loan in default.
Current plans would reduce the debt burden for the 35 million Americans with a federally-held student loan debt balance.
Related reports include Student Loan Forgiveness Statistics | Student Loan Debt Statistics | Average Cost of College | Average Student Loan Debt | Student Loan Refinancing | Economic Effects of Student Loan Debt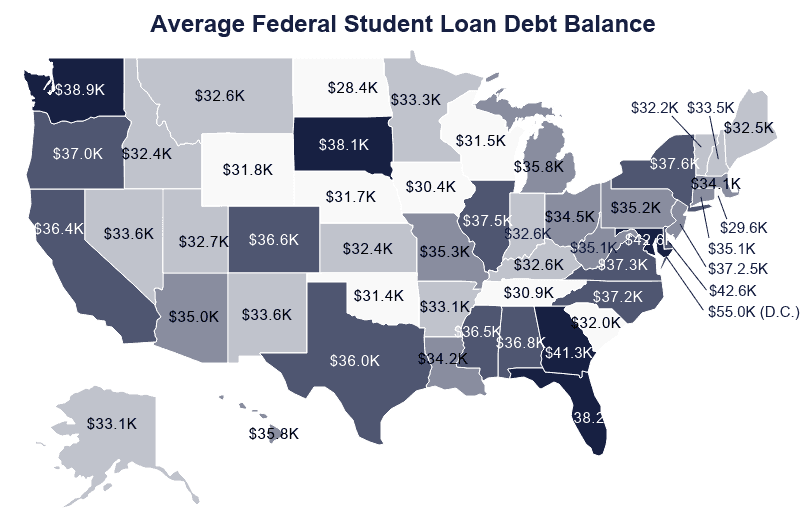 What Will Happen if Student Loan Debt is Canceled?
Income-to-debt ratio is the metric by which most legislators propose to measure the breadth of student debt relief, meaning lower-income borrowers are most likely to benefit from cancelled debt.
45.5 million outstanding federal loan balances belong to 42.9 million individual student borrowers.
Cancellation of up to $10,000 for every borrower – including commercially-held Perkins and FFEL loans – may eliminate up to $377.3 billion or 24.1% of the total federal student loan debt.
Canceling up to $10,000 per borrower would eliminate up to 22.1% of all student loan debt including privately-held debt.
Other popular plans to cancel student loan debt would offer up to $50,000 per borrower.
34.1 million or 79.5% of borrowers owe $40,000 or less.
Eliminating all their debt would erase $480.7 billion in student loan debt.
7.5% of working postsecondary degree holders earn an income below the federal individual poverty line.
10.3% of working individuals with postsecondary degrees earn less than $17,500 annually or below the poverty line for a typical household.
4.6 million borrowers owe $80,000 or more; often, these are graduate and professional degree holders, most of whom are high-income earners and would not benefit from measures to cancel debt.
Thousands of individuals apply for student loan debt cancellation each year through student loan forgiveness programs. Many of these programs are underutilized, and some have never been funded.
Support for Cancellation
Legal and social policy experts argue the benefits of student debt cancellation extend beyond the economic realm.
The Center for Law and Social Policy recommends canceling up to $50,000 in student loan debt per borrower.
Political proponents favor cancelling between $10,000 to $50,000 in student debt per borrower.
Supporters include Senate Majority Leader Sen. Chuck Schumer, D-N.Y., who also chairs the Senate Committee on Health, Education, Labor, and Pensions.
Administrative proponents include A. Wayne Johnson, former head of the Office of Federal Student Aid at the U.S. Department of Education.
Social Benefits
Research and statistics indicate there may be social benefits to canceling student loan debt, especially as it relates to economic disparity and the debt burden among minority groups.
Black and African American college graduates owe an average of $25,000 more in student loan debt than White college graduates.
Four years after graduation, 48% of Black students owe an average of 12.5% more than they borrowed.
58% of student loan debt belongs to women.
Student borrowers who identify as LGBTQ have an average of $16,000 more in student loan debt than those who do not.
Women of color who borrow money to pay for college are 12% more likely to have student loan debt than majority women.
The unemployment rate among Hispanic people hit 18.9% in April 2020.
That same month, Hispanic unemployment was 33.1% higher than White unemployment (14.2%).
Researchers from the University of Iowa, Brandeis, Arizona State, and the New Jersey Institute for Social Justice conclude "there is ample reason to pursue student debt forgiveness for reasons of racial equity."
Economic Benefits
The economy may benefit from increased consumer spending if student loan debt is canceled.
Each time a consumer's student debt-to-income ratio increases 1%, their consumption declines by as much as 3.7%.
Debt forgiveness could potentially increase consumer spending by as much as 3.3%.
Students with outstanding loan payments are 36% less likely to purchase a house.
22.6 million or 52.8% of borrowers are under the age of 35.
Their debt totals $616 billion or 39.3% of all student loan debt.
Homeownership among this age group is half the national rate.
Would-be entrepreneurs are 11% less likely to start a new business if they owe more than $30,000 in student loan debt.
8.5 million or 19.8% of borrowers are 50 and older.
Their debt totals $349 billion or 22.3% of all student loan debt.
Eliminating this debt would most likely reduce
Consequences of Canceled Student Debt
Economic consequences of total student loan debt cancellation may be far reaching.
The bipartisan Committee for a Responsible Federal Budget (CRFB) called student loan debt cancellation "poor economic stimulus".
One model estimates an economic multiplier of 0.08 to 0.23, suggesting federal costs may ultimately outweigh economic benefits.
Education costs skyrocketed in the years following the launch of the federal student loan program; economists posit that widespread loan forgiveness will cause another surge in costs for the next generation of students.
Will Student Loan Debt Be Canceled?
Based on recent political actions and support from economic experts, a broad scale, one-time cancelation of up to $10,000 is plausible.
President Biden currently seeks authorization from the Secretary of Education to cancel up to $50,000 per borrower in student loan debt.
The American Rescue Plan passed in March 2021 includes a provision that student loan forgiveness issued between December 30, 2020 and January 1, 2026 will not be taxable to the recipient.
The U.S. Department of Administration has eased restrictions on applications for student loan borrowers who apply for debt forgiveness via the Total and Permanent Disability Discharge program.
The Senate Committee on Health, Education, Labor, and Pensions recently passed the resolution requesting the President "take executive action to broadly cancel federal student loan debt."
A coalition of 23 state Attorney Generals urges "reforms to ease the student loans repayment process and protect student loan borrowers from paying back debt to for-profit and defunct colleges."
Advocacy groups have called for student loan debt to be canceled on a broad scale since 2016.
Lawmakers have ample time to explore cancellation strategies as no federal student loan payments are due until after January 31, 2022.
Sources