According to the National Center for Education, it was projected that around 50.7 million students would be enrolled in public schools for the 2018-2019 school year.
This number includes around 35.6 million students in pre-K through 8th grade, and 15.1 million students in 9th-12th grades spread across roughly 98,300 public schools in about 13,600 school districts nationwide.
Top Statistics
California has the largest student enrollment of any state for both elementary and secondary schools, followed closely by Texas.
There were more than 7,000 charter schools in fall 2016 in 43 states.
Only five states had public high school graduation rates of 90 percent or above for the 2016-2017 school year.
13 percent of all public school students were served by the Individuals with Disabilities Act for the 2015-2016 school year.
In a 2017 survey, 6 percent of public high school students reported being threatened with or injured by weapons on school grounds in the past 12 months.
There were roughly 800,000 students enrolled in specialized schools in the 2015-2016 school year.
During the 2015-2016 school year, traditional high schools had smaller class sizes than charter high schools.
In the United States, each state is responsible for creating public school standards and policies, including organizing school districts and setting mandatory student attendance guidelines.
For example, elementary schools vary from state to state on beginning and cut-off grades. In most states, elementary schools begin with kindergarten, but eight states don't require kindergarten programs at all.
In fact, not only do states vary in whether kindergarten is required, but they also have different policies on the cut-off grade. Some states have K-6 elementary schools, while in others, grade school ends at 5th grade. Still, other states have elementary schools that are K-8, and some even end at 4th grade. To add on, some public schools offer a K-12 program, meaning a student would be able to stay at the same school from kindergarten until they graduate high school.
Because of the state-to-state variations among elementary schools, this means that middle schools, or junior high schools, can begin as early as 5th grade. They also either end at 8th or 9th grade.
As described by the Department of Education, the majority of high schools in the U.S. begin with 9th grade and end at 12th grade, and high schools are known as secondary education.
The charts below show public school enrollment in the United States during the 2016-2017 school year.
Keep in mind that there are overlaps between elementary and middle schools throughout much of the country, so middle schools have been included in the elementary category for ease of reporting.
As you can see, California had the highest number of enrolled elementary students of any other state, followed closely by Texas, then Florida and New York.
During the 2016-2017 school year, there were 15,137,157 students enrolled in grades 9-12, the typical range of most high schools in the U.S.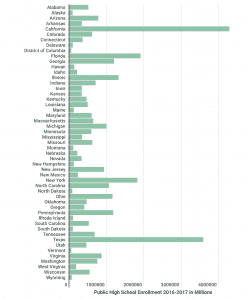 Once again, you can see that California, Texas, Florida, and New York run away with the enrollment numbers compared to all other states.
Charter schools are public schools that have been created by special charter. They are tuition-free, and must still follow the established teaching standards in their state, but have a lot of freedom in how they reach those standards. Many times, charter schools are targeted to a specific student population, such as high achieving students, and often have waitlists to get in.
Charter school enrollment rose between 2000 and 2015 by an average of 5 percent nationwide, from 1 percent of all public school students in 2000 to 6 percent of all public school students in 2015.
That equals roughly 500,000 students in 2000, with nearly 2.8 million students attending charter schools by fall 2015.
The chart below summarizes some interesting statistics about American charter and traditional public schools.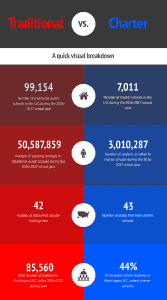 Graduation and Dropout Rates
About 3.3 million students were projected to graduate in the 2018-2019 school year.
Only five states had graduation rates of 90 percent or above for the 2016-2017 school year: Iowa and New Jersey (tied at 91 percent), and Texas, Kentucky, and Tennessee, each at 90 percent.
High school dropout rates went from 10.9 percent at the turn of the millennium (2000) to only 6.1 percent in 2016 (the most recent year statistics were available.) Male students were slightly more likely to drop out than female students.
IDEA
Nearly 6.7 million public school students were served under the Individuals with Disabilities Education Act (IDEA) during the 2015-2016 school year, or about 13 percent of all students enrolled in public schools.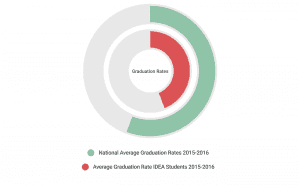 According to education data for the 2015-2016 school year, approximately 67 percent of students with disabilities graduated high school within four years, compared with the national average graduation rate of 85 percent.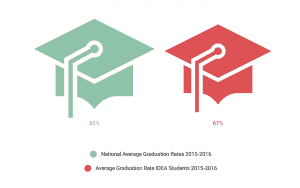 Specialized Public Schools
Nearly every state has public schools that serve student disability populations, such as the Colorado School for the Deaf and the Blind, which serves students from birth through age 21, and offers dorms for some students.
Most states also offer public vocational and alternative schools that focus more on apprenticeships and career skills/training for those students who may not want to go to a traditional college after graduation.
The chart below shows the number of specialized schools from 2011 to 2015 (the most current data available.) There's been a fairly sharp decline in alternative schools, which could be due to expanded offerings in traditional schools, mainstreaming, and/or budget cuts to education. Here are the numbers of specialized schools in the U.S. for selected school years: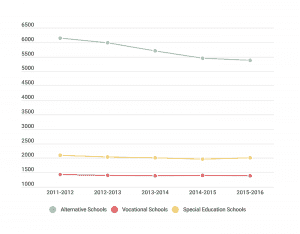 Student Safety Concerns
The Centers for Disease Control conducts a student safety survey of public high schools every two years. For 2017, only 33 states responded to the survey or included enough data to be useable.
One of the questions on the survey asked students if they had been threatened with, or injured by, a weapon on school grounds within the past 12 months. The results are broken down in the graphics below.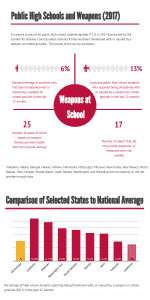 Student/Teacher Ratios
The student/teacher ratio refers to the number of students in a given state compared to the number of teachers in a given state. The number of teachers includes the core study areas of reading, writing, math, science, and geography/social studies, as well as music, P.E., and art teachers, and special education teachers. Classroom size is not the same thing as the student/teacher ratio.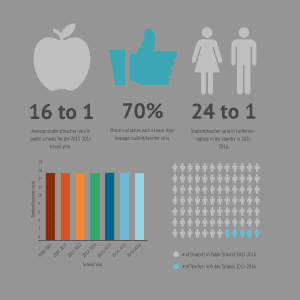 While it would seem that student/teacher ratios would have climbed steeply since 2000, you can see from the chart above that the numbers have remained remarkably steady.
Classroom Size
Class sizes, or the number of children in one room receiving instruction at one time (broken down by "periods" or "blocks" in middle school and high school, or by subject area in elementary school), is described in more detail below.
The numbers in the following graphics only reflect the number of teachers and students in the same room together at the same time, and therefore differ greatly from the numbers in the student/teacher ratio charts above.
Below, we compare the average classroom size of charter and traditional schools at the elementary and high school levels.
It's typically assumed that charter schools have a lower classroom size than traditional public schools, and while that may certainly be true in some parts of the country, it's not true everywhere…and as shown above, the national average class size is actually lower for traditional public high schools than charter high schools.
In Conclusion…
We didn't have room to include every fun statistic out there about public schools, but we hope you've learned a few things about the national public school scene from this article! Don't let your learning stop here, though! Check out the sources below for additional information (NCES lets you create your own spreadsheets based on searches in their database) and an in-depth look at some of the statistics included here.
Sources