General Statistics:
In 2019, approximately 56.6 million students attended elementary and secondary school in the United States.

50.8 million students were in public schools
5.8 million students were in private schools

Among the 50.8 million students enrolled in elementary and secondary public schools:

1.4 million were in prekindergarten
3.7 million were in kindergarten
35.5 million attended elementary through middle school (K-8th grade)
15.3 million attended high school (9-12th grade)
Through 2028, enrollment is projected to increase to 51.4 million

In 2018, 3.3 million students graduated from high school, marking nearly a 1% increase from 2017
3.7 million were expected to graduate in 2020

3.3 million from public high schools
0.4 million from private schools

The average per-student expenditure in public schools is $13,440
In 2019, there are approximately 16,800 school districts in the United States
13 percent of all public school students were served by the Individuals with Disabilities Act for the 2015-2016 school year
Between 2000 and 2016, total public school enrollment increased for 32 states.

The following saw increases of 15% or more: Florida, Delaware, North Carolina, Idaho, Georgia, Colorado, Arizona, Texas, Utah, and Nevada
The following states saw decreases of 10% or more: Michigan, Maine, New Hampshire, and Vermont

In 2018, 7 million or 13.7% of public school students received special education services
In 2017, 9.6% of public school students were learning English as a second language
---
General K-12 Enrollment Statistics
Based on enrollments for 2000-2010, analysts estimated that public school enrollment would rise to 52 million by 2027. However, most projections of an increase in enrollment did not account for factors that led to a 30-year low in 2017. They also did not account for the decrease in immigration which has occurred in the last two years. This shift may go the opposite direction, but for now, these factors are keeping enrollment levels fairly consistent from 2016-2020. This trend applies to both public and private schools as shown below.
Some school districts will continue to see increases in enrollment while others, many in rural areas, will see declines due to depopulation. In areas where enrollment has declined, schools are downsizing and online learning is used as a tool to offset per-student expenditures. Relying heavily on blended or online learning may result in accuracies, particularly in those states and districts where per-student spending is low.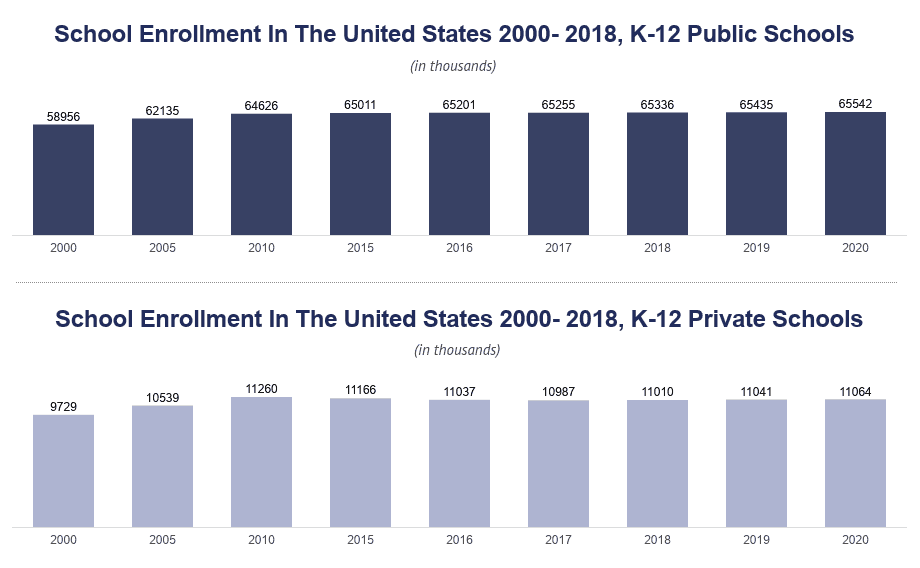 ---
General Elementary School Enrollment Trends
Elementary schools have seen the greatest increases in enrollment:
In 1980, there were 27.6 million elementary school students in public schools, and in 2000, the total number of students in elementary school was 33.6 million
In 2018, the total number of students in elementary school had increased to 35.5 million, and in 2000, there were 86, 433 elementary schools in the US increasing to 87,498 in 2018
Elementary school enrollment is projected to grow further, up to 36 million by 2027. This is a lower rate of growth than seen over the previous decade. It's still a realistic number based on the population trends overall in the United States.
---
General Secondary School Enrollment Trends
Secondary schools have seen a slightly lower increase in enrollment but a decrease in the number of schools.
In 1980, there were 13.2 million students attending secondary/high schools, and in 2000, the total number of students in secondary/high school were 13.5 million
By 2018, the total number of students in secondary/high school had increased to 15.3 million.
In 2000, there were 27, 575 high schools in the US, decreasing to 26, 727 in 2018
In areas where enrollment levels are declining, many school districts have chosen to consolidate or blend schools. The number of combined (K-12) schools has increased where high schools have decreased. In 2000 there were 12,197 combined schools, and by 2018, there were 15,804.
---
Enrollment Statistics: Teachers & Instructional Staff
77% of teachers are female and 23% are male
In 2016, 57% of teachers held a postbaccalaureate degree and 90% a regular teaching certificate
In 2018, there were 3.1 million teachers in public school classrooms:
Texas, California, and New York had the most teachers
Washington D.C. and Wyoming had the fewest number of teachers
For the 2019-20 school year, 3.7 million teachers will be in both private and public school classrooms:
3.2 million in public schools and 0.5 million in private
In 2020, the national average student to teacher ratio in public schools is 16 to 1
California has the highest student to teacher ratio of 24 to 1
Compensation and workload for teachers also varies greatly by state.
The average salary for a classroom teacher in public elementary and secondary schools in New York is $84,000
The average salary for a classroom teacher in public elementary and secondary schools in Mississippi is $45,000
The national average classroom teacher salary is $61,730
The national average instructional staff salary is $64, 143
In 2016, the national average base salary for public school principals is $99,670

There are 90,400 public school principals, 62,100 in elementary schools and 20,300 in high schools
54% of principals are female and 46% male

The NEA (National Education Association) and AFT (American Federation of Teachers) were in the top tier of donors to political candidates, PACS, and other entities during election cycles between 1990 and 2018
---
Public School Statistics
In 2017 there were 91,150 total traditional public schools
Among public charter schools in 2017:

57.4% of charter schools had more than 50% white enrollment
8.8% of charter schools had more than 50% black enrollment
16.3% of charter schools had more than 50% Hispanic enrollment

The average class size in public schools is 24 students
In 2016, the average amount spent per student was $13,847

57% on salaries
23% on employee benefits
11% on purchased services (transportation, facilities management, professional development for teachers)
7% on supplies
---
Charter School Statistics
In 2017 there were 7,010 charter schools, compared to 6,860 in 2016
7.1% of all public schools are charter schools
Between 2000 and 2016, public charter school enrollment increased from 0.4 million to 3 million, marking a 6% increase in the percentage of public school students attending charter schools
As of 2016, 10% or 603,000 of California's public school students were enrolled in charter schools
As of 2016, Washington, D.C. had 44% or 37,200 students enrolled in charter schools
The following states had less than 1% of their students enrolled in public charter schools in 2016:

Wyoming, Virginia, Washington State, Kansas, Mississippi, and Iowa

In 2017, over 50% of public charter schools were located in cities vs. 25% of traditional public schools
In 2017:

33% of charter schools had more than 50% white enrollment
23.1% of charter schools had more than 50% black enrollment
25.8% of charter schools had more than 50% Hispanic enrollment
---
Private School Statistics
The average class size in private schools is 18.8 students
The average cost for tuition at private elementary schools is $9,900/year and the average tuition for private secondary/high schools is $14,711/year
The highest average private school tuition rates are in Connecticut and Massachusetts, at over $24,000 a year
In 2000, 3.2 million students enrolled in private elementary schools, and in 2018, the number declined to 2.8 million
In 2000, 1.3 million students enrolled in private secondary/high school and in 2018, the number declined to 1.1 million
Private schools have seen their numbers decline and many have closed or consolidated. There are fewer nuns to teach at Catholic schools, requiring these institutions to hire teachers at a greater cost. Both religious-affiliated and secular schools alike have seen the decline.
The recession saw many families unable to afford increasing tuition costs. Parents are pushing for greater freedom in choosing what schools their children could attend. As a result, private schools are no longer the only alternative to public schools. One of the biggest competitors with private schools are charter schools.
---
Pupil/Teacher Ratio Statistics
A pupil/teacher ratio describes the average number of students assigned to a teacher per classroom per year or, in the case of secondary schools, per class period. This figure describes several different scenarios, including estimating the overall workload of teachers in contract negotiations and to quantify how much attention individual students receive from their teacher.
The states with the highest pupil/teacher ration during the 2017-2018 school year were Arizona, California, and Nevada.
The states with the lowest pupil/teacher ration during the 2017-2018 school year were Vermont, New York, and Missouri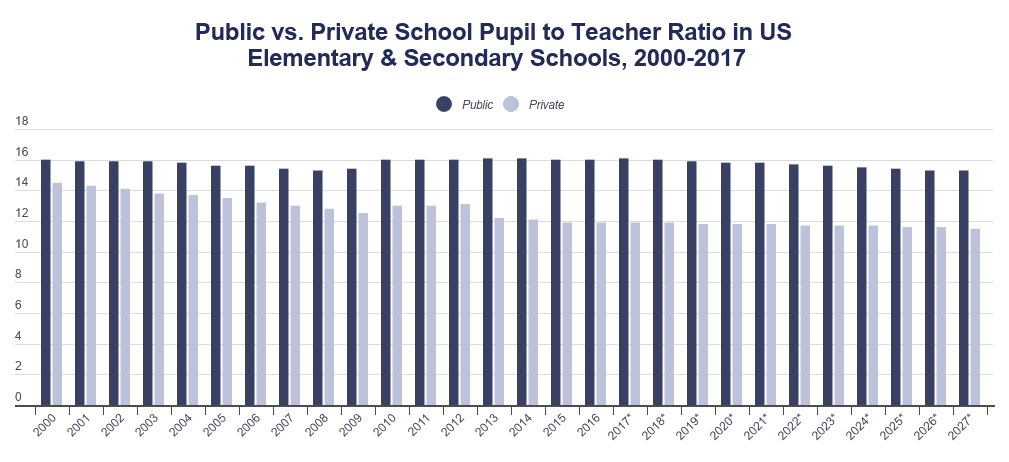 In general, the US pupil/teacher ratio for both private and public schools does not change much. However, the pupil/teacher ratio dropped nearly a whole point at that time, down to 15.0 in 2006.
This later drop in the pupil/teacher ratio can be directly correlated to a rise in teacher hiring and retention in 2006 (as described above.) A lower pupil/teacher ratio is considered more ideal because it leads to more personalized attention per student (in theory), which in turn leads to better student outcomes overall. As such, conservative estimates predict only a 14.9 pupil/teacher ratio by 2027.
---
Private Schools & Pupil/Teacher Ratios
Private schools appear to be driving the national trend towards a lower pupil/teacher ratio. While they started from a lower 14.5 in 2000, private schools across the country have driven their ration down to 11.9 in 2015 – a remarkable descent that may be attributable to both a rise in private school teachers and a decrease in private school students simultaneously.
Current estimates show that private schools may be able to drive their historically low pupil/teacher ratio even further down to 11.8 by 2027, assuming the current trends hold out. However, it is unclear if this continuous downward trend will be led by traditional private schools (religious or academy schools) or if semi-private, size-capped public charter schools will lead the way in the immediate future.
Enrollment Statistics based on Ethnicity and Race
Note: the following statistics are classified and use terminology utilized by the National Center for Education Statistics terminology to describe these broadly understood categories when it comes to student population identification.
As the population of the United States grows more racially diverse, these shifts translate to enrollment numbers in the classroom. Below is a comparison of the ethnic/racial population numbers between 2008 and 2018:
Non-Hispanic white students comprised 59% of enrolled students in 2008 and 52% in 2018
Hispanic students comprised 18% of enrolled students in 2008 and 24% in 2018
Black students comprised 15% of enrolled students in 2008 and 15%
Asian students showed the smallest increase, comprising 5% of enrolled students in 2008 and 6% in 2018
Of the 50.8 million students attending school in 2019, the projected breakdown by ethnicity and race is:
0.2 million Pacific Islander students
0.5 million American Indian/Alaska Native students
2.1 million students of two or more races
2.7 million Asian students
7.7 million black students
13.9 million Hispanic students
23.7 million white students
There are several current trends in US school enrollment based on race and ethnicity that are statistically significant. The number of white students in US schools has decreased marking one of the largest drops recorded among any demographic group. In a similar trend, black student enrollment rates have decreased.
Academic achievement among different ethnic groups also varies. Students taking the ACT exam to assess academic proficiency test in English, Math, Reading, and Science. In 2018, the percentage of secondary/high school students who took the ACT exam and met college readiness levels in at least 3 out of 4 subjects by race was:
62% Asian
48% White
24% Pacific Islander
22% Hispanic
14% American Indian/Alaska Native
11% Black
---
Conclusion
Enrollment in the United States is changing. Even as the number of enrolled students across elementary and secondary grade levels remains fairly constant, classrooms in the United States are becoming more racially and ethnically diverse.
Some crucial factors such as pupil/teacher ratio continue to lag in public schools. However, there are increasingly more resources for at-risk and disadvantaged students. For example, charter schools and new school choice initiatives offer parents alternatives to traditional public schools. These can be a lifeline for students who need smaller class sizes or a different style of learning in order to thrive. Basic education is critical to reduce poverty, address inequality, and improve the lives of individuals and society as a whole.
The United States is a diverse nation with nearly 77 million individuals pursuing an education, from preschool to postgraduate studies. Most of our data reflects nationwide numbers and trends but it's important to remember that every state is different. Even from one district to another there could be significant differences in what schools look like. Demographics, geography, state and local economies, socioeconomic status, politics, and services are all factors that directly correlate with the level of participation by students and how far they progress in their studies.
Much of the projected data beyond 2019 shows that analysts predict that enrollment rates will continue to climb as they have for decades. And in some districts, they continue to rise while others see a decline. The US birthrate has slowed due to a wide variety of societal and workforce trends. World and local events such as the Great Recession, decreased levels of immigration, and interstate migration also play a part.