Our Rating: B- ⓘ
| | |
| --- | --- |
| Loan Limits | $10,000+ |
| Fixed Rates | 3.05% – 5.55% |
| Variable Rates | 3.05% – 5.55% (20.00% Cap) |
| Terms | 7, 10 or 20 years |
| Min. Credit Score | 670 |
Skip to: Rates & Fees | Eligibility Requirements | Repayment Options | Consumer Reviews & Complaints | FAQ
The Massachusetts Educational Financing Authority (MEFA) has been a nonprofit direct lender since 1982. This lender works solely with education loans and claims its refinance loans reduce student interest rates by an average of 28%.
Loan Refinancing Options

| | |
| --- | --- |
| Private student loans | ✓ |
| Private parent loans | ✓ (in parent's name only) |
| Federal student loans | ✓ |
| Federal Parent PLUS loans | ✓ (in parent's name only) |
MEFA Refinance Rates & Fees
MEFA offers consistent loan rates for student and parent refinance loans. Fixed and variable rates start at 3.05% and 5.55%.
Refinance Loan Rates

| Term | Fixed Rate | Variable Rate |
| --- | --- | --- |
| 7 Year | 3.05% – 5.10% | 3.05% – 5.10% |
| 10 Year | 3.05% – 5.15% | 3.05% – 5.15% |
| 20 Year | 3.05% – 5.55% | 3.05% – 5.55% |
Additional information about MEFA refinance rates:

Checking your rate with MEFA will not affect your credit score. They will conduct a soft, not hard, credit inquiry (learn the difference).
MEFA does not offer a discount for setting up auto-pay.
Variable rates are based on the 1-month LIBOR rate (0.09% as of this writing) as published by The Wall Street Journal. This means that as the LIBOR changes, increasing or decreasing, your variable rate will change, increasing or decreasing correspondingly.
Variable rates are capped at 20.00%.
Student Loan Refinancing Calculator
Based on advertised rates, use the calculator below to determine what your new monthly payment and potential savings may be if you refinance with MEFA.
Additional Fees
Beyond interest rates, there are a number of fees a refinance lender may charge up-front or during the loan servicing period. Below is a list of fees that MEFA does or does not charge.
| Fee Type | Amount Charged |
| --- | --- |
| Application Fee | None |
| Loan Origination Fee | None |
| Disbursement Fee | None |
| Prepayment Penalty | None |
| Late Payment Fee | None |
| Returned Payment Fee | None |
| Collection Fee | Not specified |
Application fee – fee to apply for rates & approval.
Loan origination fee – fee to create the new loan.
Disbursement fee – fee for distributing funds to lenders to pay off loans that have been refinanced.
Prepayment penalty – fee for making extra payments to reduce a refinance loan balance or pay it off early.
Late payment fee – fee for making a late payment.
Returned payment fee – fee for failed payments due to insufficient funds, also known as a "bounced check".
Collection fee – fee for collection activity on a defaulted debt; MEFA promises to "charge only those collection fees that are reasonable in relation to the cost of collecting the debt".[1]
Current Promotions & Offers
MEFA does not offer special promotions or discounts.
MEFA Refinance Eligibility Requirements
To qualify for refinancing with MEFA, loans must be actively in repayment and must have been repaid on time in each of the previous 12 months. Additionally, all borrowers must meet the criteria below.
Citizenship Requirement: U.S. citizenship or permanent residence.
Income Requirement: $24,000 minimum income.
Credit Score Requirement: 670 minimum credit score.
Graduation Requirement: no graduation requirement.
Location Requirement: none specified.
Additional restrictions apply for certain individuals and loans.
Loans must have been used to attend an eligible, not-for-profit, degree-granting university as defined by MEFA.
Borrowers must have no history of default on an education loan.
No delinquencies on education debt in the past 12 months.
No history of bankruptcy or foreclosure in the past 60 months (5 years).
MEFA Student Loan Repayment Options
Lenders vary greatly on the benefits and options provided to borrowers during the loan servicing period. Additionally, benefits may only be available on a case-by-case basis. MEFA does not offer any specific relief options.
Deferment & Forbearance
In the event that borrowers have difficulty making payments, MEFA appears to direct them to the company's loan servicer, American Education Services (AES).
AES offers relief under several conditions, nearly half of which allow for terms of deferment or forbearance due to economic hardship.
See AES's conditions for deferment and forbearance below. Note that MEFA does not claim to guarantee any of these terms.
American Education Services Postponement Options

| Condition | Coverage |
| --- | --- |
| Returning to grad school (half- or full-time basis) | Deferment |
| Disability rehabilitation | Not specified |
| Active military duty | Deferment or Forbearance |
| Involuntary unemployment | Deferment or Forbearance |
| Economic hardship | Deferment or Forbearance |
| Natural Disaster | Forbearance |
| Temporary Hardship | Forbearance |
Additional Options
MEFA may offer some opportunities to modify a refinance loan contract.
Co-signer release is not available for MEFA refinance loans.
Death / disability discharge is available in the unfortunate circumstance that a borrower passes away or suffers total permanent disability.
MEFA Reviews, Complaints & Lawsuits
Beyond our own findings, our team also collected the most genuinely insightful customer experiences we could find, including any instances of legal action against the company in which the details became public.
MEFA Online Reviews
Few MEFA customer reviews are readily available on public forums. We have included this material for its value as unedited, uncensored, and unsolicited user experience. Note that these reviews are unverified, may include inaccuracies, and may provide outdated information (about rates, bonus offers, etc.).
---
"I originally refinanced my loans about a year and a half ago and got a 4.37% fixed rate (with autopay) from LendKey. I've paid ~$18.5k in principal and ~$4k in interest since then, bringing my current balance to ~$56k. I decided to take a stab at refinancing again, and found MEFA via credible.
I was quoted a pre-qualification rate of 3.7% fixed for a 7 year term. I went through the actual application process and that's the exact rate that I ended up getting. 10/10 recommend refinancing again if you have paid down a decent amount of principal or if you haven't done it in awhile." – eyelashchantel on reddit, 12/3/2019
---
"I just refinanced my [private loans] using MEFA last week. They will be serviced by AES Success. My [credit score] was 702 and I got 5.2% fixed rate (down from 12% variable from [another well-known lender], ugh). Maybe you'll get a better rate now that it came down? [A large national bank] was my original PL service, and my variable rate was low, I think around 4%. When it was sold to Navient after 5 yrs, they jacked it up every month for 2 years."
–
Countrygrlinthecity
on reddit, 3/18/2020
MEFA CFPB Complaints
As consumer finance companies, student loan refinancing lenders fall under the jurisdiction of the Consumer Financial Protection Bureau (CFPB), a federal agency. As part of its mission, the CFPB allows consumers to log official complaints. These complaints are publicly available on the CFPB official website.
Since January 2012, the CFPB has logged 8 complaints about Massachusetts Education Financing Authority (MEFA) student loan refinancing. The bureau has received a total of 125 complaints about the company in general; 112 of those have to do with MEFA's student loan products and services specifically.
The allegations made in these complaints are unverified, are not necessarily representative of all consumers' experiences with MEFA, and may contain outdated information (about rates, bonus offers, etc.). Note that a lender with a large customer base is likely also to have a higher number of complaints when compared with smaller lenders.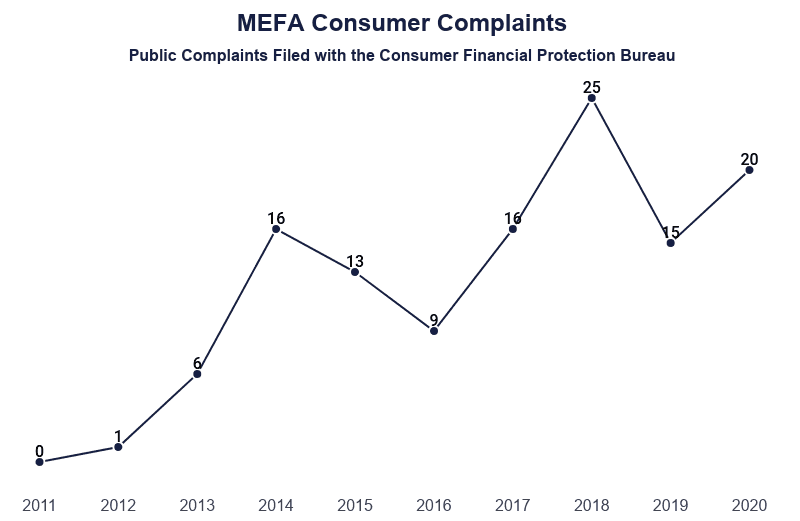 Below we've included the 3 most recent complaints (as of this writing) in which the consumer consented to share their details.
---
Complaint 3761964
7/24/2020
Virginia
"Between XX/XX/XXXX and XX/XX/XXXX, I co-signed for two student loans for my Son and two student loans for my Daughter. These loans were obtained from XXXX XXXX XXXX ( XXXX ) through the Massachusetts Educational Finance Authority ( MEFA ). For each of these loans, we were very clear that both students would be the primary borrowers and I would co-sign for the loans. However, I am in the process of trying to refinance my home mortgage. I have been told by the finance company that I appear as the primary borrower for all four of these loans. I have contacted XXXX on several occasions in an attempt to rectify this situation. On the first attempt, I was told that " this is how we process the loan. There is nothing we can do about it ". Earlier this month, I contacted XXXX again. This time, they offered to send me the loan documents to review. They advised me that I could call back if I found any errors. On Wednesday, I received the attached loan documents. On all four applications, The " Student Borrower " ( Section A ) is listed as either student. The next section, Section B, is very deceptive. This Section is titled " Borrower 's and Co-Borrower 's General Information ". I believed that I was completing this document correctly by filling in my information under " Co-Borrower ". The signature fields on each of the loan agreements ( Page 3 of 5 ), also make it clear that my Son and Daughter are the primary borrowers and I ( and my Wife, for the first loan ) signed as the co-signer. However, MEFA/XXXX changed the Final Disclosure documents to make it appear as if I was the primary borrower. On Thursday, XX/XX/XXXX, at approximately XXXXXXXX XXXX, I again contacted XXXX and spoke to a " XXXX ". XXXX advised me that because I filled in my information first under " Section B ", XXXX looks at me as the primary borrower. I asked him where it explained that in the instructions. I told him that this was a very deceptive practice. XXXX advised me that there was nothing I could do about this. I asked to speak with his supervisor. He stated " I can put you on with a loan specialist, but they're just going to tell you the same thing "."
---
Complaint 3451497
11/26/2019
Maryland
"I decided to refinance my private student loans that had previously been serviced by XXXX to a lower fixed rate loan underwritten by MEFA/ serviced by XXXX . MEFA accepted my loan application and disbursed funds on XX/XX/XXXX, XXXX did not receive the payoff ( via Snail Mail ) until XX/XX/XXXX. Both XXXX and MEFA are charging me interest on the same principal balance from the dates of XX/XX/2019 through XX/XX/2019. I do NOT see how it is legal/ possible for both companies to claim ownership to the underwritten principal. XXXX confirmed that they owned the loans until the XXXX and charged me accrued interest from XX/XX/19 through and including XX/XX/19. I am filing this complaint towards MEFA – XXXX XXXX ( MEFA ) sent me a separate copy of the promissory note that I did NOT receive at the time of refinancing stipulating that MEFA will charge interest beginning on disbursement date. They did not own the asset from XX/XX/19 – XX/XX/19 and began ownership on XX/XX/19. NOWHERE in the original loan refinancing agreement stipulated any of this. Additionally I notified MEFA that they were refinancing the incorrect amount prior to the loan disbursement/ final refinancing approval …. they insisted they could not lower the amount ( XXXX! )."
---
Complaint 2965594
7/17/2018
Maine
"Today 's date is XX/XX/2018. On XX/XX/2018, we ( the student, XXXX XXXX ) and myself, as co-signer ( XXXX XXXX ) requested documentation that one of XXXX 's loans be shown as current. XXXX XXXX XXXX, the loan processing company, asked for proof that XXXX made a XX/XX/XXXX payment, which XXXX does not reflect. They show an XX/XX/XXXX payment for the XXXX bill, but they applied the most recent XX/XX/XXXX payment to the XXXX bill because they did not record the XXXX payment that XXXX made. XXXX took a screen shot of her XXXX 's bank statement for the selected transactions on XX/XX/2018. It displays the correct amount ( actually two payments ) debited for 'XXXX XXXX and XXXX XXXX. ' We faxed that over to the number XXXX provided. We were told it would be as many as 3 business days to get the adjustment made. I called back after 3 days and they moved the goal posts. It was now going to be 7-10 business days. I asked to speak with a supervisor, who sent an email to the XXXX branch, asking that this be expedited. I called back and got another supervisor, XXXX ( XXXX ), who asked for a detailed statement reflecting payments made to XXXX from XX/XX/2018. Instead we got a textual breakdown. Again, XXXX 's payment in XXXX, proof of which we faxed over is still missing in their records. We are not allowed to speak directly to anyone in XXXX, and I have to wait another 24 hours to speak with XXXX 's manager. Delays in their escalation process are painfully slow. And I think it is purposeful. Perhaps we should not have pointed out that we are trying to consolidate XXXX 's student loans and refinance with another lender, XXXX XXXX XXXX. We are on the clock to get the paperwork completed. Currently everything is approved except for the letter from XXXX showing that the loan payments are brought current."
---
For a full list of complaints made against MEFA in the CFPB's Consumer Complaint Database, click here.
MEFA Lawsuits
While MEFA hasn't faced any recent litigation, the organization has been the plaintiff in several collections lawsuits starting in 2019. Many of these suits are, in effect, "inactive" due to the current moratorium on federal student loan debt collection.[2]
---
Frequently Asked Questions
These are the most common questions consumers have about student loan refinancing with MEFA.
Is MEFA good for refinancing student loans?
MEFA may be a good option for nongraduates who attended public and/or nonprofit private schools and have an established credit history.
Are MEFA loans federal?
MEFA loans are not federal. MEFA has no affiliation with the federal government or the U.S. Department of Education.
Does MEFA charge a prepayment penalty?
There are no penalties for early payments or repaying a loan in full before its term is over.
Does checking your rates with MEFA hurt your credit score?
For their prequalification process, MEFA performs a soft credit check, which will not hurt your credit score. If you proceed with an application, however, MEFA will perform a hard credit check which may affect your credit score.
Does MEFA charge a late fee?
There are no penalties for late payments or returned payments.
Is MEFA a bank?
MEFA is not a bank nor is it affiliated with any bank. MEFA is a lender that deals solely in education loans.
Can I refinance a MEFA loan?
You can refinance a MEFA student loan or a student loan from another private lender. There is no limit to the number of times a borrower may refinance with MEFA. Note, however, that every new line of credit requires a hard credit check that may affect your FICO score.
Can I refinance just some of my loans with MEFA?
Yes, you can refinance some, all, or just one of your qualifying student loans with MEFA. You may choose to refinance your private loans only or refinance private and federal loans together.
Can I refinance loans that have already been refinanced?
Yes, you can refinance loans as many times as you want with MEFA. Note that each time you refinance, you will have to submit a new application; every application requires a hard credit check that may affect your credit score.
Can my spouse and I refinance our loans together with MEFA?
MEFA does not combine spouses' student loan debts for refinancing unless the spouse is a co-signer on the original loan..
How long does it take to refinance with MEFA?
The entire process from prequalification until the day the first payment is due takes between 6 and 10 weeks
Who services MEFA refinance loans?
American Education Services (AES) services all MEFA loans.
Does MEFA offer a grace period?
MEFA refinance loans do not include a grace period.
How often do variable rates change?
MEFA adjusts variable rates monthly according to the 1-Month LIBOR.
What happens if I file for bankruptcy?
According to MEFA, "filing for bankruptcy does not necessarily discharge refinance loans."
Is MEFA a Credible lender?
Yes, MEFA partners with Credible and is part of the Credible lender marketplace.
Compare Student Loan Refinance Reviews
Sources