| | |
| --- | --- |
| Loan Limits | $10,000 – $125,000 |
| Fixed Rates | 4.49% – 9.49%* |
| Variable Rates | NA |
| Terms | 5, 10, or 15 years |
| Min. Credit Score | Undisclosed |
| Apply | Link |
*Lowest rates always include the 0.25% interest reduction for enrolling in auto-pay.
Skip to: Rates & Fees | Eligibility Requirements | Repayment Options | Consumer Reviews & Complaints | FAQ
Founded in 1935 as Boeing Employees' Credit Union, BECU refinances federal and private student loans in addition to offering traditional credit union services, such as checking/savings accounts, mortgages, personal loans, and a variety of insurance and investment services. LendKey services their student and parent refinance loans.
Loan Refinancing Options

| | |
| --- | --- |
| Private student loans | ✓ |
| Private parent loans | ✓ (in parent's name only) |
| Federal student loans | ✓ |
| Federal Parent PLUS loans | ✓ (in parent's name only) |
BECU Refinance Rates & Fees
BECU's fixed rates are between 4.49% and 9.49%. Lowest rates always include the 0.25% interest reduction for enrolling in auto-pay.
Student & Parent Refinance Loan Rates

| Term | Fixed Rate |
| --- | --- |
| 5 Year | 4.49% – 8.99% |
| 10 Year | 4.99% – 9.24% |
| 15 Year | 5.24% – 9.49% |
Additional information about BECU refinance rates:

Checking your rate with BECU will not affect your credit score. They will conduct a soft, not hard, credit inquiry (learn the difference).
BECU does offer a discount for setting up auto-pay: 0.25% interest rate reduction.
BECU does not offer a variable rate.
Student Loan Refinancing Calculator
Based on advertised rates, use the calculator below to determine what your new monthly payment and potential savings may be if you refinance with BECU.
Additional Fees
Beyond interest rates, there are a number of fees a refinance lender may charge up-front or during the loan servicing period. Below is a list of these fees that BECU does or does not charge.
| Fee Type | Amount Charged |
| --- | --- |
| Application Fee | None |
| Loan Origination Fee | None |
| Disbursement Fee | Undisclosed |
| Prepayment Penalty | None |
| Late Payment Fee | Undisclosed |
| Returned Payment Fee | Undisclosed |
| Collection Fee | Undisclosed |
Application fee – fee to apply for rates & approval.
Loan origination fee – fee to create the new loan.
Disbursement fee – fee for distributing funds to lenders to pay off loans that have been refinanced.
Prepayment penalty – fee for making extra payments to reduce a refinance loan balance or pay it off early.
Late payment fee – fee for making a late payment.
Returned payment fee – fee for failed payments due to insufficient funds, also known as a "bounced check".
Collection fee – fee for collection activity on a defaulted debt.
Current Promotions & Offers
BECU occasionally offers discounts for new members or referral bonuses. Check the official BECU web site for updates on deals and discounts for student loan refinancing and other services.
BECU Refinance Eligibility Requirements
To qualify for refinancing with BECU, all borrowers must meet the criteria below.
Citizenship Requirement: U.S. citizenship or permanent residency.
Income Requirement: unspecified.
Credit Score Requirement: unspecified.
Graduation Requirement: bachelor's degree or higher.
Location Requirement: dependent on membership status (see below).
Additional restrictions apply for specific individuals and loans. In order to refinance student loans, a borrower must be a member of BECU. BECU membership is restricted to individuals who meet the criteria below.
Employees, volunteers, or retired employees (and their family members) of BECU or Boeing Company.
Donors, members, employees, volunteers, or retired employees of the following organizations:

University of Washington Alumni Association.
Washington State University Alumni Association.
NW Credit Union Foundation.
KEXP (nonprofit organization).

Residents and business owners in the following locations:

The State of Washington.
Oregon counties Benton, Clackamas, Columbia, Lane, Linn, Marion, Multnomah, Polk, Washington and Yamhill.
Idaho counties Benewah, Bonner, Boundary, Clearwater, Idaho, Kootenai, Latah, Lewis, Nez Perce and Shoshone.
BECU Student Loan Repayment Options
Lenders vary greatly on the benefits and options provided to borrowers during the loan servicing period. Additionally, benefits may only be available on a case-by-case basis. BECU offers some relief options.
Deferment & Forbearance
BECU does offer some debt relief options for borrowers under certain circumstances. Interest always continues to accrue on deferred loans, and any auto-pay interest rate reductions may be suspended. While their loan is deferred, any other credit lines a borrower may have with BECU will be frozen.
See BECU's conditions for deferment and forbearance below.
| Condition | Coverage |
| --- | --- |
| Returning to grad school | Undisclosed |
| Disability rehabilitation | Undisclosed |
| Active military duty | Undisclosed |
| Involuntary unemployment | Unspecified |
| Economic hardship | Unspecified |
| Natural Disaster | Undisclosed |
| Temporary Hardship | Undisclosed |
Additional Options
BECU may offer other opportunities for relief or contract modification.
COVID-19 relief is available in the event of lost income due to COVID-19; borrowers may apply for up to 90 days of deferment.
Co-signer release is available after 24 consecutive qualifying payments.
Death / disability discharge is available in the unfortunate circumstance that a borrower passes away or suffers total permanent disability.
BECU Reviews, Complaints & Lawsuits
Beyond our own findings, our team also collected the most genuinely insightful customer experiences we could find, including any instances of legal action against the company in which the details became public.
BECU Online Reviews
There are few BECU customer reviews readily available on public forums. We've included what material we found here for its value as unedited, uncensored, and unsolicited user experiences. Note that these reviews are unverified, may include inaccuracies, and may provide outdated information (about rates, bonus offers, etc.).
---
"I'm a becu person. My boyfriend just swapped from [a national bank] to Becu and loves it.
Swapping is a pain but a worthy one in my opinion. The checking interest rate from becu is better than the savings interest rate at chase. Their savings rate is always better.
The main reason he actually swapped though was use-ability. The loan rates are better so he gets his loans there and it's easier to pay them with a becu account. He also prefers their app and likes that you can use any atm with the fee covered. His chase cards were also incredibly low quality and he had to get them replaced twice a year (big pain). The becu cards are high quality and don't wear out as fast.
Thank you for coming to my unsponsored ad." – kmccan on reddit, 11/8/2019
---
"Despite we're their long time customers with good credit scores, their refi rate is still not competitive. We left them within a year." – Anna on WalletHub, 11/9/2020
---
More (unfiltered) customer reviews of BECU are available at TrustPilot.com (3.7 out of 5).
BECU CFPB Complaints
As consumer finance companies, student loan refinancing lenders fall under the jurisdiction of the Consumer Financial Protection Bureau (CFPB), a federal agency. As part of their mission, the CFPB allows consumers to log official complaints. These complaints are publicly available on the CFPB official website.
Since 2012, consumers have submitted 288 complaints about Boeing Employees Credit Union (BECU) to the CFPB for an average of 2.5 complaints per month. Among the total complaints, 5 had to do with student loan products.
BECU averages 1 complaint for every 8 corporate employees, or 1 complaint for every $3.03 million of company revenue ($796.89 million total).
The allegations made in these complaints are unverified, are not necessarily representative of all consumers' experiences with BECU, and may contain outdated information (about rates, bonus offers, etc.). Note that a lender with a large customer base is likely to also have a higher number of complaints when compared with smaller lenders.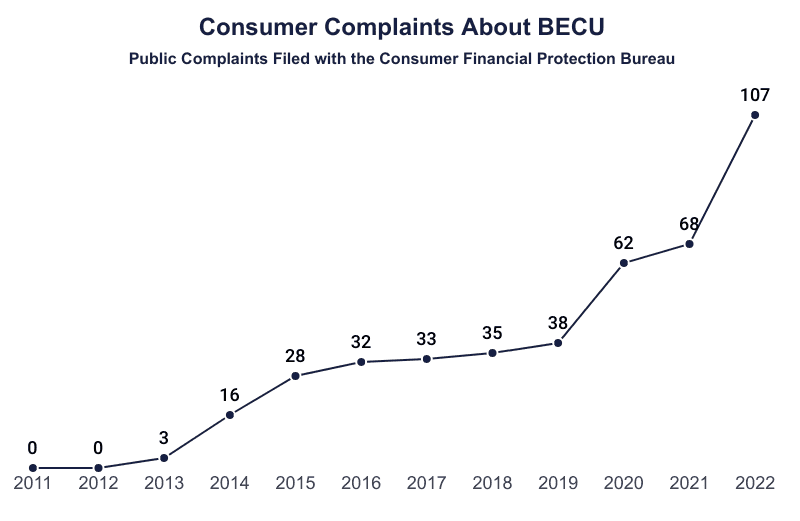 Below we've included 3 of the most recent complaints (as of this writing) in which the consumer consented to sharing their details.
---
Complaint 4032920
12/27/2020
Washington
"XX/XX/2020 – account with XXXX was pu on pause ( meaning no automatic payments would be withdrawn XXXX XX/XX/2020 – account with XXXX was cancelled, despite account being cancelled and on pause, merchant took reoccurring fee XX/XX/2020 – contacted XXXX about fraudulent fee – merchant said they cant do refunds XX/XX/2020 – informed XXXX that fraudulent charge would be disputed with bank XX/XX/2020 – Bank reversed charge and began investigation XX/XX/2020 – XXXX provided all communication to bank showing pause and cancellation as well as fraudulent withdrawal."
---
Complaint 4006088
12/11/2020
Washington
"BECU has been more than difficult to work with on these erroneous late payments. Ive filed a dispute claim with them already using XXXX XXXX and so far havent heard back. The way the account works is I can only pay my auto loan through the BECU account. Usually they move my funds between accounts themselves to settle the loan. In these instances where I was reported late they didnt bother to do that. At no point, was there any communication with me as to when the payment was due or what the actual amount of my payment is. Their apps and websites show inconsistent funds ( I believe they pull from different systems ), and on top of that, nothing on their app tells me payment dates, or amounts. With a perfect payment history on all of my credit trade lines, I would hope you can see that this is an error on the creditors part."
---
Complaint 3996281
12/8/2020
Tennessee
"I am a victim of identity theft. Because of the identity theft I ordered my XXXX report and found the following inquiries that were not authorized by me : Boeing Employees Credit Union XX/XX/2018 XX/XX/2018."
---
For a full list of the 288 complaints made against BECU in the CFPB's Consumer Complaint Database, click here.
BECU Lawsuits
BECU has been subject to multiple lawsuits in the 20th Century, most of which were dismissed or found in favor of BECU.
Note that while this information is updated regularly, ongoing legal action is subject to change.
Barrera et al v. Boeing Employees Credit Union Case No. 2:19-cv-01197
This class action lawsuit filed in 2019 alleges BECU violated the Washington Consumer Protection Act and their own contract forms. Such violations include charging excess fees, such as multiple non-sufficient funds fees (NSF fees) and overdraft fees on a single item presented for payment and with accounts that did have sufficient funds.
This case is ongoing.
---
Frequently Asked Questions
These are the most common questions consumers have about student loan refinancing with BECU.
Is BECU good for refinancing student loans?
BECU may be a good option for borrowers who are employed by or are members of a BECU partner, or if they live in or around the State of Washington.
How do I become a member of BECU?
BECU makes it easy to become a credit union member in the course of applying for a refinance loan as long as the applicant meets membership requirements.
Are BECU loans federal?
No, BECU refinance loans are not federal. BECU has no affiliation with the federal government or the U.S. Department of Education.
Does BECU charge a prepayment penalty?
No, there is no penalty for making early payments or repaying a loan in its entirety before the end of its term.
Does checking your rates with BECU hurt your credit score?
For their prequalification process, BECU performs a soft credit check, which will not hurt your credit score. If you proceed with an application, however, BECU will perform a hard credit check which may affect your credit score.
Is BECU a bank?
No, BECU is not a bank but a credit union founded by employees of Boeing in 1935.
Can I refinance a BECU loan?
You can refinance a BECU student loan or a student loan from another private lender. There is no limit to the number of times a borrower may refinance with BECU. Note, however, that every new line of credit requires a hard credit check that may affect your FICO score.
Can I refinance just some of my loans with BECU?
Yes, you can refinance some, all, or just one of your qualifying student loans with BECU. You may choose to refinance your private loans only or refinance private and federal loans together.
Can I refinance loans that have already been refinanced?
Yes, you can refinance loans as many times as you want with BECU. Note that each time you refinance, you will have to submit a new application; every application requires a hard credit check that may affect your credit score.
Can my spouse and I refinance our loans together with BECU?
No, BECU will only refinance loans where the student borrower was the primary borrower on the original loan.
How long does it take to refinance with BECU?
BECU does not specify its time frames.
Who services BECU refinance loans?
LendKey services BECU refinance loans for students and for parents.
Does BECU offer a grace period?
BECU does not offer a grace period with its refinance loans.
Can I get any special rates or discounts with BECU ?
BECU partners with multiple organizations, groups, and agencies to offer members special discounts or one-time bonuses. Check BECU's web site for updates on deals and discounts.
What happens if I file for bankruptcy?
BECU does not specify a course of action in response to bankruptcy; it is common practice among lenders to declare the entire loan amount due immediately upon a borrower's declaration of bankruptcy.
Compare Student Loan Refinance Reviews
Sources