| | |
| --- | --- |
| Loan Limits | $7,500 – $300,000 |
| Fixed Rates | 2.89% – 5.08% |
| Variable Rates | NA |
| Terms | 5, 8, 12 or 15 years |
| Min. Credit Score | 700* (670 with co-signer) |
| Apply | Link |
*For loans up to $150,000. For loans exceeding $150,000, a credit score of less than 725 requires a qualifying co-signer.
Skip to: Rates & Fees | Eligibility Requirements | Repayment Options | Consumer Reviews & Complaints | FAQ
One of the largest credit unions nationwide, Pentagon Federal Credit Union or PenFed offers student loan refinancing through Purefy. PenFed services its own loans and offers other financial services typical of a credit union.
Loan Refinancing Options

| | |
| --- | --- |
| Private student loans | ✓ |
| Private parent loans | ✓ (in either name†) |
| Federal student loans | ✓ |
| Federal Parent PLUS loans | ✓ (in either name) |
†Parents may refinance in their own names or transfer debt to a child.
PenFed Refinance Rates & Fees
PenFed's fixed rates are between 2.89% and 5.08%. PenFed appears to no longer offer variable rates.
Refinance Loan Rates

| Term | Fixed Rate |
| --- | --- |
| 5 Year | 2.89% – 5.08% |
| 8 Year | 3.14% – 5.08% |
| 12 Year | 3.07% – 5.08% |
| 15 Year | 3.25% – 5.08% |
Additional information about PenFed refinance rates:

Checking your rate with PenFed will not affect your credit score. They will conduct a soft, not hard, credit inquiry (learn the difference).
PenFed does not offer a discount for setting up auto-pay.
PenFed offered variable rates until 7/1/2021; it is unclear if variable rates will become available again.
Student Loan Refinancing Calculator
Based on advertised rates, use the calculator below to determine what your new monthly payment and potential savings may be if you refinance with PenFed.
Additional Fees
Beyond interest rates, there are a number of fees a refinance lender may charge up-front or during the loan servicing period. Below is a list of these fees that PenFed does or does not charge.
| Fee Type | Amount Charged |
| --- | --- |
| Application Fee | None |
| Loan Origination Fee | None |
| Disbursement Fee | Undisclosed |
| Prepayment Penalty | None |
| Late Payment Fee | $5 to $25 |
| Returned Payment Fee | Undisclosed |
| Collection Fee | Unspecified |
Application fee – fee to apply for rates & approval.
Loan origination fee – fee to create the new loan.
Disbursement fee – fee for distributing funds to lenders to pay off loans that have been refinanced.
Prepayment penalty – fee for making extra payments to reduce a refinance loan balance or pay it off early.
Late payment fee – fee for making a late payment.
Returned payment fee – fee for failed payments due to insufficient funds, also known as a "bounced check."
Collection fee – fee for collection activity on a defaulted debt. PenFed discloses only that "[i]n the event of a default, the borrower may incur additional collection charges as permitted under applicable law."
Current Promotions & Offers
PenFed does not typically offer promotions, discounts, or other such benefits. Branch locations sometimes have their own special offers available.
PenFed Refinance Eligibility Requirements
To qualify for refinancing with PenFed, all borrowers must meet the criteria below.
Citizenship Requirement: U.S. citizenship.
Income Requirement: $42,000 annual minimum for loans up to $150,000, $50,000 annual minimum for loans up to $300,000 -OR- $25,000 annual minimum with a qualifying co-signer.
Credit Score Requirement: minimum 700 for loans up to $150,000, 725 for loans up to $300,000 -OR- 670 with a qualifying co-signer.
Graduation Requirement: bachelor's degree or higher.
Location Requirement: none.
Additional restrictions apply for specific individuals and loans.
Borrowers are required to be existing PenFed credit union members or join PenFed before loan authorization.
PenFed membership requires opening a PenFed savings account with a minimum of $5.
PenFed Student Loan Repayment Options
Lenders vary significantly on the benefits and options provided to borrowers during the loan servicing period. Additionally, benefits may only be available on a case-by-case basis. PenFed offers some relief options.
Deferment & Forbearance
PenFed does not advertise deferments or forbearance but does disclose a willingness to consider deferment under certain circumstances and on a case-by-case basis.
| Condition | Coverage |
| --- | --- |
| Returning to grad school | Undisclosed |
| Disability rehabilitation | Unspecified |
| Active military duty | Undisclosed |
| Involuntary unemployment | Unspecified |
| Economic hardship | Unspecified |
| Natural disaster | Undisclosed |
| Temporary hardship | Unspecified |
Additional Options
PenFed may offer other opportunities for relief or contract modification.
Co-signer release may be available after 12 consecutive qualifying payments.
Death / disability discharge is available in the unfortunate circumstance that a borrower passes away or suffers total permanent disability.
PenFed Reviews, Complaints & Lawsuits
Beyond our own findings, our team also collected the most genuinely insightful customer experiences available, including any instances of legal action against the company in which the details became public.
PenFed Online Reviews
Below are 3 samples of PenFed customer reviews we found on public forums, included here for their value as unedited, uncensored, and unsolicited user experiences. Note that these reviews are unverified, may include inaccuracies, and may provide outdated information (about rates, bonus offers, etc.).
---
"I recently refinanced a student loan with PenFed. I managed to get my 6% loan refinanced for 4%. Their portal seems not very advanced, but they offered me one of the lowest rates I could find compared to others. I also signed up for the 8 year plan. If I did the 5 year plan, I could have received a 3.75% rate; however, the monthly payment was too high to make it worth it. I have not had any issues with them these past few months." – MikeIzSuave on reddit, 7/14/2020
---
"Hey I actually just refinanced with PenFed (through [a marketplace lender]) and was quoted 1.6% variable. I also noticed the paperwork that said minimum of 2% which didn't make sense since they quoted the 1.6%. I went ahead and followed through with the loan and it finally posted in the past few days and it's already gone down to 1%. So I don't really know what the minimum 2% refers to but it seems like mine has been below that without a problem so far. You may want to clarify with PenFed before signing though." – parkit on reddit, 5/16/2020
---
"Penfed has some issues on the front end.
I was declined a refi of $30K for a 5 year loan reason being my income to debt ratio was "bad". I inquired and inquired and for some reason they had that I earned $1100 per month. How they arrived at that I don't know as they had the copies of my paystubs at $3300 bi weekly……..
In the end it all worked out but yes, they aren't on top of things." – retiredjg at Bogleheads.org, 6/18/2014
---
More (unfiltered) customer reviews of PenFed are available at TrustPilot.com (4.6 out of 5) and ConsumerAffairs.com (4.6 out of 5).
PenFed CFPB Complaints
As consumer finance companies, student loan refinancing lenders fall under the jurisdiction of the Consumer Financial Protection Bureau (CFPB), a federal agency. As part of its mission, the CFPB allows consumers to log official complaints. These complaints are publicly available on the CFPB official website.
Since December 2011, consumers have submitted 2,199 complaints about Pentagon Federal Credit Union (PenFed) to the CFPB for an average of four (4) complaints per week. At least one (1) of these complaints specifically refers to PenFed's student loan refinancing program.
The allegations made in these complaints are unverified, are not necessarily representative of all consumers' experiences with PenFed, and may contain outdated information (about rates, bonus offers, etc.). Note that a lender with a large customer base is likely to have a higher number of complaints when compared with smaller lenders.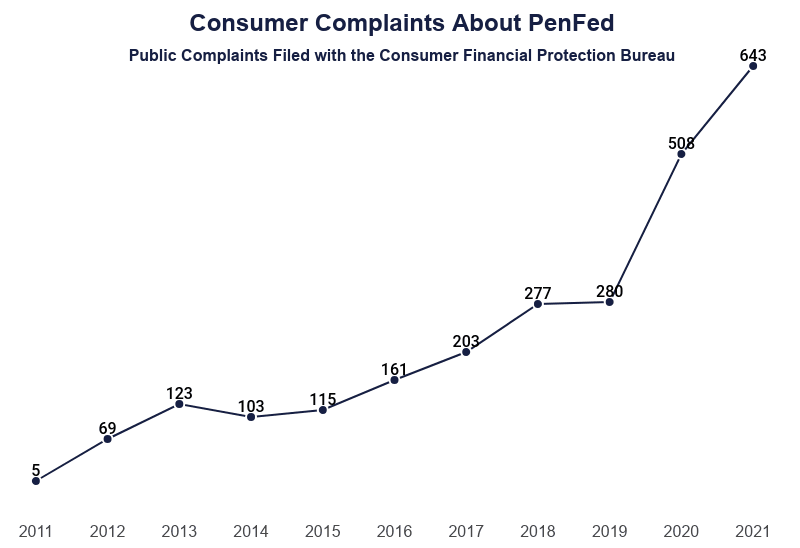 Below we've included the 3 most recent complaints (as of this writing) in which the consumer consented to share their details.
---
Complaint 4554993
7/19/2021
New York
"Someone stole my identity and opened many accounts without my permission or authority."
---
Complaint 4528923
7/9/2021
Florida
"I GOT LETTERS STATING THAT BANK ACCOUNT WAS OPENED IN MY NAME AND ASKED ME TO SIGN AND MAIL BACK TO THEM. I HAVE NO BUSINESS RELATIONSHIP WITH SUCH ENTITY, NOR DID I DISCLOSE MY PERSONAL INFO TO THEM. I HAVE ATTEMPTED TO CONTACT FEW TIMES BUT THE HOLD TIMES EXENDED BEYOND XXXX MINUTES ON THEIR HOLD LINES. TODAY ( XX/XX/2021 ), I WAS ABLE TO SPEAK TO THEIR REPRESENTATIVES THAT CONFIRMED THE FOLLOWING : ACCOUNT OPENED IN MY NAME ON XX/XX/2021 WITHOUT MY PERMISSSION. IT SYSTEM WIDE ISSUE THAT BANK IS EXPERIENCING. HOWEVER, BANKER WAS NOT ABLE TO GET A HOLD OF THEIR INTERNAL FRAUD DEPARTMENT OR SHARE DETAILS OF THE BREACH. ATTACHED IS A LETTER ACKNOWLEDGING SUCH BREACH OR FRAUD."
---
Complaint 4528885
7/9/2021
Connecticut
"I applied, and was approved for an installment loan with Pentagon FCU. I have been paying down on the note for probably more than a year now. In XXXX of 2021, my employer announced potential future layoffs as the result of a bank merger. I work for a bank. I contacted Pentagon FCU and attempted to enroll the installment loan in their debt protection program. Due to a glitch in their online system, however, I was unable to retrieve the documents that I needed to sign. Rather than address the glitch, Pentagon told me that in order to properly add on the protection, they would need to " rebuild " the loan. I went with it as I really wanted the protection. About a month later, I checked the loan details online. They raised the rate from the initial 8.49 % fixed to 12.99 %. When I contacted the company, they acknowledged the error and changed the rate back to match the terms of the original loan agreement. Since then, I have received a total of three requests to sign an official promissory note for their records. The issue with the promissory note is that it contains invalid information – the rate is 12.99 % rather than the original rate. And the monthly payment is therefore also incorrect. When I contacted them ( several times ) to dispute this, their resolution was to send an addendum letter, signed by a loan operations representative along with yet another promissory note for ME to sign containing the same invalid rate, payment and other calculated terms. XX/XX/XXXX, I contacted Penfed again and was told that they requested a corrected promissory note for me to sign but the request was " denied ". I was also told that if I did not sign the invalid promissory note that they have continued to send me, they would probably raise the interest rate on the loan. I refuse to sign a legal document that is not correct and I hope someone at this agency will agree with me. Please address this issue with Pentagon Federal Credit Union. If the promissory note is something that they can not reproduce from the system, I would suggest that they create one manually with the correct information on it and I would be happy to sign it. Something is very wrong with this institution. I have been in banking 20 years and have never seen anything like this."
---
For a complete list of the 2,199 complaints made against PenFed in the CFPB's Consumer Complaint Database, click here.
PenFed Lawsuits
Note that while this information is updated regularly, ongoing legal action is subject to change.
Nyjah Ross et al., v. Pentagon Federal Credit Union, et al., Case No. 1:20-cv-00281-RDA-JFA
In March 2020, Nyjah Ross and Thomas Castelli filed a class action complaint against PenFed alleging violation of Regulation E of the Electronic Fund Transfer Act (EFTA).
Specifically, plaintiffs claim they were charged multiple non-sufficient funds (NSF) fees for the same electronic transaction and were also charged NSF fees when their accounts did have sufficient funds to cover the transaction. This is the second civil action against PenFed for apparent violation of its own account agreement regarding NSF charges to borrowers.
The case has been assigned to US District Court for the Eastern District of Virginia, Judge Rossie D. Alston presiding, and is presumably ongoing.
Tiffany Neal v. Pentagon Federal Credit Union, Case No. ELH-18-451
Plaintiff Tiffany Neal, a disabled veteran, filed a civil action suit against PenFed in August 2019, alleging the credit union violated EFTA as well as multiple sections of the State of Maryland's Breach of Contract law.
Specifically, Neal alleges PenFed "unlawfully withdrew disability benefits from her PenFed account to offset Neal's overdue loan payments."[2]
This case has been assigned to United States District Court, District of Maryland's 4th circuit court, Judge Ellen L. Hollander presiding, and is presumably ongoing.[3]
---
Frequently Asked Questions
These are the most common questions consumers have about student loan refinancing with PenFed.
Is PenFed good for refinancing student loans?
PenFed may be a good option for borrowers who wish to assume ownership of a parent loan or combine student debt with a spouse; this is especially true of financially established and secure borrowers who are or want to become members of Pentagon Federal Credit Union.
Are PenFed loans federal?
No, PenFed loans are not federal. PenFed has no affiliation with the federal government or the U.S. Department of Education.
Does PenFed charge a prepayment penalty?
No, there are no penalties for early payments or repaying a loan in full before its term is over.
Does checking your rates with PenFed hurt your credit score?
PenFed performs a soft credit check for their prequalification process, which will not hurt your credit score. If you proceed with an application, however, PenFed will perform a hard credit check that may affect your credit score.
Is PenFed a bank?
No, PenFed is not a bank; it was among the first credit unions founded under the Federal Credit Union Act as part of President Roosevelt's New Deal in 1935.
Can I refinance a PenFed loan?
Yes, you can refinance a PenFed student loan or a student loan from another private lender. There is no limit to the number of times a borrower may refinance with PenFed. Note, however, that every new line of credit requires a hard credit check that may affect your FICO score.
Can I refinance just some of my loans with PenFed?
Yes, you can refinance some, all, or just one of your qualifying student loans with PenFed. You may choose to refinance your private loans only or refinance private and federal loans together.
Can I refinance loans that have already been refinanced?
Yes, you can refinance loans as many times as you want with PenFed. Note that each time you refinance, you will have to submit a new application; every application requires a hard credit check that may affect your credit score.
Can my spouse and I refinance our loans together with PenFed?
Yes, PenFed evaluates spouses together and allows them to combine debt. Spouse co-signers are exempt from co-signer release; 67% of co-signed PenFed student loan refinances are spousal loans.
How long does it take to refinance with PenFed?
It will likely take between 6 and 16 weeks from application until your first refinance payment is due. PenFed estimates 3-14 days for disbursement, with the first payment due 30 days after that.
Who services PenFed refinance loans?
PenFed services all their own student refinance loans.
Does PenFed offer a grace period?
No, PenFed does not offer a grace period.
How often do variable rates change?
PenFed updates variable rates on the 1st of each month according to the 1-month LIBOR as it was on the 25th day of the preceding month (or the next business day if the 25th falls on a weekend or holiday).
Can I get any special rates or discounts with PenFed?
PenFed does not advertise any discounts or rate reductions. Branch locations may offer their own promotions.
What happens if I file for bankruptcy?
PenFed does not specify what action the lender will take but cautions that borrowers who file for bankruptcy "may still be required to pay back [their] loan."[5]
Is PenFed a Credible lender?
Yes, PenFed does partner with Credible as part of its lender marketplace.
Compare Student Loan Refinance Reviews
Sources