Financial institutions use reference rates or interest rate indices to determine the interest rates they will charge their borrowers, including education loan and student loan refinance borrowers.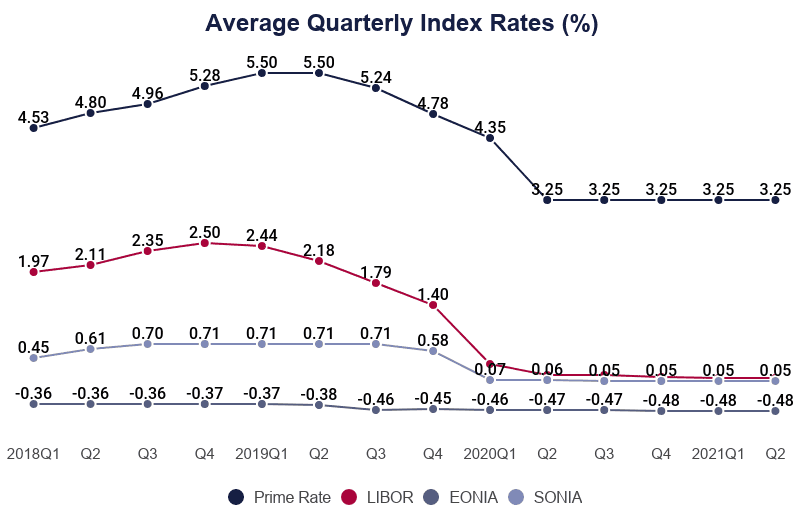 Interest Rate Indices
Reference rates or interest rate indices are benchmarks that measure the interest rates major financial institutions pay for loans during a specific period; the weighted average of these rates becomes the index rate for that period.
Though each index has its own set of data sources, most indices reflect a shared general economic trend. While most indices experience corresponding increases and declines, they (ups/downs) vary by degree. Your lender lists its preferred reference rate in solicitation and application disclosures as well as on its website when variable rates appear.
Common Interest Rate Indices
Some indices are used more commonly than others. Upcoming changes in the financial realm may mean lenders will switch their preferred indices.
For example, most student loan refinance lenders use the LIBOR, but changes in how data is collected may affect the index's usage. These changes are in addition to the regulations resulting from the 2012 scandal in which multiple banks lied and manipulated data in a large-scale fraud scheme.[1][2]
London Interbank Offered Rate (LIBOR)
Historically, the LIBOR has been the most-used interest rate index. Used globally, it measures short-term interest rates for initiated loans as reported by a panel of banks.
LIBOR is used worldwide and is calculated for five (5) currencies: the U.S. Dollar, Pounds Sterling, Euros, Francs, and Yen. [Administrators: Intercontinental Exchange, Inc. Benchmark Administration (IBA); Financial Conduct Authority (FCA), "the United Kingdom-based regulator"].
The LIBOR scandal of 2012 affected $360 trillion in consumer loans (including student loans) and derivatives globally.[4]
Over 100 employees, traders, and brokers were fired or suspended from institutions implicated in the scandal; some were prosecuted. Executives, for the most part, escaped prosecution(cite).[2]
Implicated institutions include:
Deutsche Bank
Barclay's
Citigroup
JPMorgan Chase
Royal Bank of Scotland
UBS Group
Rabobank
Prime Rate
U.S. Prime Rate is determined by individual banks. The Federal Reserve reports the Prime Rate based on the "[r]ate posted by a majority of the top 25 (by assets in domestic offices) insured U.S.-chartered commercial banks."[3]
Banks often use the Prime to set interest rates when approving lines of credit or loans, such as mortgages. This rate is not typically used to set educational loan rates.
Alternative Interest Rate Indices
Financial regulators encourage financial institutions to transition from LIBOR to an alternative index.
In the U.S., the SOFR is a commonly used index. Other countries typically use indices that share their currency, such as the Euro Interbank Offered Rate or the Sterling Overnight Interbank Average.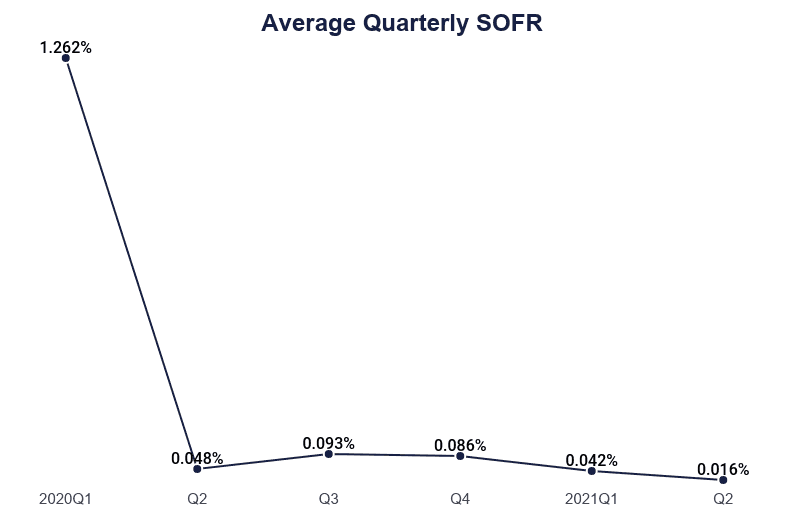 Secured Overnight Financing Rate (SOFR)
Unlike the LIBOR, SOFR measures interest rates for completed loans. SOFR is the recommended alternative according to the U.S. Federal Reserve as advised by the Alternative Reference Rates Committee (ARRC)*.
*The ARRC is a board that includes private market participants, such as Fannie Mae, PNC, Citigroup, and JPMorgan Chase.
Overseas Alternatives
Most consumers will never see a contract that uses an overseas alternative index. It is highly irregular to see any of these reference rate indices in a domestic lender's legal documentation and may be an indication that something is wrong.
The Sterling Overnight Interbank Average or SONIA is a LIBOR alternative for economies that use Pounds Sterling(£). This is an unsecured overnight lending rate. SONIA has been regulated by a British committee since its launch in 2017.
The Tokyo Overnight Average Rate or TONAR is an alternative to the Yen(¥) LIBOR. This index is regulated by Japan and is an unsecured rate.
The Euro Interbank Offered Rate or EONIA is the end result of an effort by the European Central Bank to develop a daily unsecured overnight index rate for the Euro(€).
The Swiss Average Rate Overnight or SARON is a collateralized rate based on the Swiss repo market or the secured funding market for the Swiss Franc(CHF).
The Australian Interbank Overnight Cash Rate or AONIA uses the Australian Dollar (AUD$) is functionally similar to EONIA and SONIA.
Sources