Refinancing student loans usually affects the borrower's credit score for a brief period. Credit applications and lender approval, however, can also impact your credit rating.
How Refinancing Affects Your Credit Score
While student loan refinancing involves major credit activity, its impact on your credit score is ultimately minimal. While this activity will cause your score to dip initially, the nature of refinancing means your credit rating will "balance out", so to speak.
Basically, refinancing involves closing one line of credit (or multiple lines of credit) and opening another of equivalent value. Therefore, your debt total won't change much in the long run.
As far as the entire refinancing process goes, the largest impact it is likely to have is on the 10% of your credit rating that's scored according to how many new credit applications you've submitted and/or new lines of credit you've opened in recent months.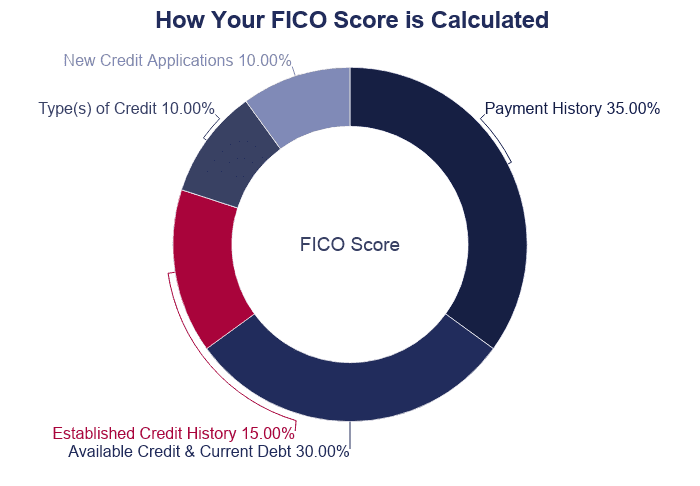 How Lender Approval Affects Your Credit Score
Lenders require access to your credit history before they offer to refinance your loans. This involves a credit check or credit pull, likely from one of three national credit bureaus: Equifax, Experian, and TransUnion.
These same bureaus coordinate to provide citizens with their free annual credit report upon request, as guaranteed by federal law*. Financial experts strongly recommend reviewing your credit report prior to making applications that involve any kind of credit check.
*Under certain circumstances, such as disability status or state legislation, you may be entitled to additional free reports.
Soft Credit Check
A soft credit check does not affect your credit score. Lenders perform a soft credit pull to confirm you meet the minimum requirements to apply for refinancing. This may help you avoid an unnecessary hard credit inquiry that can damage your FICO score.
Note that a soft inquiry does not require your social security number. A soft credit check can occur even if you don't apply for any credit product; a common consumer complaint is the receipt of unsolicited credit offers with personal and financial information.[1]
Many lenders offer prequalification to applicants who request it, including Advantage, Brazos, CommonBond, Laurel Road, and ELFI, among others.
Hard Credit Check
A hard credit check has the potential to impact a credit score. In order to perform a hard credit pull, potential lenders need to know your social security number.
A hard inquiry includes all the same information a soft credit check does. In fact, there is little difference between the two except for how they impact your credit score. A common consumer complaint is the claim of "bait-and-switch" after a lender's interest rate offer changes between prequalification and credit approval.[2]
If you provide any financial institution with your social security number, assume they will use it to perform a hard credit check.
Some lenders, such as Discover and Navy Federal, do not offer prequalification and require a hard credit check to view your interest rate options. Refinance lender NaviRefi does not offer prequalification; instead, this is an invite-only refinance program from a lender "prescreens" borrowers (i.e., runs an unsolicited soft credit inquiry to determine borrower eligibility); such an unsolicited offer may not include an estimate of interest ratess.
Data Used to Calculate Your Credit Score

| | |
| --- | --- |
| Payment history | The most influential factor in calculating your credit rating is your bill payment history over the last 7 – 10 years. Late payments and delinquent accounts harm your score. |
| Current debt | The amount of money you currently owe influences your score, especially if any of it is overdue. A high debt balance isn't necessarily bad; it may indicate a willingness among financial lenders to trust you. |
| Credit available | The percentage of your remaining available credit informs your current debt and reflects your credit usage habits. A credit line with zero available credit represents a fully depleted or "maxed out" resource. |
| Credit history | The length of your established credit history is important to lenders because it allows them to see that if you are a consistently responsible credit user even if a recently missed electric bill payment mars your rating. |
| Type(s) of credit | The types of debt you have may indicate your ability to be a responsible credit user. Healthy credit activity on a mortgage or student loan is more impressive than activity that's limited to credit cards. |
| New credit | The number of unique applications you make for new lines of credit tells lenders about your latest credit habits, which may strongly influence your credit report in the near and/or extended future. |
Credit Score
Your credit score or credit rating usually refers to the data-driven scoring system developed by Fair Isaac Corporation (FICO). Banks and lenders use this credit score to assess credit risk (i.e. the likelihood you'll repay the money they lend you).
Different reporting bureaus have slightly different data available due to differing data collection and update times, and some use alternative scoring systems (such as VantageScore).
Credit History
Your credit history is important because you likely have multiple credit scores. Credit histories record how you pay off debts. Making on-time monthly payments is positive history and makes lenders more likely to trust you, while missed payments and delinquencies are examples of negative payment history.
Negative payment history affects your score for 84 months (7 years) except in cases of bankruptcy. A bankruptcy remains part of your reported credit history for 120 months (10 years), while positive payments remain part on your credit report for up to 10 years.
Credit Report
Your credit report includes your credit history, score, and other personal information about how you use and spend money. Credit bureaus sell information in your credit report to businesses that use it to decide whether to loan you money or give you credit.
Due to a 2017 data breach and subsequent legal settlement, all U.S. consumers are entitled to up to six (6) free copies of their Equifax credit report during any 12-month period through December 2026.
Sources