In 2017, the average high school "event" dropout rate was 4.7%, contrasting with 3.5% in 2007

This rate includes students between the age of 15 and 24 in grades 10-12 who left high school between the beginning of one school year and the beginning of the next without earning a diploma or alternate credential
Recipients of GED or other alternative credential don't factor into the dropout rate

In 2017, the average high school "status" dropout rate was 5.4% in 2017.

This rate includes students between the age of 16 and 24 not enrolled in school and do nothave a diploma or alternative credential
5.1% of noninstitutionalized population
32.4% of institutionalized population (individuals who live in correctional facilities, nursing or other healthcare facilities)
5% of this group was born in the United States and 8.9% were not

36% of students who have a disability (physical or learning) drop out of high school
54% of students who drop out of high school left in 10th or 11th grade
The ACGR for students with limited English proficiency was 66% in 2018
73% of high school dropouts indicated their parents tried to talk them into staying compared to 37% indicating their school tried to talk them into staying
53% of dropouts said their parents offered to help them with personal problems vs. 24% indicating their school offered to help
75% of high school dropouts never participated in an alternative program or school
Important:
The United States began using ACGR (Adjusted Cohort Graduation Rate) for measuring high school graduation rates in 2010. This is the number of students who graduate within 4 years of starting the 9th grade with a regular high school diploma. The adjustment is made by subtracting any students who transfer away, leave the United States, or pass away, and adding any students who transfer into the cohort after 9th grade.

Throughout this report, when we refer to "high school dropouts," we don't include individuals who obtained their GEDs or alternative high school credentials unless noted specifically in the text.

For this report, we are utilizing ACGR rates, not AFGR rates.
High School Graduation Rate Statistics
In 2019, the national graduation rate was 84.6%
Some states do better than others, and while the national graduation rates have increased in recent years, the number of schools with lower graduation rates are increasing.
The graduation rate has increased since World War II (1945), when graduation/completion rates were closer to 50%
In 2018, 93% of adults between the age of 18 and 24 and 89.8% of adults over the age of 25 had completed a diploma, GED or another equivalency credential

In 1980, only 84% of adults between the age of 18 and 24 had graduated

About 3.6 million public school students projected to graduate in the 2019-2020 school year with high school diplomas (does not include equivalency credential)

3.3 million will graduate from public schools
347,000 will graduate from private schools
State-Reported Graduation Rates Don't Tell The Whole Story
In 2016, 2,435 high schools met the criteria of a low-graduation-rate school, an increase from 2,249 in 2015
13% of all high schools enrolling 7% of students in the US are low-graduation-rate schools
U.S. Department of Education audits have found some states and school districts are manipulating their graduation rates in response to legislation mandating higher standards. This contributes to underreported dropout numbers.
Since No Child Left Behind became law, states are increasingly utilizing alternative programs and "credit recovery" courses to bolster graduation rates.
8% of schools have high school students enrolled that take 39% of credit recovery courses in the United States

68% of credit recovery courses have no seat-time requirement
59% of them graded by computer
In 2016, through the use of credit recovery programs, the city of Los Angeles saw its projected graduation rate increase from 54% to 75% in one year

Alabama began inflating its graduation percentages in 2012 by including alternative credentials awarded to special education students to inflate numbers, dropping underperforming students from cohorts, either on paper or by expelling "problem students."
In 2018, in District of Columbia, low-performing schools reporting sudden changes in graduation reports underwent audits:

34% of graduates from the District of Columbia Public Schools had irregularities that should have prevented them from graduating
In 2017, 11.4% of graduates missed more than 50% of the school year and only 7.7% had satisfactory attendance
After the audit, graduation requirements changed, and graduation rates dropped by 4.6% in 2018
Alternative High Schools & High School Dropouts
Florida has been under investigation for utilizing alternative schools to meet graduation rate standards. For instance, in 2016, 455 students in Orange County were sent to a for-profit "charter alternative" school run by ALS (Accelerated Learning Systems).

85% of students were black or Hispanic
Between 2012 and 2015, the school coded 1,230 "withdrawals" as students leaving for adult education, and similar ALS schools reported 5,260 more
In 2015, Orange County Reported 211 high school dropouts. The ALS schools reported 1038 "adult education withdrawals"
Between 2009 and 2014, Orange County's alternative school enrollments tripled
ALS ran 70% of the alternative schools that ranked the highest "withdrawals"
The Orange County ALS school spent 22% of its expenditures on instruction and 32.5% paying its management company

In 2017 nearly 500,000 students were enrolled in alternative schools across the United States:

279,000 were enrolled in alternative schools classified as secondary/high schools
141,824 were enrolled in alternative schools that were classified as combined elementary/high schools
54.2% of alternative schools are considered low-income
Even though they only make up 15.5% of the total student population, 20.3% of alternative school students were black. Hispanic students encompass only 24.8% of the total student population but comprise over 36% of alternative school students.

Over half of alternative schools have graduation rates lower than 50%
74% of districts with alternative schools/programs for at-risk students allow re-entry to public schools, 25% only allow some, and 1% allow none to re-enter
Dropout Rate Statistics: Demographics
By Race:
While dropout rates are sobering, the numbers are declining, particularly in populations that previously had disproportionate dropout rates.
13% of black students dropped out in 1992 compared to just under 6% in 2017
30% of all Hispanic individuals in the 16-24-year-old group dropped out in 1992, and in 2016, only 8.6% were dropouts in 2016
7% of white students dropped out in 1992, compared to less than 5% in 2017
Between 1980 and 2017, high school graduation rates increased:

75% to 94% among black, non-Hispanic young adults

87% to 95% among white, non-Hispanic young adults
57% to 88% among Hispanic young adults

In 2017, high school graduation rates were higher for Asian students, at 99%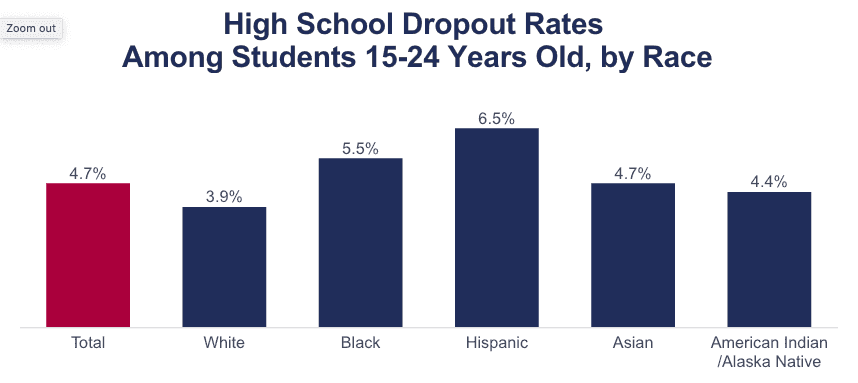 By Gender:
5.4% of males between age 15 and 24 were dropouts in 2017
5.9% of females between age 15 and 24 were dropouts in 2017
In high school, 22% of female students were chronically absent from school vs. 20.4% of male students
By Disability Status:
Students needing special education are diagnosed with one or more disabilities under the Individuals with Disabilities Education Act (IDEA) passed in 1975. These disabilities may include hearing or vision impairment, learning disabilities, autism, orthopedic impairment, emotional disturbance or other conditions.
36% of high school students with disabilities dropped out of school in 2017
The ACGR (adjusted cohort graduation rate) for students with disabilities was 67% in 2018
Among students enrolled in special education in 2015 in the US:

76% of white students graduated with a traditional diploma
57% of students of color graduated with a certificate instead of a traditional diploma

The federal government has never funded the required amount of additional funding needed for states to educate students with disabilities. Most school districts struggle to make up the difference, especially in disadvantaged communities
59% of prison inmates who dropped out of high school and incarcerated have a speech disability
69% of prison inmates who dropped out of high school and incarcerated have a learning disability
By State:
It's important to remember that some districts may have graduation rates even lower than the state average graduation rates. In addition, at least two of the states on the chart below have been exposed for reporting false graduation numbers.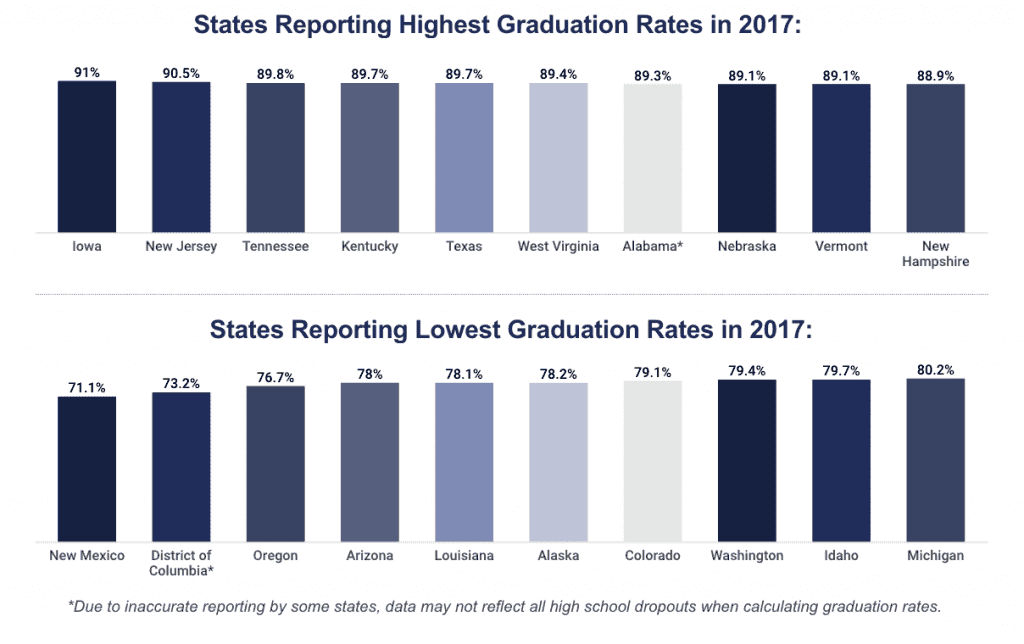 Dropout Rate Statistics: Causes
Chronic Absenteeism
Absenteeism occurs at higher rates in high school than other grades:
In 2016, 16% of the student population -over 7 million- missed 15 or more days of school
14% of English learners have chronic absentee issues vs. 16% of non-English learners
Students with disabilities are 50% more likely to be chronically absent

In 2016, 27.8% of high school students with disabilities were chronically absent vs. 20.1% of students without disabilities

In high school, nearly 20% of students are chronically absent
In 2016, nearly 800 school districts had over 30% of their students miss more than 3 weeks of school
Poverty and Socioeconomic Status
Students from low socioeconomic status (SES) backgrounds or low-income families are 2.4 times more likely to drop out of high school than students in middle SES families, and 10 times more likely to drop out than higher SES students. Poverty and socioeconomic background directly correlates with high school dropout rates:
Among economically disadvantaged populations the ACGR (adjusted cohort graduation rate) rate in the US is 78%
Students from families in lower socioeconomic status percentiles are 5 times more likely to drop out of high school. As shown below, poverty can have extremely negative effects on students:

Higher risk of hunger/food insecurity
Absentee or incarcerated parents
More likely to be exposed to adverse peer influence, drug and alcohol abuse
Higher risk of domestic abuse
Greater mobility rates and risk of homelessness

In 2017, there were 1.3 million homeless students in the US:

The number of students in high school who were homelessness was nearly 360,000

1.02 million students were in shared or doubled-up housing
90,013 were in hotels or motels
186,141 were in shelters, transitional housing or awaiting foster care placement
49,864 were unsheltered
118,362 students were considered unaccompanied homeless youth
245,130 were students with disabilities served under the Disabilities Education Act (IDEA)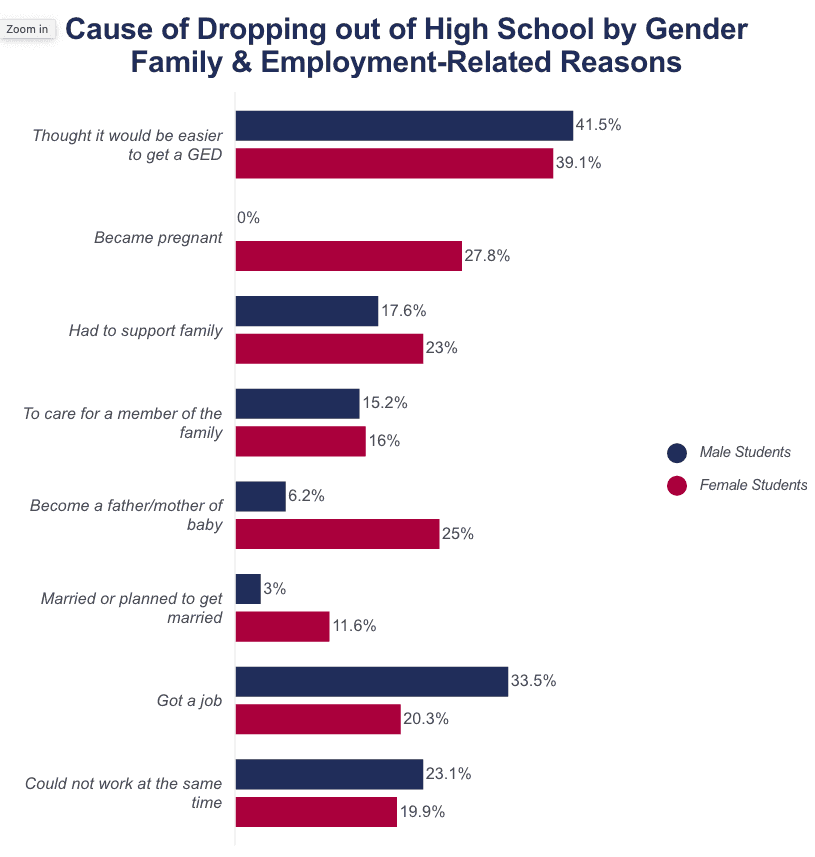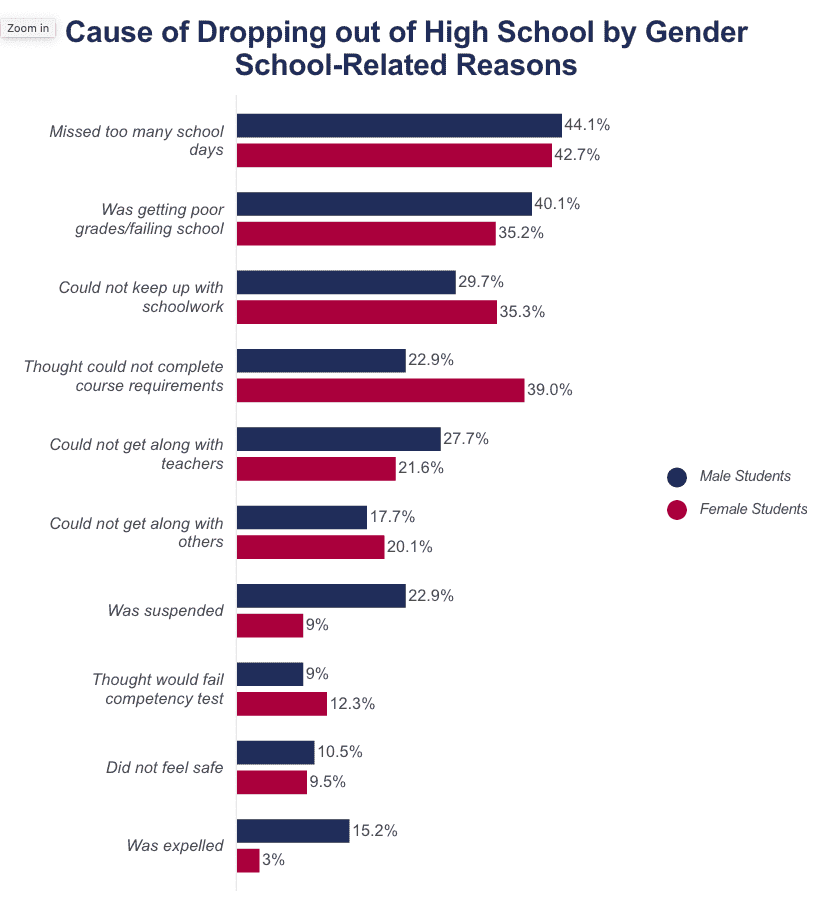 Dropout Rate Statistics: Employment & Prospects
Dropping out of high school often leads to poverty, health concerns, increased risk of incarceration or criminal activity and other poor outcomes.
8% of young adults between age 16 and 19 were not working or enrolled in school in 2018, a fairly consistent number over the past 20 years
Students who drop out of high school earn less over their lifetimes:

The average salary in 2017 for adult dropouts ranges between $20,000 and $25,000 compared to $38, 150 for high school graduates and $67,760 for graduates with a four-year degree

Students who dropped out of high school are more likely to make $30,000 less per year in middle adult than to students from the same socioeconomic status that graduated
As shown in the chart below, high school graduates saw much higher unemployment rates during the Great Recession.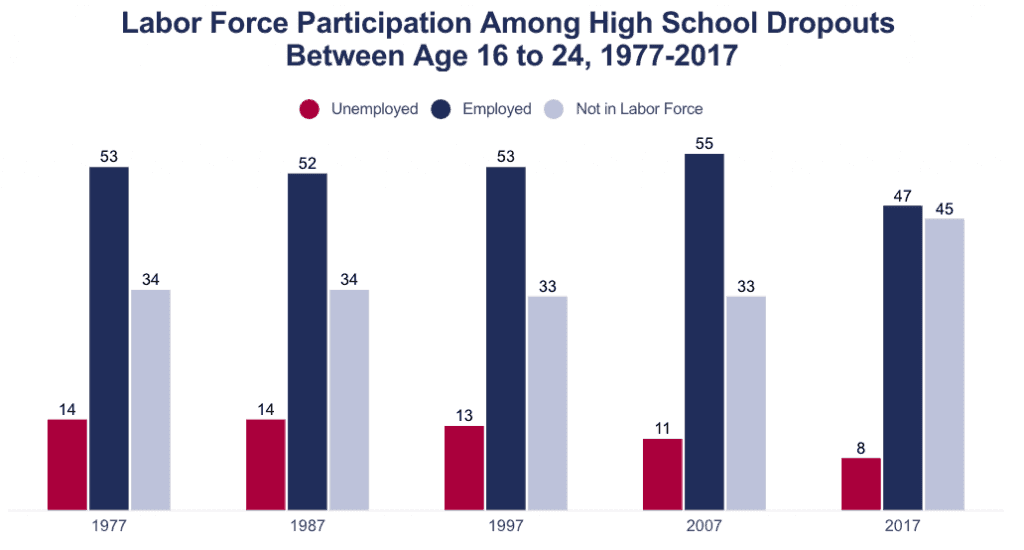 Dropout Rate Statistics: Economic Impact
High school dropouts suffer from lowered employment prospects and a much higher potential to be living below the poverty lines. However, the impact also affects the communities around them.
Over half of high school dropouts are on public assistance
Young women who drop out of high school are 9 times more likely to become single mothers
Nearly 83% of incarcerated persons are also high school dropouts

The lifetime cost to taxpayers per student that drops out of high school exceeds $300,000
22% of persons incarcerated in the United States are black males who dropped out of high school
Between 1979 and 2013 local and state spending on prisons increased three times the rate of funding for K-12 public schools
In 2018 in California, the state spent nearly $65,000 each year per prisoner compared to $11,495 per student in public schools. Since 1980, the state has de
Within the past 30 years, the average rate of increase for correctional spending in most states in the US was more than 100 percentage points higher than the rate of increase in education spending
Over 60% of individuals who dropped out of high school are rearrested for repeat criminal activity

A 10% increase in high school graduation rates in at-risk communities could result in a 9% decline in criminal arrest rates
Lower earnings from high school dropouts can mean as much as $2 billion in lost tax revenue each year
In Summary…
The most consistent trend when examining high school dropout rates is socioeconomic status and location. At-risk students are much more likely to drop out of high school or alternative schools in alarming numbers.
High school should give a young person the skills they need to begin life as they enter adulthood. As a result, when these students drop out, they don't have the credentials needed for most entry-level jobs. They can't continue their education. Returning to school to complete an alternative credential such as a GED or other certificate is intimidating and costly, both in time and money.
Schools in disadvantaged communities tend to have more at-risk students who need the most support. Yet they rarely see the level of funding that other school districts and regions do. As a result, they have less money to spend on students, technology, and instructors.
In conclusion, dropping out of high school not only makes it difficult for a young person to achieve their educational and career goals, it has a far-reaching effect on society.
Sources